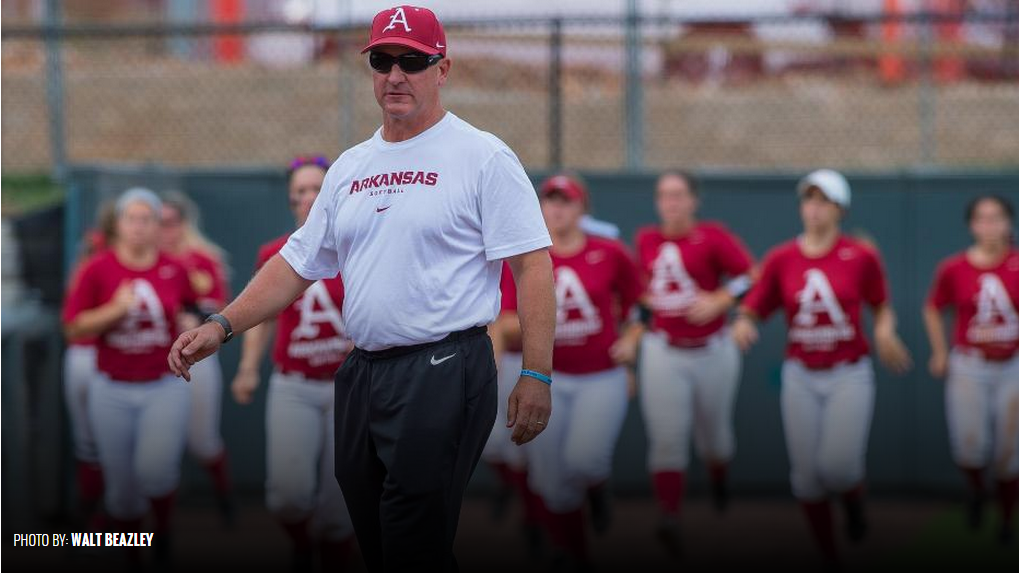 Larabee Announces 2015 @RazorbackSB Recruiting Class
FAYETTEVILLE, Ark. – Head coach Mike Larabee and the University of Arkansas softball team has announced the nine-player recruiting class for the November signing period that will join the program for the 2015-16 season. The newest members of the program are Danielle Brochu, Haydi Bugarin, Peyton Carter, Cori Cooper, Ashley Diaz, Morgan Felts, Carley Haizlip, Kat Moore and Chase Nelson. This marks the sixth recruiting class for Larabee at Arkansas.
"The nine recruits in this class of 2015 bring a lot to the table in terms of their athleticism, versatility, softball IQ and overall character and integrity. The University of Arkansas is an outstanding institution that will allow these student-athletes to earn a degree they're proud of, be part of a competitive team that plays in the best conference in the country and become part of a very special family. I am very excited to get this group on campus next fall and give them the opportunity to come in and compete."
Danielle Brochu
5-9 | RHP | R/R
Lucas, Texas (Lovejoy HS)
About Brochu…
Following a standout junior season at Lovejoy High School, Brochu was named the 13-4A District Pitcher of the Year for the second time in her prep career. She was previously honors following her freshman campaign. Brochu was named to the All-District 13-4A First Team as a sophomore and earned a spot on the Texas UIL All-Tournament Team after helping lead the Leopards to a state runner-up finish. She has broken Lovejoy single-season records with 0.45 ERA during district play, 20 wins, 193 strikeouts, 18 stolen bases and six home runs. Brochu was also a member of the 2011 LHS volleyball state champions. She plays travel ball for Team Mizuno Impulse and Aces Express Gold.
Larabee on Danielle Brochu…
"Danielle is a very gifted athlete that pitches and plays the outfield. Her enthusiasm and work ethic are outstanding. She pitches in the mid 60s and plays an incredible centerfield. She also hits with power and can run."
Haydi Bugarin
5-3 | INF | R/R
San Antonio, Texas (East Central HS)
About Bugarin…
Bugarin is an all-state infielder for East Central High School in San Antonio. In recognition of her standout junior season, she was named to the 2014 Texas Girls Coaches Association (TGCA) Class 5A All-State Team. In leading the Hornets to the district title, Bugarin registered a .578 batting average with nine home runs and 50 RBI. Additional individual honors included a spot on the All-District 28-5A First Team and Offensive Player of the Year accolades. She is also a two-time all-region performer at East Central. For her work in the classroom, she enters her senior year as a three-time academic all-district performer. Bugarin plays travel ball for Firecrackers STX.
Larabee on Haydi Bugarin…
"Haydi is an outstanding middle infielder with great instincts, great hands and a very quick release. She's an outstanding leader on the field who also swings the bat very well. She will get an opportunity to compete for the shortstop position. I think she is a definite diamond in the rough."
Peyton Carter
5-8 | RHP | R/R
Paragould, Ark. (Paragould)
About Carter…
Carter is a three-time all-state and all-conference pitcher for Paragould High School in Arkansas. Through the first three seasons of her prep career, she owns a 79-17 record in the circle and has totaled 860 strikeouts including a school-record 352 strikeouts as a freshman. At the plate, she has tallied 106 RBI in three seasons. Carter has helped the Rams to a pair of conference titles and last year as a junior, helped lead the team to the state semifinals. Paragould was a state quarterfinalist in 2012 and 2013. Carter plays travel ball for Arkansas Heat.
Larabee on Peyton Carter…
"Peyton is a very good athlete who has a very big upside. She will add depth to our pitching staff and can also swing the bat. She has a great frame for a pitcher and is going to reap the benefits from our strength and conditioning program. The sky is the limit for Peyton."
Cori Cooper
5-11 | RHP | R/R
Magnolia, Texas (Magnolia)
About Cooper…
Cooper earned a spot on the all-state first team after leading Magnolia High School to the regional semifinal round of the Texas UIL state playoffs in 2014. She is also a three-time member of the All-District 19-5A First Team during her prep career. Through her junior season for the Bulldogs, Cooper is 48-17 with a 1.08 ERA and 576 strikeouts in the circle to go along with a .469 batting average, 19 home runs and 108 RBI at the plate. During her junior campaign, she had a pair of no-hitters and pitched a perfect game. Additional individual accolades include District Pitcher of the Year in 2013 and two all-country honors in 2013 and 2014. Cooper plays travel ball for Texas Peppers.
Larabee on Cori Cooper…
"Cori is a big, strong power pitcher who isn't afraid to pitch inside. She has pitched against some of the top travel ball teams in the country and held her own. She is very athletic and fields her position very well. She can also swing the bat and hit with power."
Ashley Diaz
5-10 | INF | R/R
South El Monte, Calif. (South El Monte)
About Diaz…
Diaz enters her senior season as the reigning three-time Mission Valley League MVP for South El Monte High School in California and helped the Eagles to league titles in 2012 and 2013. Individually, she also has a pair of All-CIF and all-area honors to her credit. Diaz has 27 home runs and 127 RBI with a .551 batting average and 1.126 slugging percentage in the first three years of her prep career. She broke the South El Monte school records in home runs, RBI and multi-hit games and tied the school mark for runs scored in a single season. Diaz plays travel ball for Corona Angels-Howard and Team Mizuno-Stith.
Larabee on Ashley Diaz…
"Ashley is a corner infielder who can flat out hit with incredible power to all fields and is a very tough out. She has played against the best competition in the country since she started playing softball. She is a very good defender and has a great mind for the game."
Morgan Felts
5-8 | OF | R/R
Conway, Ark. (Conway)
About Felts…
Felts is a three-time all-conference performer in the outfield for Conway High School in Arkansas. Following her junior campaign, she was also named to the Arkansas all-state team. She helped the Wampus Cats to a pair of quarterfinal appearances in the state tournament during the 2013 and 2014 seasons. Over the past two years of travel ball, she has hit .475 for Arkansas Heat and .403 for Oklahoma Gametime.
Larabee on Morgan Felts…
"Morgan loves the game and it shows. She has improved her game tremendously over the last two years and is a triple threat from the left side of the plate. She will get a chance to compete at second base and in the outfield. She also has a great attitude and work ethic."
Carley Haizlip
5-8 | OF | R/L
Midlothian, Texas (Midlothian)
About Haizlip…
Haizlip has earned all-state honors in each of the past two seasons for Midlothian High School in Texas and has twice been named the District 7-5A Offensive Player of the Year. She has also twice been selected to the Dallas Morning News All-Area Team. Entering her senior season, Haizlip has a .502 batting average with 108 hits—56 of which have gone for extra bases—69 RBI and five home runs for the Panthers. She plays travel ball for Texas Glory Gold.
Larabee on Carley Haizlip…
"Carley is another triple threat at the plate as a left-handed hitter who can bunt, slap and drive the ball in the gaps. She comes from an outstanding travel ball organization that has prepared her well for the SEC. She is a very aggressive base runner who can also go get a ball in the outfield."
Kat Moore
5-3 | OF | R/R
Lamar, Miss. (Marshall Academy)
About Moore…
Moore closed out her prep career as the two-time district MVP and four-time all-conference performer playing outfield for Marshall Academy in Mississippi. She helped the patriots to three district titles and two third-place finishes at the state tournament. At the plate, she hit at least .530 in each of her four seasons. Moore posted a career batting average of .550 at Marshall to go with 239 hits—119 of which went for extra bases—and 165 RBI. She established school records for batting average, hits and stolen bases. Moore plays travel ball for Blue Angels Gold.
Larabee on Kat Moore…
"Kat has the potential to become a five-tool player. She has a very compact and powerful swing. She also has outstanding speed on the bases and one of the best bunters I've seen in a long time. She has improved her defense overall in the last couple of years and is not afraid to get dirty."
Chase Nelson
5-9 | INF | R/R
Paragould, Ark. (Paragould)
About Nelson…
Nelson is a two-time all-state and three-time all-conference performer for Paragould High School in Arkansas. As a junior, she broke school single-season records with her .502 batting average, 53 hits, 49 runs scored, 18 doubles and eight triples. Nelson enters her senior season with career stats of 123 hits, 69 RBI, 56 stolen bases and five home runs. She also has 61 career wins in the circle for the Rams. Individual honors also include All- AAA First Team selection in 2014. Nelson plays travel ball for Arkansas Heat.
Larabee on Chase Nelson…
"When you talk about versatility, Chase immediately comes to mind. She can play eight different positions in the SEC. We are going to give her a shot to compete at short in the fall but she is also an outstanding catcher. She is a left-handed hitter who keeps the defense on its toes. She bunts, slaps and has good gap power. Chase has a very good arm with an upper 60s overhand throw."
For more information on Arkansas softball, follow @RazorbackSB on Twitter.