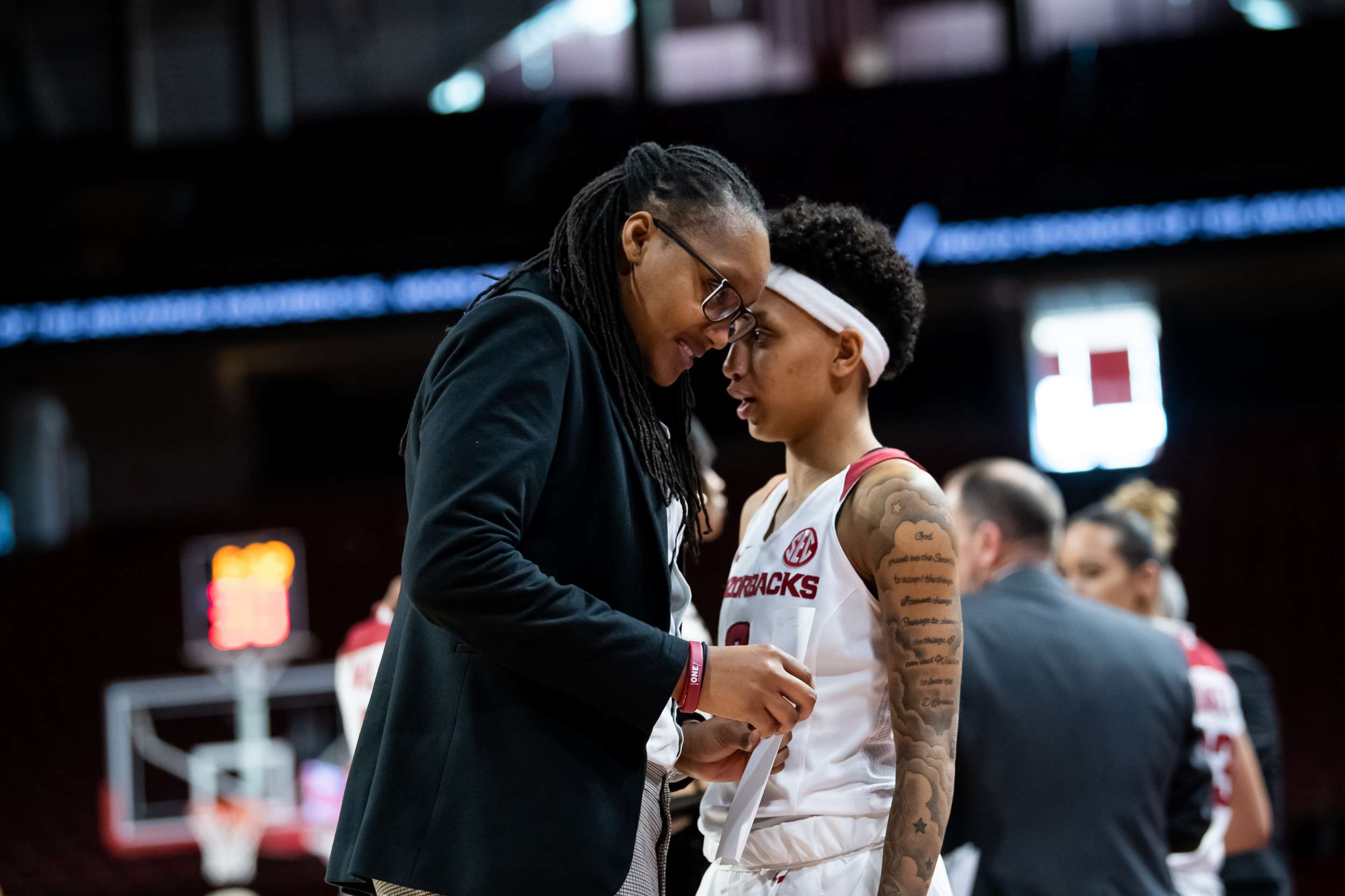 Love Named New Recruiting Coordinator
FAYETTEVILLE, Ark. – Arkansas Women's Basketball Head Coach Mike Neighbors made another move with his staff today, announcing Pauline Love will take over as Recruiting Coordinator for the Razorbacks.
"After a two year long interview and a 10 second negotiation, it was obvious to me that the best candidate for our open position wasn't in the stack of resumes, pages of emailed portfolios, or a phone full of text messages," Neighbors said. "She was down the hall and already had keys to the facility. Trust, talent and time are three major pillars of our program, and coincidentally, they happen to be three of the best qualities of our new Recruiting Coordinator, Pauline Love. She is trusted implicitly by players and coaches.  She is uniquely talented in relationship building and maintaining. She utilizes her time to help better the lives of everyone around her. Coach Love has been involved in every phase of helping us get out of the Wednesday play-in games to the SEC Finals in the last 28 months.  Her succeeding in her new role will be vital in our program's continued climb toward the top of the SEC."
"The proudest moment of my life is when Mike Neighbors called and offered me the job here," Love said. "I never thought I would get an opportunity to coach at home. I will forever be grateful to Coach Neighbors. He gave me the opportunity of a lifetime."
Love joined Neighbors' staff back when he was initially hired at Arkansas in 2017, coming on as an assistant coach. Her ability to connect with players was the reason she was hired, and her ability to do so successfully has played a key role in developing Neighbors' program on the Hill. Her move to Recruiting Coordinator perfectly fits what she is: the ultimate magnetic personality.
"She is valuable because of her knowledge," Associate Head Coach Todd Schaefer said. "Although our student-athletes get more resources than any other student-athletes in any generation, it's still not easy. What I love about Pauline is that nothing has been easy for her, either. So when our players reach out to her, and they are going through something hard, she can speak to them through her own experiences. When she talks to them, it is coming from the heart. And it wasn't that long ago for her, so they know it's real. She's just got an infectious personality. She can talk to and get along with anybody. She's got what Coach calls a 'chameleon personality': she can morph to fit into any situation. She can relate to anyone anywhere. It is truly amazing."
Love has always been magnetic. During her coaching days, she has used her background as a self-made player to connect with players on a deeper level. Love, an Arkansas native, has made coaching stops at McNeese State and her alma mater, Southern Miss. In four seasons with the Golden Eagles, Love's duties included all aspects of recruiting, assisting in basketball camps, on-the-floor coaching, scouting opponents and film breakdown. While working at McNeese State, Love handled on-campus and off-campus recruiting, social media, marketing, coordination of camps and clinics, scouting, skill development and working with both the guards and post players.
Even during her playing days, Love's magnetism was frequently on display. Her combination of play and personality while in high school was so prominent, it led to her own holiday, as her hometown of Luxora, Arkansas, declared July 15, 2016 as Pauline Love Day. More than that though, Love's magnetism was at work in a simpler way: the ball always found her. And she knew what do to with it once she had it, whether that be at Rivercrest High School, as Jones County Junior College's first NJCAA All-American in nearly a decade, or as a star at Southern Miss.
While at Southern Miss, Love was a double-double machine, finishing her career averaging 16.1 points per game and 11.1 rebounds per game. The three-time first-team All-Conference USA performer was especially dominant during her senior season, averaging 18.3 points per game and 12.8 rebounds per game. During that season, Love ranked second in the nation in both rebounds per game and double-doubles (21), while also ranking 33rd in scoring.
Love completely rewrote the Southern Miss record books during her time in school, finishing in the Top-10 in program history in nine different categories, including second in rebounding average (11.1), third in rebounding (1,051), fourth in scoring average (16.6), fifth in field goals made (648) and field goals attempted (1,436), sixth in scoring (1,576), seventh in 3-point goals made (94) and attempted (307), and 10th in minutes played (3,188).
For more information about Arkansas Women's Basketball, follow us on Twitter and Instagram at @RazorbackWBB and on Facebook at Facebook.com/RazorbackWBB. Be sure to subscribe to our YouTube Channel, "Kickin' It In The Neighborhood" for an inside look at the Razorback women's basketball program and check out The Neighborhood podcasts at CoachNeighbors.com.