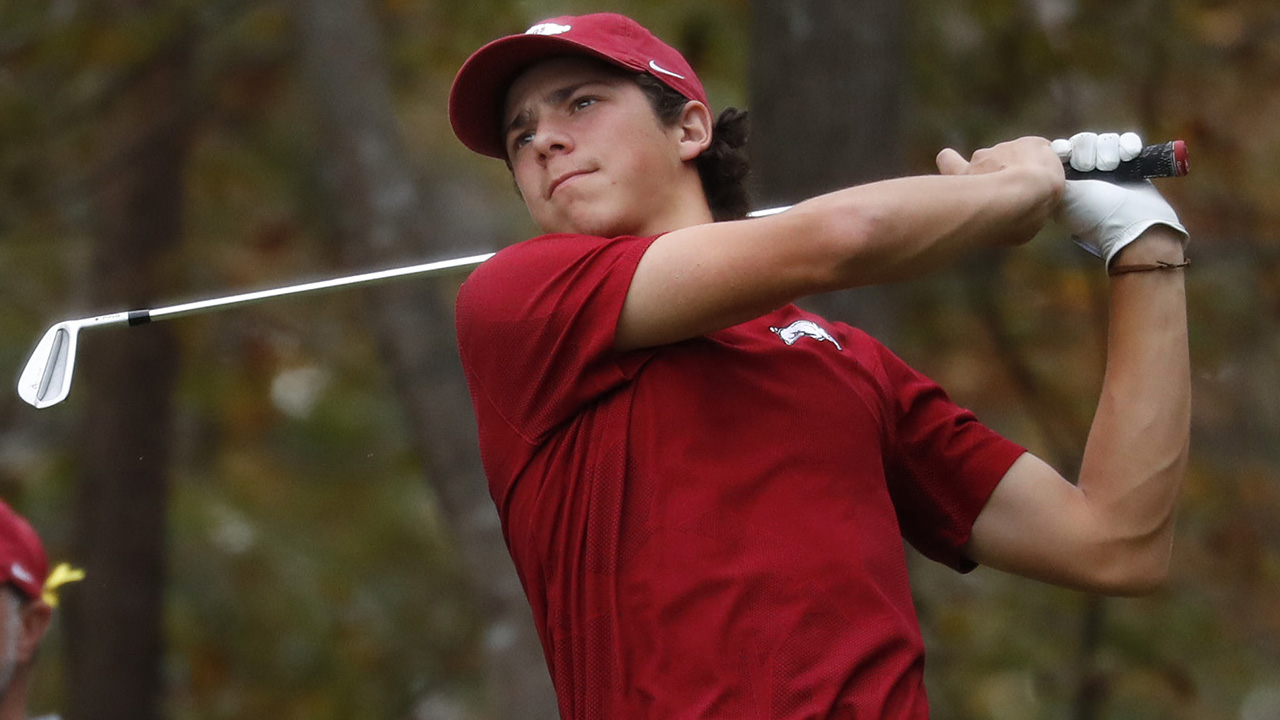 Lozada Leads Razorbacks in Regular-Season Finale
BIRMINGHAM, Ala. – Freshman Manuel Lozada birdied two of his last three holes to secure his first career top 10 finish, tying for sixth with a 54-hole, 1-over-par score of 214 (70-72-72) at the Collegiate Invitational. The 21st-ranked Razorbacks finished eighth with a total of 875 on the par-71, 7.226-yard Country Club of Birmingham – West Course. The 14-team event featured 13 of the nation's top 50 programs.
Lozada, whose previous best finish was a tie for 16th in the season-opening Blessings Collegiate Invitational, was among the top 10 in each of the three rounds. He tied the nation's top-ranked golfer – North Florida's Nick Gabrelcik – and the 11th-ranked golfer – Vanderbilt's William Moll – while defeating 17 of the nation's top 100 players in the field including his teammates #27 Julian Perico and #46 Tyson Reeder.
Lozada was even par after four holes, off-setting two bogeys to start with two birdies. He suffered a bogey on the par-3, 11th hole and a double on the par-3, 13th. However, he rallied to birdie holes 16 and 18. The last birdie, along with a Perico birdie on 18 as well, moved Arkansas from 10th to eighth in the team standings. For the tournament, he played the par 4's at even for the event, which tied for third-best in the field, and had 10 birdies, the sixth-best total in the field.
Perico was the big mover for the Razorbacks in the final round. The junior jumped 15 spots into a tie for 38th with a three-day total of 222 (7476-72). He carded four bogeys and three birdies to post a 1-over-par 71 Wednesday.
William Buhl also tied for 38th (74-71-77=222) as he tied Lozada with 10 birdies over the three days. Reeder finished in a tie for 43rd (74-70-79=223) and Wil Gibson tied for 60th (70-79-77=226).
As a team, Arkansas tied North Florida by playing the par 5's at -6 for the event and the Razorbacks' 41 birdies were the fourth-most in the field.
Fourth-ranked Clemson won the Collegiate Invitational by six shots with a score of 854, followed by #19 Tennessee (860), #22 North Florida (863), #10 Vanderbilt (869), #9 Auburn (871), #48 Ole Miss (872), #23 LSU (874) and #21 Arkansas (875). Rounding out the field were #47 Charlotte (876), #43 Virginia (877), #34 UAB (881), #29 Alabama (884), #39 Mississippi State (866) and Kentucky (899).
Up next, Arkansas will look to defend its SEC Championship – won in 2019 – in two weeks (April 21-25) at Sea Island Golf Club (Seaside Course) in St. Simons Island, Ga. The SEC Championship will consist of three days of stroke play (April 21-23) followed by three rounds of match play (April 24-25).
For more information on Arkansas Men's Golf, follow @RazorbackMGolf on Twitter.