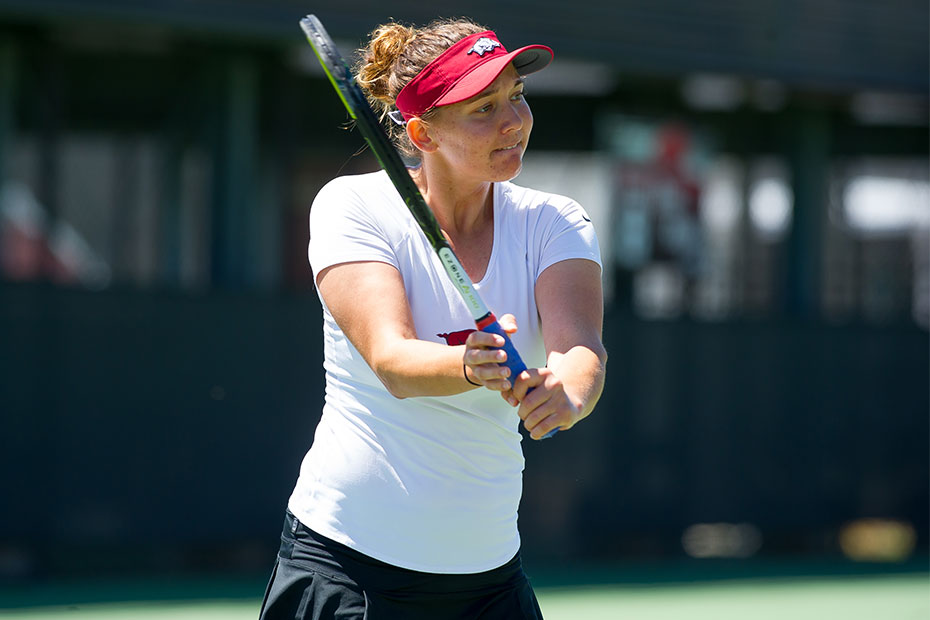 Lysa's Impressive Season Ends
TULSA, Okla. – Arkansas senior Yuliya Lysa dropped a 7-6 (6), 6-1 decision to California's sixth-seeded Maegan Manasse in the second round of the 2016 NCAA singles championship at the Michael D. Case Tennis Center on Thursday.
Down 5-1 in the first set, Lysa took four-straight games to tie the score at 5-5. Both players then held serve to force a tiebreaker, but Manasse went on to claim the opening frame.
Lysa held serve to open the second set, but Manasse won the next six games to take the set and the match at 6-1.
The setback marked the end of Lysa's impressive senior campaign and Razorback career.
"It was a very high-quality matchup out there today with two top-20 players firing on all cylinders," head coach Michael Hegarty said. "Hats off to Manasse who showed why she is one of the favorites to win the event. We as a program are so proud of all that Yuliya has accomplished during her Razorback career. She has been a joy to coach, and we will be rooting her on as she pursues the next step in her tennis journey."
Despite missing the first seven matches of the season with an injury, Lysa compiled a team-best 22-10 overall record in singles. Fourteen of those victories came in dual match play. The left-hander notched a 9-4 mark at the No. 1 position and in Southeastern Conference play. She also dispatched nine ranked singles opponents, including four in the top 25.
After earning All-SEC Second Team honors in 2015, she bettered that mark by securing a spot on All-SEC First Team and being named Intercollegiate Tennis Association Central Region Senior Player of the Year this season. In addition, she earned a career-best No. 21 ranking for her efforts.
During her career, Lysa was 42-18 overall in singles while facing the nation's top competition in many of those contests. She also posted a 25-22 record in doubles.
For more information on Arkansas Women's Tennis, follow @RazorbackWTEN on Twitter.