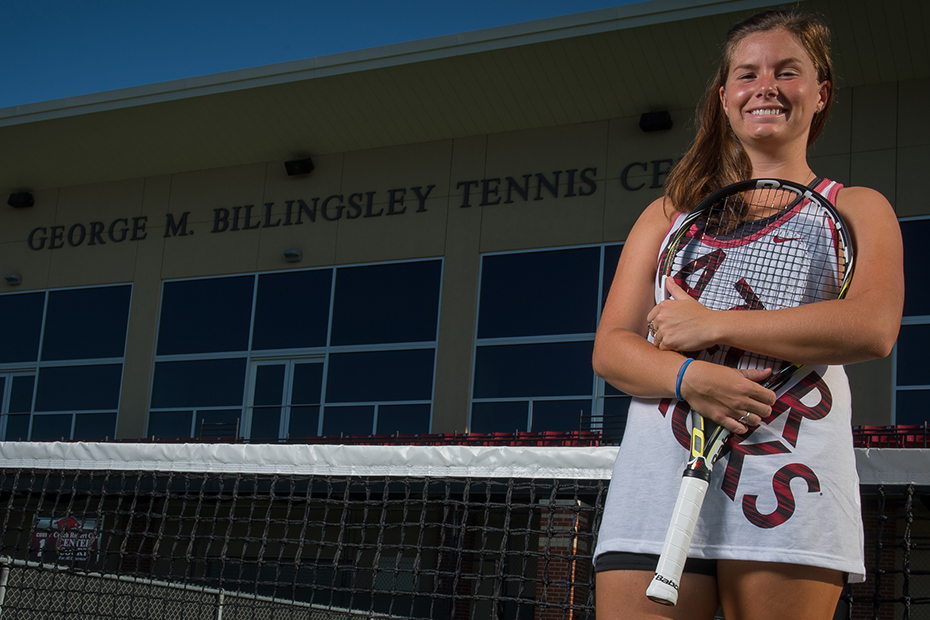 Meet @RazorbackWTEN: Nicole Breaux
FAYETTEVILLE, Ark. – The No. 54 University of Arkansas women's tennis team begins its 2015 spring schedule Saturday, Jan. 17 with a doubleheader against Wichita State and Mercer. In an effort to get to know the Razorback women's tennis team, ArkansasRazorbacks.com will feature a student-athlete each day leading up to Jan. 17.
Today's featured student-athlete is junior Nicole Breaux. Breaux is in her first season as a Razorback after transferring from Louisiana-Lafayette. During her two collegiate years prior to Arkansas, Breaux compiled an overall singles record of 28-34 while playing at the top of the lineup.
In the fall of 2014, the Lafayette, La., native posted a 4-12 singles and 8-6 doubles record for the Razorbacks, competing in four tournaments.
ArkansasRazorbacks.com recently sat down with Breaux (@nicolebreaux).
Why did you choose to come to Arkansas? They have a great tennis program. When I came to visit, the girls were super nice and the coaches were awesome. I heard great things about them so it was just a great opportunity I decided to take advantage of.
What are your hobbies outside of tennis? I like Netflix, unfortunately.
Do you have a favorite Netflix program? Yeah, but I can't admit that on here. I like to watch Grey's Anatomy.
Is Grey's Anatomy the safe answer? Yeah that's the safe answer.
When did you start playing tennis? I started playing tennis when I was 12 in seventh grade. I tried out for the basketball team that I didn't make because I was too short. My dad said 'hey why don't you try tennis, it doesn't matter how tall you are.'
What are three things you can't live without? My family, my bed. And I guess my phone, I hate to answer that.
If you could play doubles with anybody, who would it be? That's a good question. Mixed doubles with Fed (Roger Federer). It's not really his specialty but that's okay.
Why did you choose him?  Have you seen him? He's just so classy, he's my favorite.
Forehand or backhand? Forehand.
Of all the training that goes into tennis, what do you like the most? I like the on court stuff and to work on volleys and working at the net.
Do you do anything in particular before a match? Pray
For more information on Arkansas women's tennis, check ArkansasRazorbacks.com and follow @RazorbackWTEN on Twitter.