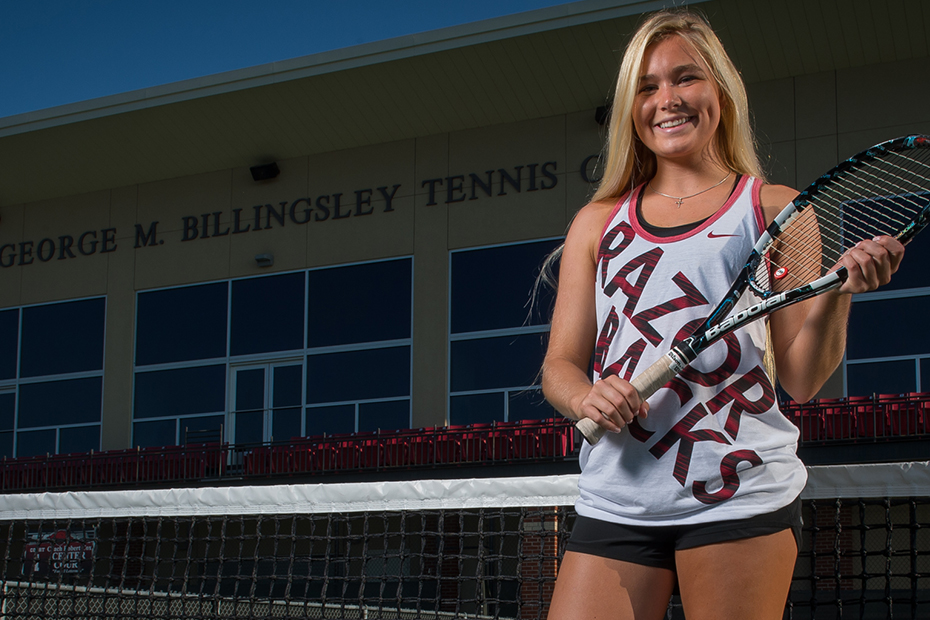 Meet @RazorbackWTEN: Peyton Jennings
FAYETTEVILLE, Ark. – The No. 54 University of Arkansas women's tennis team begins its 2015 spring schedule Saturday, Jan. 17 with a home doubleheader against Wichita State and Mercer. In an effort to get to know the Razorback women's tennis team, ArkansasRazorbacks.com will feature a student-athlete each day leading up to Jan. 17.
Today's featured student-athlete is freshman Peyton Jennings.
Jennings is in her first season with the Razorbacks after she was a four-year letterwinner in tennis at Cascia Hall Preparatory School in Tulsa, Okla. In high school, she played all four years at the No. 1 singles spot and was the Oklahoma state champion at No. 1 singles her junior and senior seasons.
In her first collegiate matches during the fall of 2014, Jennings posted a 7-8 overall singles record, including finishing runner-up in her flight at the Colorado Invitational.
ArkansasRazorbacks.com recently sat down with Jennings (@JenningsPeyton).
Why did you choose to come to Arkansas? I chose Aarkansas because I've always been a Hog fan. I've attended football and basketball games in Fayetteville ever since I was born.
How do you get away from tennis?  I usually hang out with my family or friends.
What are you most looking forward to this season? I am most looking forward to the competitive conference matches and sharing the experience with my teammates this season.
When did you start playing tennis? I started when I was about nine years old.
If you could play doubles with anybody, who would it be and why? If I could play doubles with anyone it would be Mia (Jurasic), because we match up perfectly both on and off the court.
What are three things you can't live without? My family, my friends, and my dog.
Where is your favorite place on campus? My favorite place on campus is the football stadium.
Forehand or backhand? I prefer my backhand because it's more powerful and consistent.
Do you do anything in particular before a match? Before a match I usually like to walk around and talk to people to get my mind off of things.
What is your favorite part about being on the tennis team at Arkansas? My favorite part about being on the team is being able to compete at such a high level with amazing teammates.
For more information on Arkansas women's tennis, check ArkansasRazorbacks.com and follow @RazorbackWTEN on Twitter.