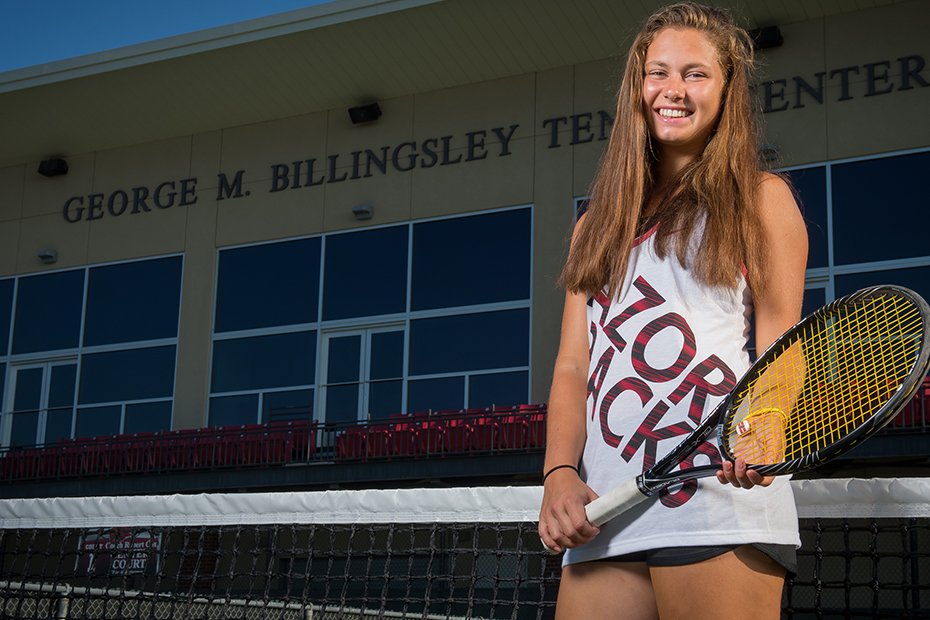 Meet @RazorbackWTEN: Sasha Shkorupeieva
FAYETTEVILLE, Ark. – The No. 54 University of Arkansas women's tennis team begins its 2015 spring schedule Saturday, Jan. 17 with a home doubleheader against Wichita State and Mercer. In an effort to get to know the Razorback women's tennis team, ArkansasRazorbacks.com will feature a student-athlete each day leading up to Jan. 17.
Today's featured student-athlete is sophomore Oleksandra Shkorupeieva.
Shkorupeieva is in her second season with the Razorbacks after joining the team in January 2014. The Odessa, Ukraine, native posted a 12-11 singles record in dual play during the 2014 season, good for the second-most wins on the team. Shkorupeieva, known as "Sasha" around the Billingsley Tennis Center, backed up her play from last season with a strong showing during the 2014 fall schedule. She tallied a 12-2 singles record, the most wins on the team, and won three consecutive matches at the ITA Central Regional Championship advancing in the singles main draw to the round of 32.
ArkansasRazorbacks.com recently sat down with Shkorupeieva.
Why did you choose to come to Arkansas? I chose Arkansas because of the athletic facilities and I really liked Coach Hegarty.
What hobbies do you have outside of tennis? I usually watch a movie or hang out with my friends.
Do you have a favorite movie? I have a lot of movies that I like but my favorite ones I would say are the Hunger Games. I haven't seen the third part yet but I really liked the first two.
What are three things you can't live without? My parents, tennis and my friends.
Do you have a favorite saying from Coach Hegarty? I like a lot of stuff Coach says. I like how the coaches find a way to communicate with us if they see we are too stressed out and they can make a joke or something to make us feel more relaxed before a match.
Do you do anything in particular before a match? Yeah I have my special routines. I usually just listen to music, try to get focused and think about what my goals are for the match.
What are you most looking forward to this spring? I'm looking forward to working really hard, playing well and doing the best I can.
Forehand or backhand? Backhand. I don't know, I feel like ever since I was a little kid, I've liked my backhand a lot more than my forehand.
For more information on Arkansas women's tennis, check ArkansasRazorbacks.com and follow @RazorbackWTEN on Twitter.