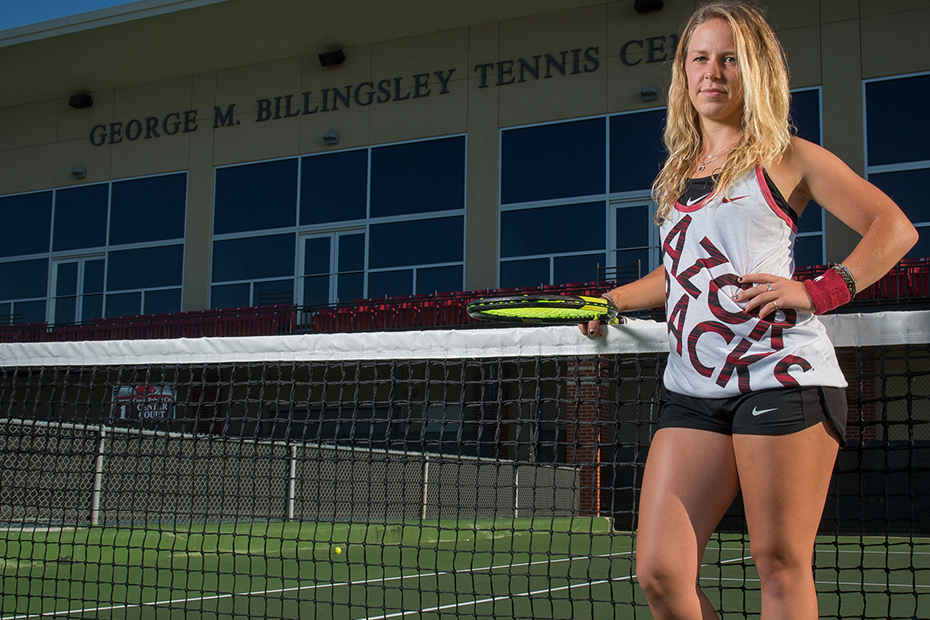 Meet @RazorbackWTEN: Shannon Hudson
FAYETTEVILLE, Ark. – The No. 54 University of Arkansas women's tennis team begins its 2015 spring schedule Saturday, Jan. 17 with a home doubleheader against Wichita State and Mercer. In an effort to get to know the Razorback women's tennis team, ArkansasRazorbacks.com will feature a student-athlete each day leading up to Jan. 17.
Today's featured student-athlete is sophomore Shannon Hudson.
As a freshman last season, Hudson compiled a 20-8 overall singles record, including a team-best 13 wins in dual play. A fourth-generation Razorback, Hudson started her sophomore season off by being selected to compete in the singles qualifying draw of the 2014 Riviera/ITA Women's All-American Championships. Hudson was the 21st Razorback under 12th-year head coach Michael Hegarty to compete in the prestigious tournament.
The Virginia Beach, Va., native concluded her 2014 fall schedule with an 8-6 overall singles record.
ArkansasRazorbacks.com recently sat down with Hudson.
Why Arkansas? Our coach recruited me really well, and the school is amazing, of course, so on my visit I really wanted to come here.
What do you like to do outside of tennis? I'm a pretty social person. I really like hanging out with my friends and doing things with them that's non-sports related. On days that we have some downtime, I usually play music really loud and clean with (roommates) Sasha (Shkorupeieva) and Makenzie (Craft) too.
What are you most looking forward to this season? I'm most excited about how improved our team is this year and how far everyone has come. Just about everyone on our team has a unique story before the fall season started and everyone has come a long since then.
When did you start playing tennis? Started playing when I was six.
If you could play doubles with anyone, who would it be? Anyone with a big serve and who loves the net.
What are three things you can't live without? I can't live without a black pair of Vans, my car – I drive everywhere, I hate flying – and my family of course, they keep me sane.
Where is your favorite place on campus? Favorite place is definitely the tennis courts.
Forehand or backhand? Honestly, depends on the week. Usually forehand but when it's off I can always rely on my backhand, its steadier. Forehand I can do more with but my backhand is more stable.
Do you do anything in particular before a match? I don't have a certain routine that happens before every match but I just like to hang out and help anyone with anything they need. I can get nervous so the less I think about the match, it's usually the better.
What is your favorite part about being on the tennis team? The people, two of my best friends are on the men's team. And how Coach Hegarty allows us to be independent.
For more information on Arkansas women's tennis, check ArkansasRazorbacks.com and follow @RazorbackWTEN on Twitter.