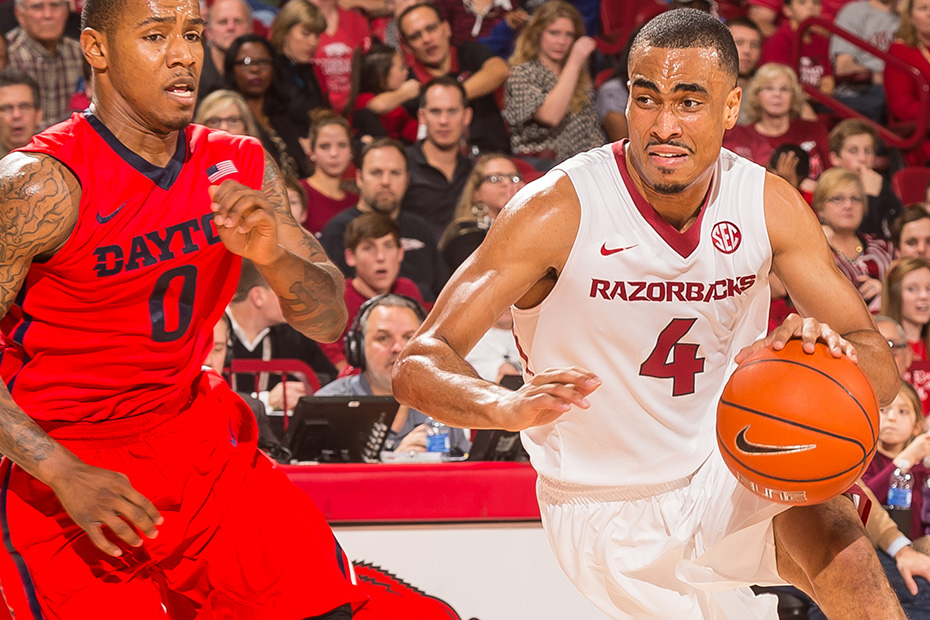 Men's Basketball Caps Calendar Year at Dayton
Game Notes (PDF) | Mike Anderson Press Conference
FAYETTEVILLE, Ark. – The Arkansas men's basketball team (6-5) will close out the calendar year on the road Wednesday evening, traveling to Dayton, Ohio for a date with the Flyers (9-2) at UD Arena on CBS Sports Network.
Tip-off: Wednesday, Dec. 30 at 7 p.m. CT
Location: UD Arena (Dayton, Ohio)
TV: CBS Sports Network
Live Stats: Click Here
The Opponent
• Dayton plays in the Atlantic 10 Conference and is 9-2 on the season. The Flyers are coming off a thrilling win against Miami University on Dec. 22, in which junior guard Kyle Davis hit a game-winning shot with 2.1 seconds left to defeat the Redbirds 64-63. Overall, Dayton is 6-1 on the season at UD Arena, with its only loss being a 61-59 contest vs. Chattanooga on Dec. 12. The Flyers have notable home wins against Alabama, William & Mary and North Florida, as well as Vanderbilt on the road. Dayton won two games in the Advocate Invitational in Orlando over Iowa and Monmouth before losing to Xavier in the title game.
• The Flyers have three players averaging double figures, led by junior guard Charles Cooke at 14.4 points per game. Cooke also averages 6.8 rebounds, which is second on the team. Junior forward Kendall Pollard (11.8) and junior guard Scoochie Smith (11.2) are the team's other two high-scorers. Smith leads the team with 4.2 assists, 1.6 threes and 1.5 steals per contest. Down low, freshman center Steve McElvene leads Dayton with 8.2 rebounds and 2.2 blocks. The Flyers are 55th in the nation in field goal shooting with a 47.4 percent mark and 59th in scoring defense, allowing 65.1 points per game.
• Head coach Archie Miller is in his fifth season at Dayton, with a record of 99-49 (.669) in four-plus seasons. With three NCAA Tournament wins in 2014 and two more in 2015, Dayton is one of six teams to have five NCAA Tournament wins in the last two years. A Beaver Falls, Pennsylvania, native, Archie played at Blackhawk High School under his father, John. He then went on to play at NC State from 1998-2002. Miller was an assistant coach at numerous schools from 2003-11 before accepting the head job at Dayton in the spring of 2011.
#Fastest40 Facts
• Moses Kingsley is the only power five conference player in the country averaging 15 points, 10 rebounds and 2.5 blocks per game.
• Arkansas is 2-0 all-time against Dayton, including a 69-55 victory over the Flyers in BWA last Year. The only other meeting came in the second round of the 1990 NCAA Tournament when the Razorbacks went on to advance to the Final Four.
• Arkansas has shot 50 percent or better from the floor five times this year, including in four of the last six games. The Razorbacks are unbeaten when shooting at least 50 percent from the field and a perfect 4-0 when shooting 45 percent or better behind the arc.
• Jabril Durham is one of four players in the country with four double-digit assist games this season. He has half of the eight double-digit assist performances in the SEC this year and ranks No. 4 in the nation with 7.7 assists per game.
• Arkansas' last five opponents have entered the game with a combined record of 41-11 (Includes UD).
• Kingsley is one of 26 players in the country averaging a double-double, including one of 11 individuals from a power five conference.
• After one double-double in his first two years, Kingsley has seven in the first 11 games this season, including each of the last three games.
• The Abuja, Nigera native is one of two players in the country with multiple games of 20 points, 10 rebounds and five blocks.
• Kingsley is one of eight players in the nation with five-plus blocks in three different games this year.
• Mike Anderson was the assistant coach at Arkansas in 1990 when the Razorbacks defeated Dayton in the second round of the NCAA Tournament and went on to the Final Four.
Up Next
Arkansas opens conference play on Saturday, Jan. 2, traveling to College Station for a 3:30 p.m. tip-off against Texas A&M on SEC Network.
For more information on Arkansas men's basketball, follow @RazorbackMBB on Twitter.