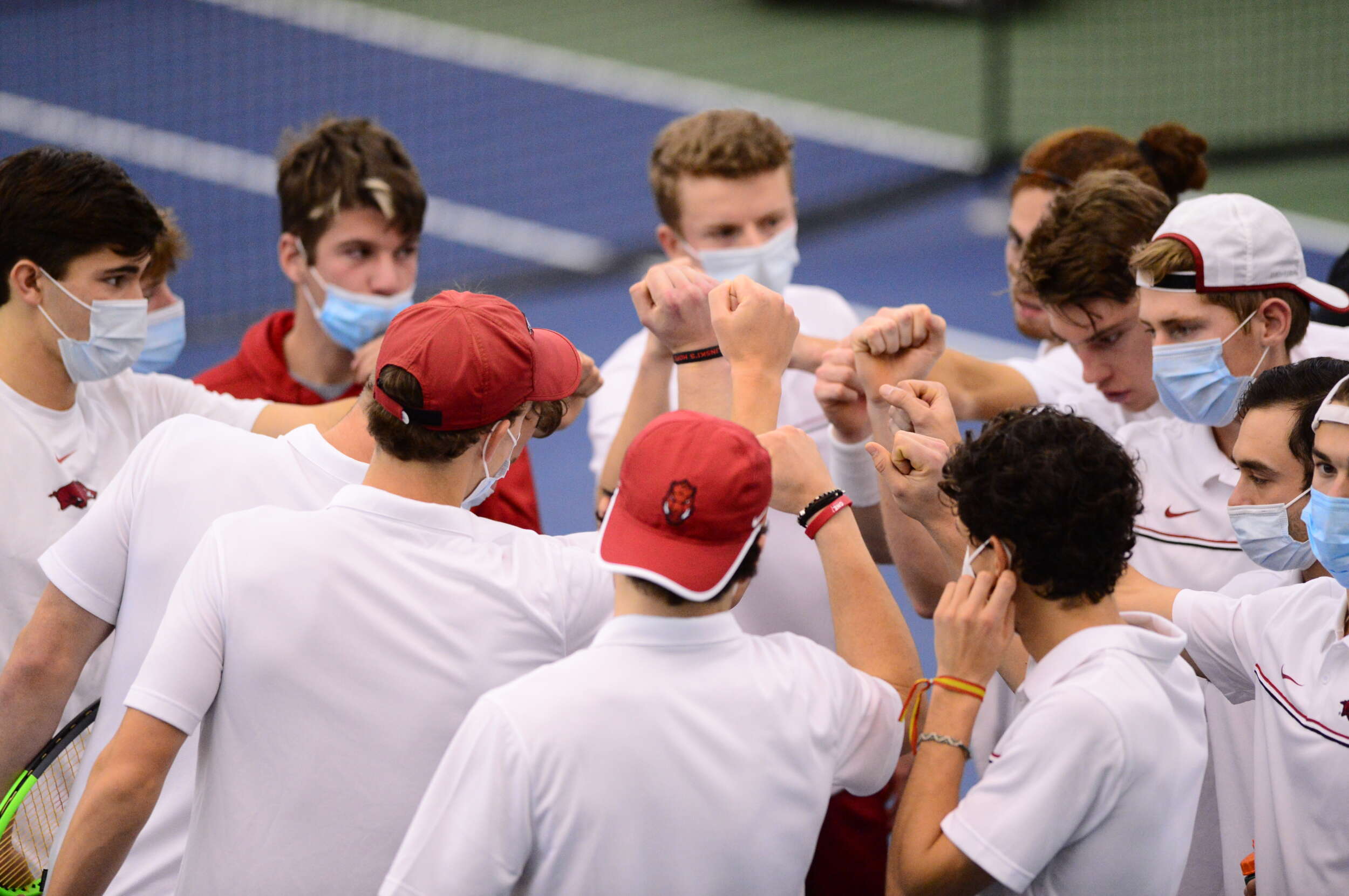 Men's Tennis cruises past Illinois State, 7-0
FAYETTEVILLE, Ark. – Razorback Men's Tennis (3-0) picked up their second-straight sweep on Saturday afternoon, downing the Illinois State Redbirds (0-6) by a score of 7-0 at the Dills Indoor Tennis Center. Arkansas has won all 18 singles matches this season and earned its second doubles point of the year.
In doubles, Maxim Verboven and Hunter Harrison won easily at the No. 1 spot, 6-0, while Enrique Paya and Jose Dominguez Alonso won their third straight this season as a tandem. Alex Reco and Nico Rousset found themselves down 3-1 at the third position, but fought back to eventually win the tiebreaker, 10-8, over the Redbird duo of Pham/Chiu.
Melvin Manuel made quick work of his opponent once again, downing Mike Agee 6-2, 6-1. Manuel has won 36 games in the first three matches of the spring, compared to just eight by his opponents. Rousset quickly followed with a win on court three after sweeping the second set and freshman Adrien Burdet stayed perfect as a Razorback with a 6-4, 6-2 win on court five.
No. 72 Reco improved to 12-1 over the last two dual seasons with a straight set win against Melker Isaakson. The junior dropped the first two games to his Redbird opponent but bounced back to take six-straight games and the first set before coasting in the second.
Paya was moved into the No. 6 spot and he downed Min-Chieh Chiu before Verboven capped off the sweep with a 10-7 win in the third set tiebreaker.
"Two weeks is a long time not to play. We needed this before we face Tulsa on Wednesday," said head coach Andy Jackson. "They're a program that is always in the national picture and puts a lot into their tennis program. We are excited to get to play again."
The Razorbacks will be back at Billingsley on Wednesday, Feb. 3 to face the Tulsa Golden Hurricane. First serve in Fayetteville is set for 4 p.m. CT.