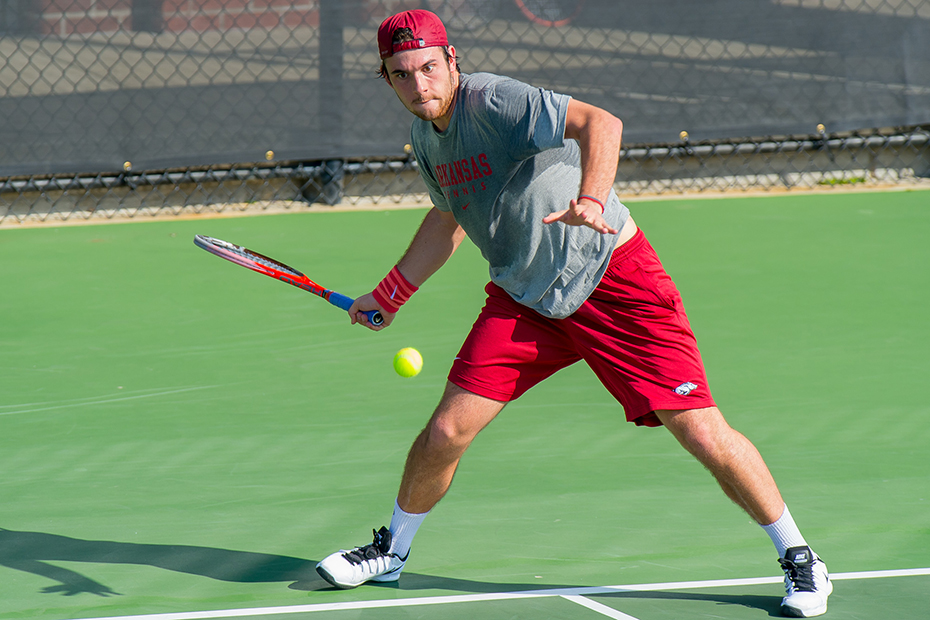 Men's Tennis Defeats West Coast Foe
FAYETTEVILLE, Ark. — The Arkansas men's tennis team kept rolling on Sunday afternoon, as the Razorbacks downed Santa Clara 6-1 at Billingsley Tennis Center. After clinching the opening doubles point, Arkansas won the first five singles matches over the Broncos (4-4) in straight sets and the Razorbacks pushed their record to 9-2 on the season.
"We were sharp today and showed lots of progress," head coach Andy Jackson said. "The SEC season is less than two weeks away and we want to continue to build. I'm pleased with how hard the group competed this weekend."
NOTABLES
• Jose Salazar won his fourth-consecutive singles match, 6-1, 6-1 over the Broncos' Robert Seby. With the victory, he improved to 3-0 on the season at the No. 2 position.
• A week after defeating No. 31 Hunter Johnson of SMU, Mike Redlicki picked up his fifth win at No. 1 singles, over the Broncos' Ashot Khacharyan by a score of 7-5, 6-1.
• Three Arkansas players who competed on Saturday vs. Jackson State also played against Santa Clara on Sunday and won. David Herrerias, Juan Marino and Adam Sanjurjo each picked up a pair of victories vs. the Tigers and one against the Broncos.
• After winning four singles matches vs. Jackson State, William Albanese joined up with Herrerias and won at No. 3 doubles over the Broncos' Connor Garnett and Kamran Khan by a score of 6-2. Albanese is now 3-0 in doubles action this season.
UP NEXT
Arkansas has six days to prepare before the team travels to Norman to face No. 8 Oklahoma on Sunday, Feb. 28 at 1 p.m. The Razorbacks follow with two more away matches at Kentucky on Friday, March 4 and Tennessee on Sunday, March 6.
TODAY'S RESULTS
DOUBLES
1. Giammarco Micolani/Mike Redlicki (AR) def. Ashot Khacharyan/Jeffrey Liang (SC) 6-3
2. Jose Salazar/Adam Sanjurjo (AR) vs. Andrew Gu/Robert Seby (SC) 3-4, unfinished
3. William Albanese/David Herrerias (AR) def. Connor Garnett/Kamran Khan (SC) 6-2
SINGLES
1. Mike Redlicki (AR) def. Ashot Khacharyan (SC) 7-5, 6-1
2. Jose Salazar (AR) def. Robert Seby (SC) 6-1, 6-1
3. Andrew Gu (SC) def. Giammarco Micolani (AR) 2-6, 7-6 (6), 1-0 (7)
4. Adam Sanjurjo (AR) def. Connor Garnett (SC) 6-2, 6-4
5. David Herrerias (AR) def. Kamran Khan (SC) 6-4, 6-0
6. Juan Marino (AR) def. Sebastien Mathieu (SC) 6-0, 6-4
ORDER OF FINISH
Doubles (1,3); Singles (2,5,4,6,1,3)