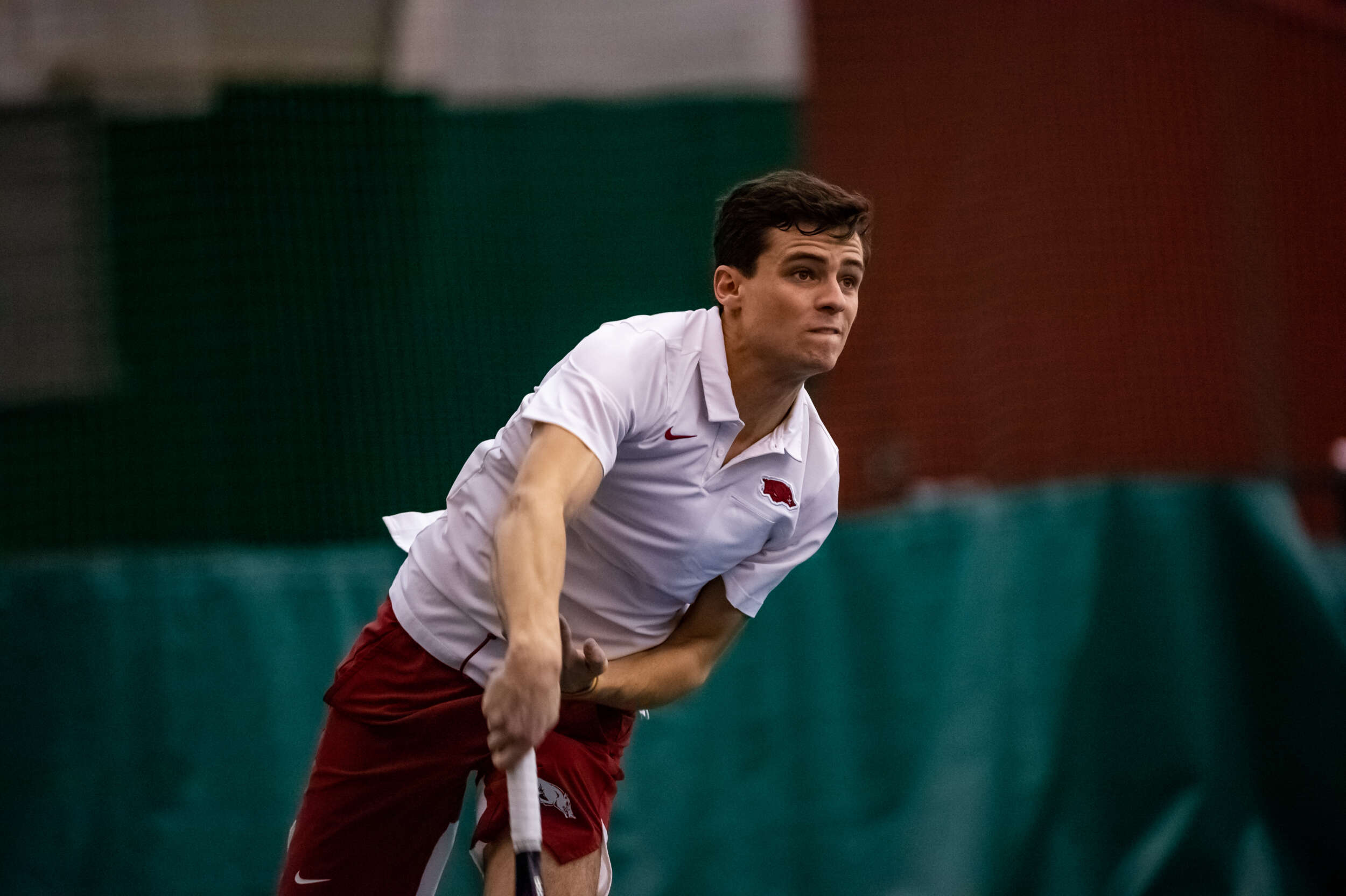 Men's Tennis downed by Mississippi State in SEC opener, 5-2
STARKVILLE, Miss – The Razorback men's tennis team fell to Mississippi State on Friday night in its SEC-opener, 5-2. No. 111 Alex Reco and Enrique Paya picked up the two singles wins for the Hogs as the two improved their combined record to 15-2 this spring. Reco also battled for another win over a nationally ranked player at the No. 2 spot.
The Razorbacks dropped their first doubles point in three matches after Mississippi State earned wins at the No. 2 and 3 spots. Both courts were tied up at 4-4 but the Bulldogs were able to take the next two games at each spot for the 1-0 lead.
Paya cut the Razorback deficit to 2-1 with a singles victory on court six. The senior earned a 7-6 tie-break win in the first and finished the second, 6-4, for the straight set victory. Paya is now 7-1 this dual season. Arkansas then dropped three tough matches, going the full three sets in each one, but the Bulldogs were able to secure the victories and the match.
In the final match of the day, Reco went the distance with No. 73 Florian Broska, taking the match 7-6, 4-6, 6-4. The junior is now 8-1 this season and 2-0 against ranked opponents.
The Razorbacks continue SEC play on Sunday when they host the 14th-ranked Ole Miss Rebels at the Billingsley Center. First serve is slated for 1 p.m. CT and there will be free pizza for fans.
Doubles
No. 1 | Paya/Verboven (Ark) vs. No. 34 Broska/Ocana (MSU), 4-3, unfinished
No. 2 | Oradini/Strickland (MSU) def. Reco/Rousset (Ark), 6-4
No. 3 | Colas/Ramskogler (MSU) def. Dominguez Alonso/Manuel (Ark), 6-4
Singles
No. 1 |No. 39 Giovanni Oradini (MSU) def. Maxim Verboven (Ark), 6-1, 6-1
No. 2 | No. 111 Alex Reco (Ark) def. No. 73 Florian Broska (MSU), 7-6 (7-2), 4-6, 6-4
No. 3 | Gregor Ramskogler (MSU) def. Jose Dominguez Alonso (Ark), 6-1, 3-6, 6-4
No. 4 | Davide Tortora (MSU) def. Nico Rousset (Ark), 6-3, 4-6, 6-3
No. 5 | Alberto Colas (MSU) def. Melvin Manuel (Ark), 5-7, 6-2, 6-2
No. 6 | Enrique Paya (Ark) def. Nicolas Ocana (MSU), 7-6 (7-5), 6-4
Finish: 1, 6, 3, 5, 4, 2