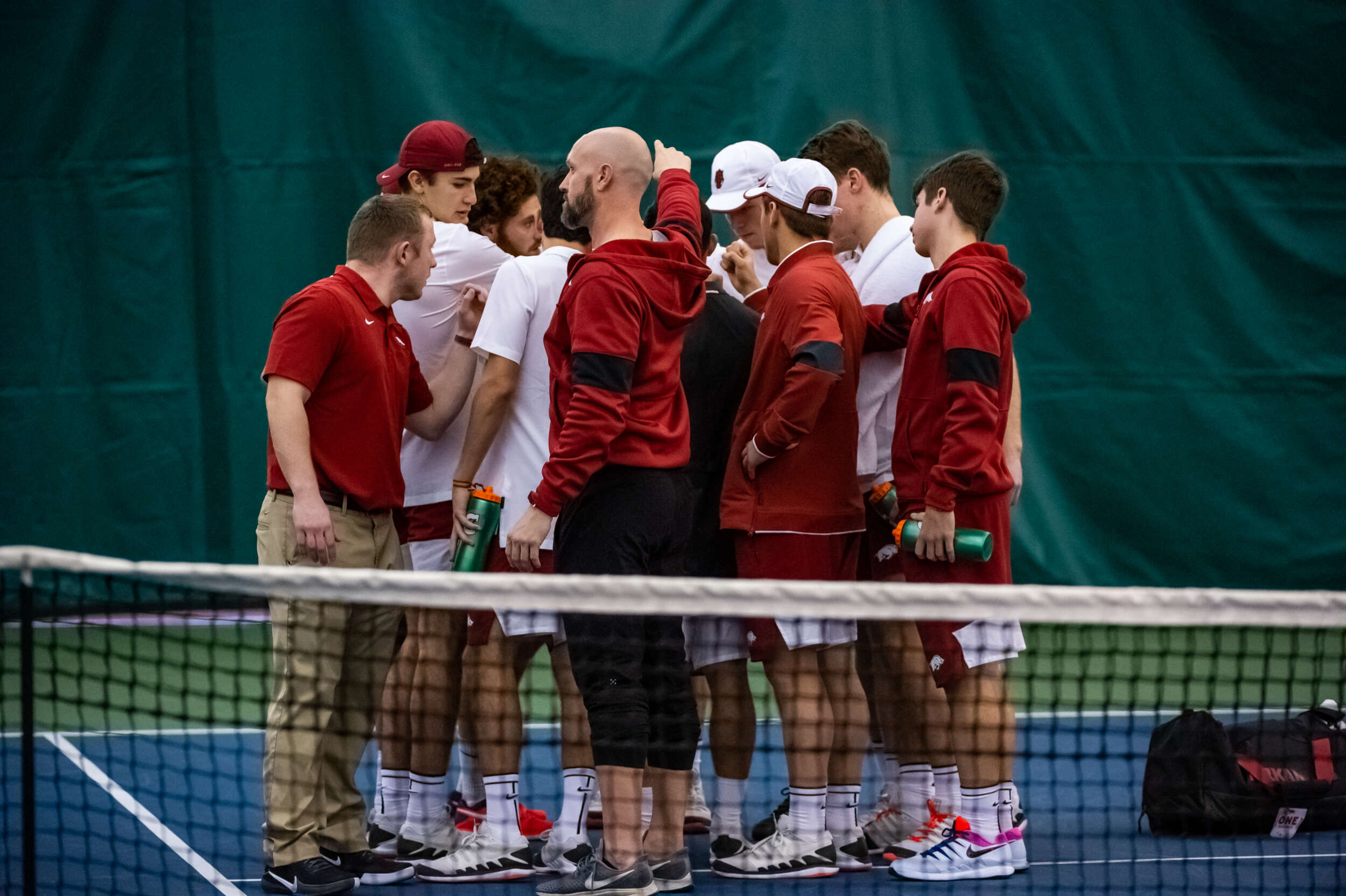 Men's Tennis downed by Tulsa, 4-3
TULSA, Okla. – The Arkansas men's tennis team fell to the Tulsa Golden Hurricane on Wednesday night at the Michael D. Case Tennis Center in Tulsa, Okla. by a score of 4-3. For a third-straight match the outcome was decided on the sixth and final singles court.
The Hogs picked up their second-straight doubles point with wins on courts two and three to take a 1-0 advantage into singles play. Jose Dominguez Alonso and Melvin Manuel continue to lead the Razorbacks as they raised their record as a duo to 6-2 this spring with a win over Ezequiel Santalla and Daniel Siddall, 6-3.
The Golden Hurricane answered with back-to-back wins on courts three and four to take the lead, 2-1. No. 111 Alex Reco used three sets to tie it up with a 3-6, 6-4, 6-2 win over Jarod Hing at the No. 2 spot. Enrique Paya was the next Razorback to get on the board with a straight set win that once again evened the scoring at 3-3. Reco and Paya have combined for a 13-2 record in singles play this season.
After Arkansas was able to take the first set in the deciding match on court five, Golden Hurricane Ezequiel Santalla won the next two sets to clinch the victory for Tulsa.
The Razorbacks will have a brief break from action before starting up SEC play on Friday, Feb. 28 at No. 34 Mississippi State. First serve in Starkville is set for 1:00 p.m.
Doubles (2,1,3)
No. 1 | Verboven/Paya (Ark) vs. Di Marco/Pearson (Tulsa), 5-6, unfinished
No. 2 | Reco/Rousset (Ark) def. Hing/Kamdem (Tulsa), 6-2
No. 3 | Dominguez Alonso/Manuel (Ark) def. Santalla/Siddall (Tulsa), 6-3
Singles (3,4,3,2,6,5)
No. 1 | No. 56 Kody Pearson (Tulsa) def. Maxim Verboven (Ark), 6-1 (1-7), 6-2, 6-2
No. 2 | No. 111 Alex Reco (Ark) def. Jarod Hing (Tulsa), 3-6, 6-4, 6-2
No. 3 | Stefan Hampe (Tulsa) def. Josh Howard-Tripp (Ark), 6-1, 6-4
No. 4 | Connor Di Marco (Tulsa) def. Nico Rousset (Ark), 1-6, 6-1, 6-2
No. 5 | Ezequiel Santalla (Tulsa) def. Melvin Manuel (Ark), 5-7, 6-2, 6-4
No. 6 | Enrique Paya (Ark) def. Juan Pablo Cenoz (Ark), 7-6 (7-4), 6-2