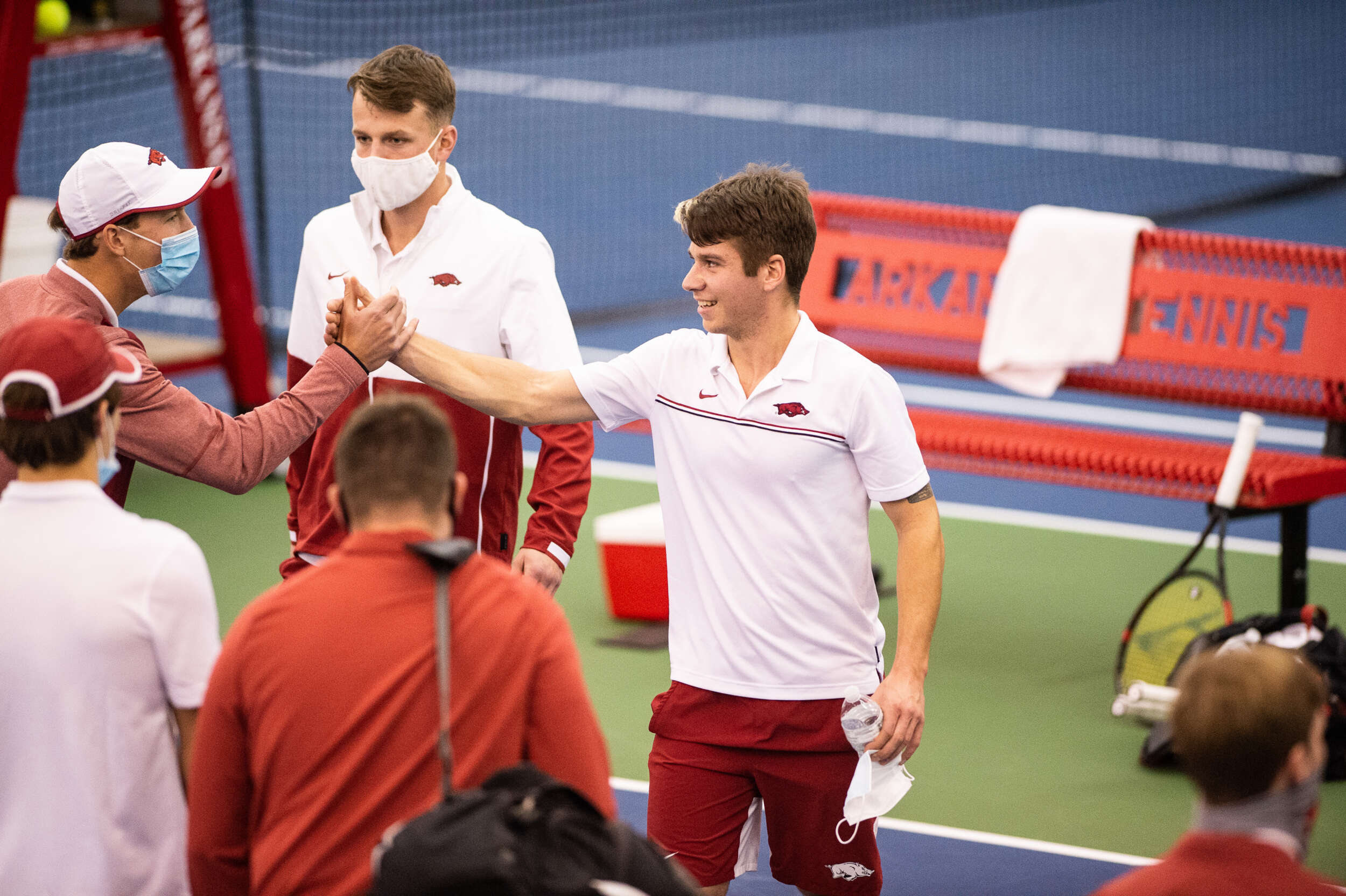 Men's Tennis downs Vandy in Nashville, 5-2
NASHVILLE, Tenn. – Razorback Men's Tennis picked up a road win at Vanderbilt on Sunday afternoon for its first win in Nashville since 2016. Arkansas clinched the doubles point and added four straight sets singles victories for the 5-2 win.
Hunter Harrison and Enrique Paya notched their second win as a duo this year with a 6-1 victory at the No. 1 spot. Alex Reco and Nico Rousset clinched doubles for the Hogs with a 6-2 win on court three over Jeremie Casabon and Adam Sraberg.
In singles, Aleksa Bucan was the first off the courts with a straight sets 6-4, 6-1 win on court four. Adrien Burdet made it 3-0 Hogs with a 6-2, 6-3 win to move his record to 8-4 in his rookie season. Rousset then clinched the match at the No. 3 spot with a 6-4, 6-4 victory. Rousset is now 5-3 in singles at the No. 3 position during this dual season. After an extended first set, Paya cruised in the second to pick up a 7-5, 6-2 win over Joubert Klopper to cap off the Razorback scoring.
"Our team earned an important win today. Winning on the road in the SEC is hard and it was our first match outdoors, which is difficult," said Head Coach Andy Jackson. "It seemed like a lot of breaks were going against us starting with the close lose to Oklahoma State. But the team just kept their heads down and kept working. That's what I expect them to do again this week getting ready for LSU on Friday."
The Razorbacks are back in action for a match with LSU on Friday, March 12. First serve in Fayetteville is set for 5:00 p.m. CT.