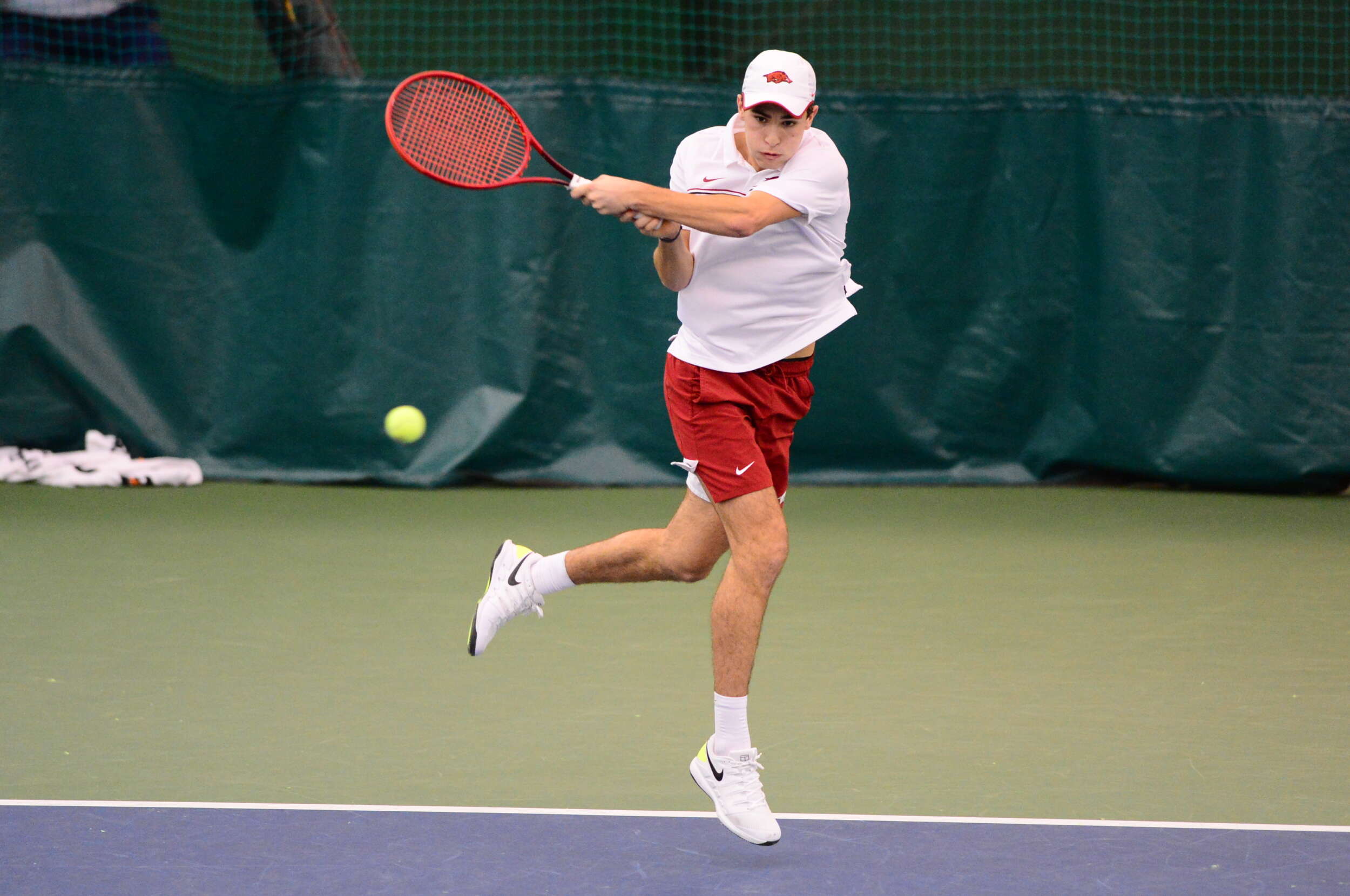 Men's Tennis downs Washington for fifth-straight win
FAYETTEVILLE, Ark. – Razorback Men's Tennis (5-0) beat the Washington Huskies (2-2) by a score of 5-2 on Saturday night at the Dills Indoor Tennis Center. It's the first win against Washington since 1994 and the Hogs are off to their best start since 2012.
Alex Reco and Nico Rousset got their third straight win as a doubles duo, taking down Lin/Lumsden at the No. 3 spot, 6-3. Coming off a win over the 29th-ranked pairing from Tulsa, Maxim Verboven and Hunter Harrison won in a tiebreak, 7-6 (7-3), to secure the doubles point for the Hogs. Arkansas has now won the doubles point the last four matches.
The 72nd-ranked Reco was the first Razorback off the court after downing No. 65 Jack Davis in straight sets, 6-2, 6-3. Reco is now 4-0 against nationally ranked opponents over the last two dual seasons. Melvin Manuel and Adrien Burdet both raised their records this spring to 5-0 with wins at the No. 4 and 5 spots, respectively. Rousset added another singles victory for the Razorbacks with a 6-1, 4-6, 1-0 (10-6) victory against Ewen Lumsden.
"It was a very close match. We played a little better at big moments and that was the difference. I'm proud of the team as they put a lot into this match," said head coach Andy Jackson. "We're very grateful to UW and Coach Anger for playing. It was good for both teams. On Wednesday we play an Oklahoma team that is receiving votes and we're eager for the challenge."
The Razorbacks will be back at the Billingsley Tennis Center for a matchup with the Oklahoma Sooners on Wednesday, Feb. 10. First serve in Fayetteville is scheduled for 4 p.m. CT.