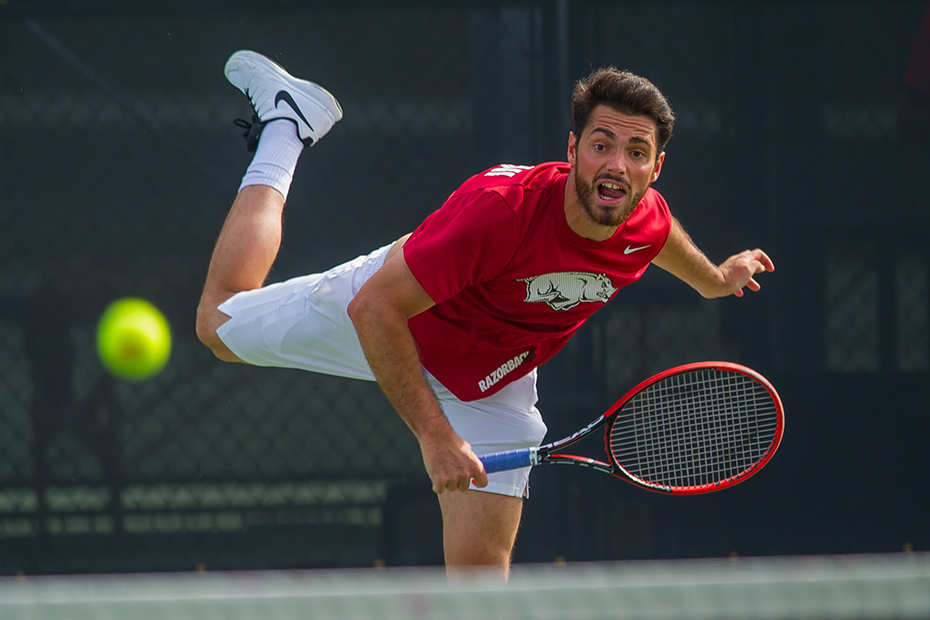 Men's Tennis Duo Ousted By Wake Forest
TULSA, Okla. — In the first round of NCAA Championship doubles action, the Arkansas pair of Giammarco Micolani and Mike Redlicki lost 7-6 (4), 6-3 to Wake Forest's duo of Skander Mansouri and Christian Seraphim on Thursday afternoon.
Redlicki began the match by holding serve, and the two teams followed suit until it was tied 6-6. In the first set tiebreaker, the Demon Deacons nabbed two points from Micolani's serve to take a 5-2 lead. That ended up being the difference, as Seraphim eventually closed out the tiebreaker by a score of 7-4.
Just like the first, Mansouri started the second set by holding serve and the teams alternated until Wake Forest led 4-3. The Demon Deacons then broke the Razorbacks for the first time in the match and completed the 6-3 second set victory on their own serve.
Mansouri and Seraphim now move on to the second round, where they will face the winner of LSU's No. 8 Boris Arias and Jordan Daigle vs. Columbia's Shawn Hadavi and Richard Pham on Friday.
The Micolani-Redlicki pair finished its spring season with a 13-10 doubles record to go along with an undefeated 5-0 mark together in the fall.
QUOTABLES
"It was a close match. I was pleased that Mike played better than he did in singles and proud of the way he and Gimmy competed. I want to thank all the guys for this season, particularly the seniors. This program is on the move and we're excited about the future." — Head coach Andy Jackson
"It was a lot of fun, and to compete with Mike as a partner was unbelievable. The match was close from start to finish. We fought really hard but they were just a little bit better than us today." — Senior Giammarco Micolani
For more information on Razorback men's tennis, please follow @RazorbackMTEN on Twitter.