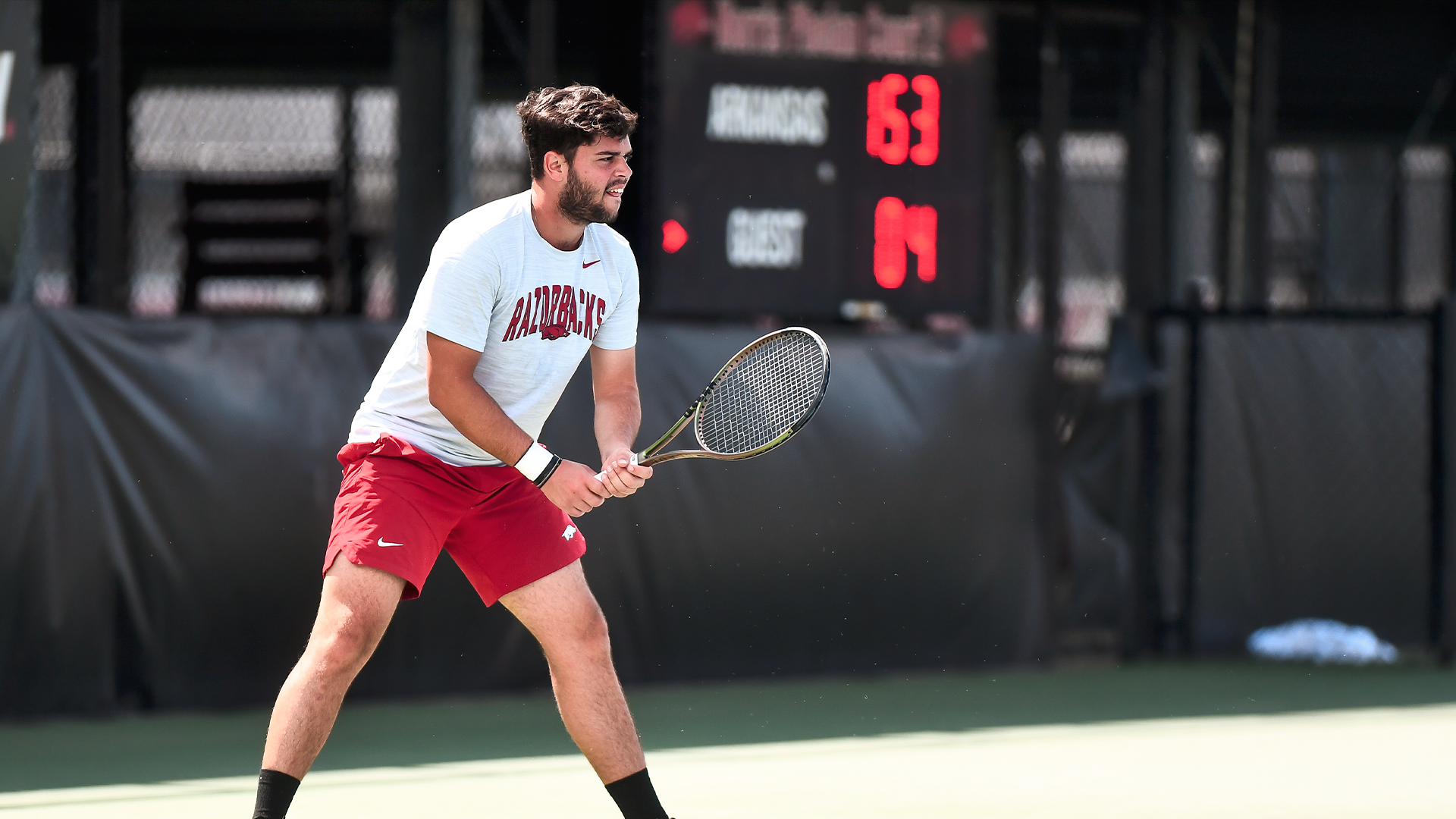 Men's Tennis Falls 4-0 to No. 17 Auburn
AUBURN, Ala. – The No. 60 Arkansas men's tennis team dropped its first match of the weekend, falling 4-0 to No. 17 Auburn. The Razorbacks move to 12-11 overall and 0-10 in conference play.
The Tigers were able to secure the early lead with the doubles point. On court three, Auburn's Tyler Stice and Alejandro Moreno took the first doubles court with a 6-2 win over Razorbacks' Sweeney and Rogers. It was Jan Galka and Billy Blaydes who clinched the doubles point for the Tigers with a 6-3 win against Savva and Sau Franco. Arkansas' No. 70 Burdet/Manuel were down 5-6 against No. 30 Murgett/Dobai before the point was won.
The Razorbacks started out hot in singles play, taking four of the first sets. Auburn extended its lead with wins on courts three and five, Alan Sau Franco dropped his match 3-6, 0-6 to Finn Murgett and Gerard Planelles Ripoll fell 2-6, 7-5 to Raul Dobai.
The Tigers clinched the match victory on court one with No. 59 Tyler Stice defeating Stefanos Savva. Savva took the first set 6-4 then dropped the next two to fall 6-4, 3-6, 1-6.
Arkansas returns to the court on Sunday, April 9 facing the Mississippi State Bulldogs at 1 p.m. CT in Starkville, Miss.
For the latest information on all things Arkansas Men's Tennis, follow the Hogs on social media by liking us on Facebook (Arkansas Razorback Men's Tennis) and following us on Twitter and Instagram (@RazorbackMTEN).