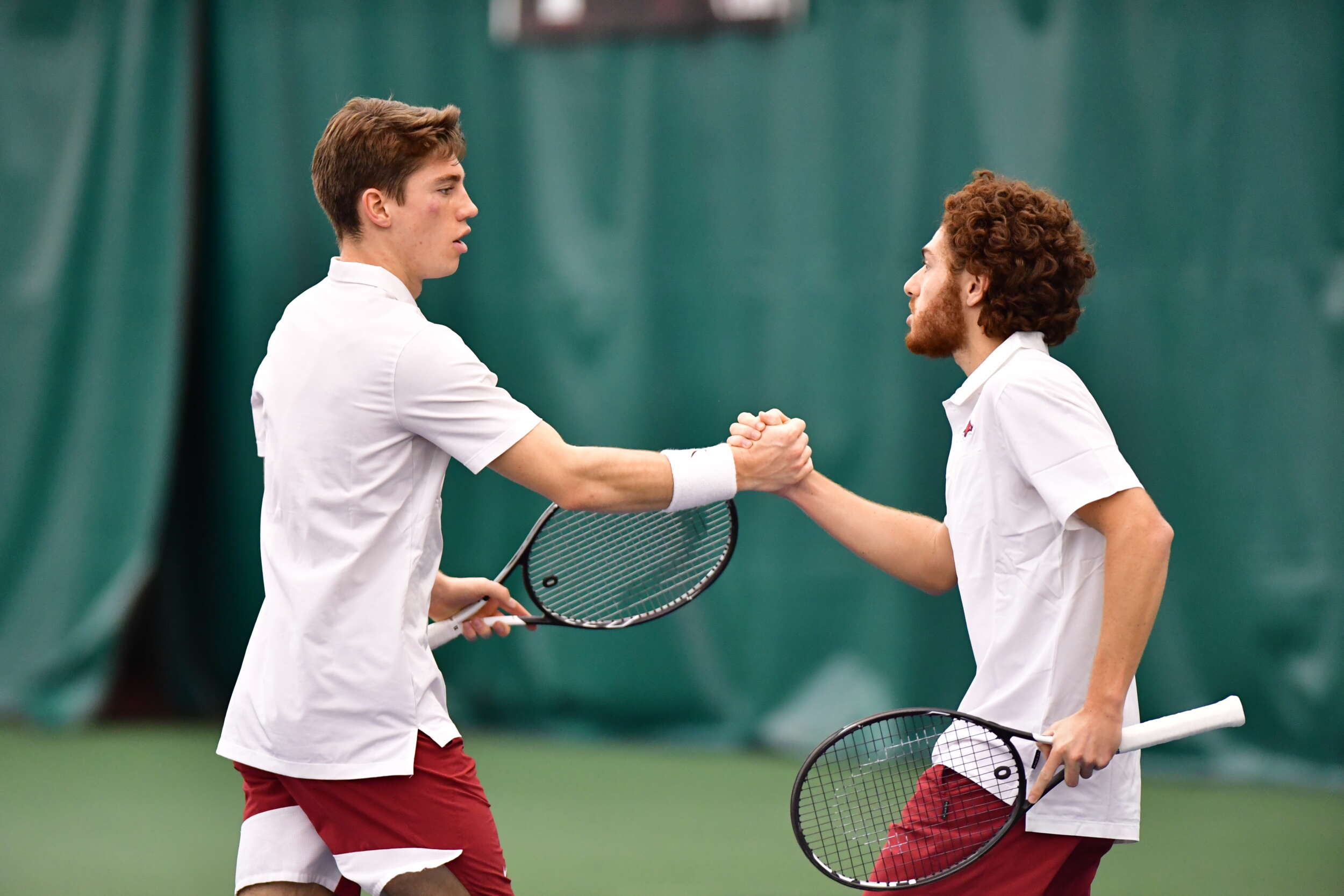 Men's Tennis falls at Oklahoma, 4-3
NORMAN, Okla. – The Arkansas men's tennis team fell on Friday night to the Oklahoma Sooners, 4-3. No. 73 Alex Reco and Nico Rousset earned wins against ranked Sooners while Enrique Paya picked up a win at No. 6 singles on the squads first road trip of the season.
The pairing of Maxim Verboven and Enrique Paya won their first doubles match of the season at the No. 1 spot, 6-4, but the Hogs eventually dropped on courts two and three. After the Razorbacks fell in doubles action, Alex Reco quickly earned a win at the two-spot, 6-4, 6-4, over No. 71 Mason Beiler. The junior remains undefeated this year after picking up his sixth win of the spring.
Nico Rousset dropped the second set against No. 92 Justin Schlageter, 1-6, and found himself trailing again in the third and final set. However, the new Razorback fought back and won a long third stanza, 7-5, to earn his fourth win at No. 4 singles. Enrique Paya closed out the night with a three-set win on court six against Max Stewart. Paya is now 3-1 at the No. 6 spot this season with his 6-3, 3-6, 6-3 victory on Friday.
Arkansas will be back at the Dills Indoor Tennis Center in Fayetteville to face the Memphis Tigers on Sat., Feb. 15. First serve is set for 1:00 p.m.
Doubles
No. 1 | Verboven/Paya (Ark) def. Van Emburgh/Mandlik (OU), 6-4
No. 2 | Stewart/Martinez (OU) def. Rousset/Reco (Ark), 7-6 (7-4)
No. 3 | Beiler/Schlageter (OU) def. Dominguez Alonso/Manuel (Ark), 6-3
Singles
No. 1 | Jake Van Emburgh (OU) def. Maxim Verboven (Ark), 7-6, 7-5
No. 2 | No. 73 Alex Reco (Ark) def. No. 71 Mason Beiler (OU), 6-4, 6-4
No. 3 | Mark Mandlik (OU) def. Josh Howard-Tripp (Ark), 6-4, 6-3
No. 4 | Nico Rousset (Ark) def. No. 92 Justin Schlageter (OU), 6-2, 1-6, 7-5
No. 5 | Alex Martinez (OU) def. Melvin Manuel (Ark), 7-6, 7-5
No. 6 | Enrique Paya (Ark) def. Max Stewart (OU), 6-3, 3-6, 6-3