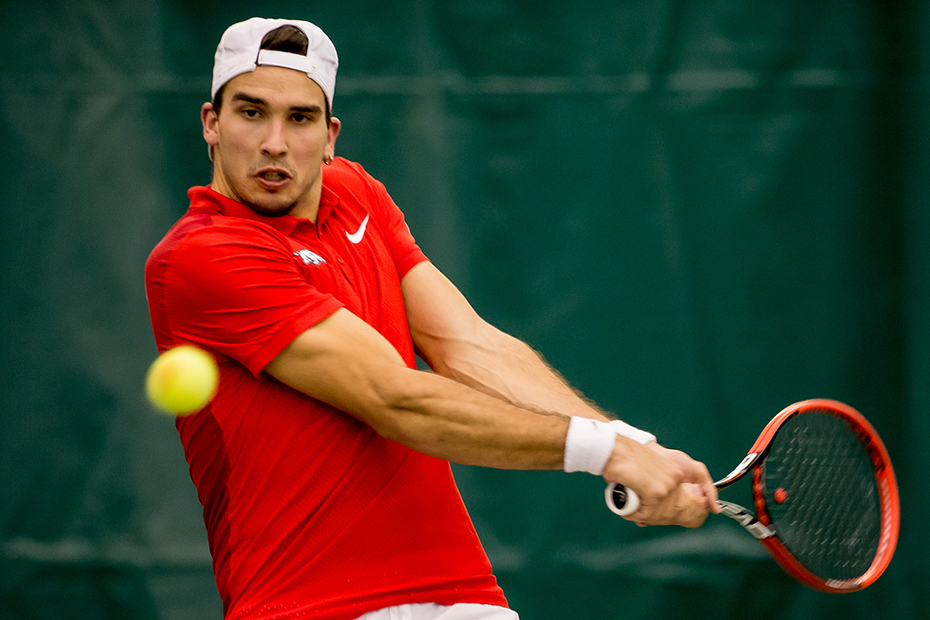 Men's Tennis Falls to Golden Hurricane
TULSA, Okla. — In its first away match of the spring, the Arkansas men's tennis team fell to Tulsa on Friday night by a score of 6-1. Jose Salazar defeated Golden Hurricane senior Dylan McCloskey at No. 3 singles in a 6-1, 6-2 victory to improve to 3-2 on the season.
"We didn't play bad today, Tulsa was just better. We hope we can improve on Sunday against SMU," head coach Andy Jackson said. "I like our team a lot, they fight hard and fight together. We are going to keep improving."
NOTABLES
• At No. 1 singles, Mike Redlicki lost his first match of the year to No. 30 Or Ram-Harel in a 7-6, 7-6 result. He now stands at 3-1 on the season.
• Santiago Munoz at No. 4 singles and William Albanese each lost three-set matches. Albanese fell to freshman Francois Kellerman at No. 6 singles in a final-set tiebreaker.
UP NEXT
The Razorbacks have a quick turnaround, as the team travels to Dallas to face SMU on Sunday, Feb. 14 at 2 p.m.
TODAY'S RESULTS
DOUBLES
1. Matthew Kirby/Dylan McCloskey (TUL) def. Giammarco Micolani/Mike Redlicki (AR) 6-4
2. #52 Carlos Bautista/Juan Matias Gonzalez (TUL) def. Jose Salazar/Adam Sanjurjo (AR) 7-5
3. Dominic Bechard/Or Ram-Harel (TUL) def. Santiago Munoz/Johan den Toom (AR) 7-5
SINGLES
1. #30 Or Ram-Harel (TUL) def. Mike Redlicki (AR) 7-6, 7-6
2. #94 Carlos Bautista (TUL) def. Giammarco Micolani (AR) 6-3, 6-2
3. Jose Salazar (AR) def. Dylan McCloskey (TUL) 6-1, 6-2
4. Juan Matias Gonzalez (TUL) def. Santiago Munoz (AR) 6-3, 4-6, 6-2
5. Majed Kilani (TUL) def. Adam Sanjurjo (AR) 6-4, 6-2
6. Francois Kellerman (TUL) def. William Albanese (AR) 4-6, 6-4, 7-6
ORDER OF FINISH
Doubles (1,2,3); Singles (3,5,2,4,1,6)