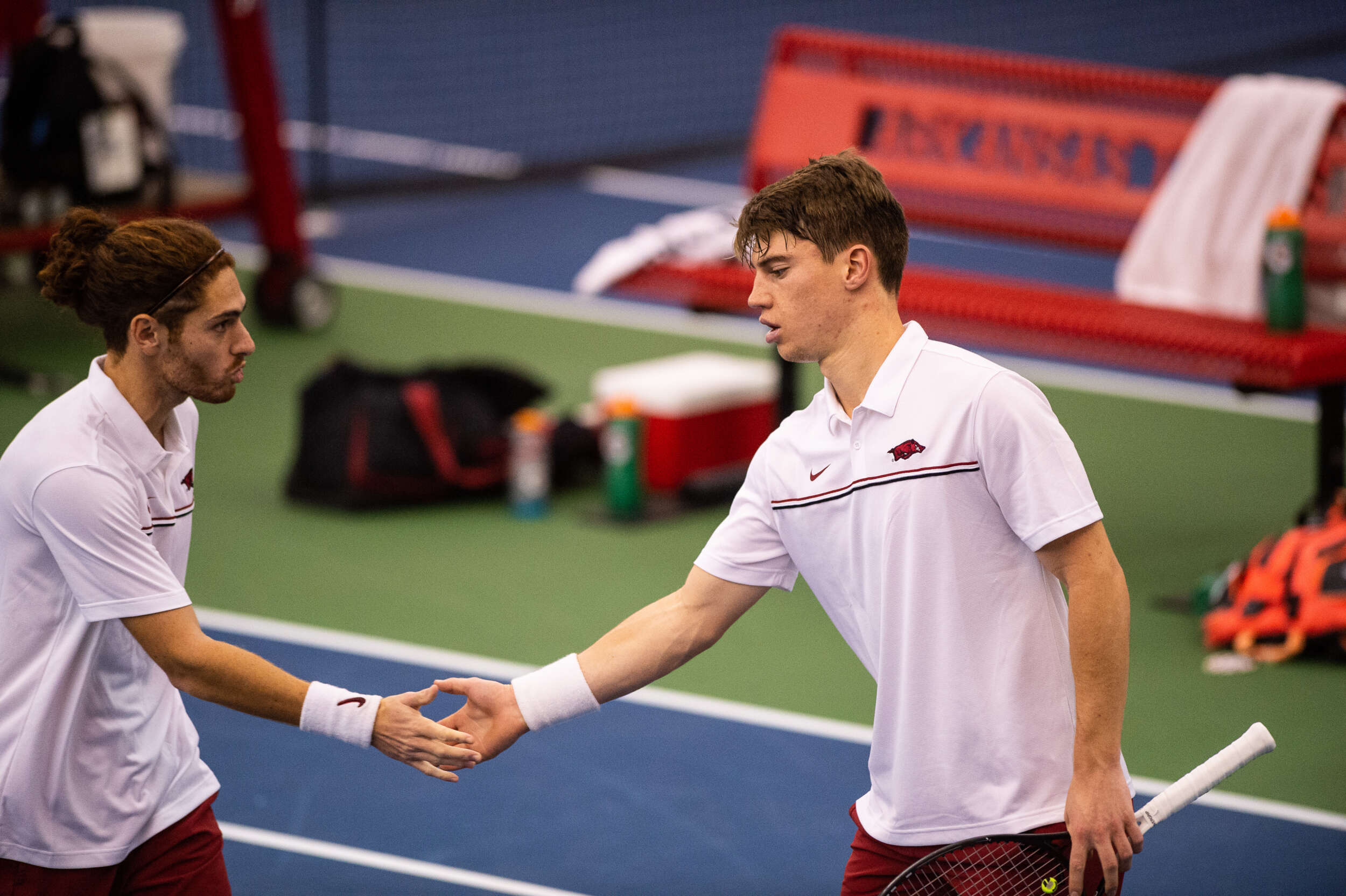 Men's Tennis falls to No. 15 Oklahoma State, 4-3
STILLWATER, Okla. – Razorback Men's Tennis (6-2) battled No. 15 Oklahoma State (3-0) to the very last match, but the Hogs eventually fell on Sunday afternoon, 4-3. Alex Reco and Nico Rousset picked up wins over nationally ranked Cowboys and Enrique Paya added another win at the sixth spot in singles play.
In doubles action, Reco and Rousset combined for a win against Dominik Kellovsky and Etienne Donnet, 6-2. The pair improved their record to 5-1 at the No. 3 position this dual season.
72nd-ranked Alex Reco notched his second ranked win of the year after downing No. 61 Kellovsky in straight sets, 6-3, 6-4. The junior is now 7-0 in singles play this spring. Paya evened the match at 2-2 with his fifth victory of the season by downing Donnet at No. 6 singles by a score of 6-2, 6-3. At the number three spot Rousset also added his second ranked win of the spring by defeating No. 101 Emile Hudd, 6-2, 7-5. Rousset has won three straight and is now 4-1 at No. 3 singles.
"We played with enough effort and fight, but at the biggest moments OSU played better tennis. Congrats to them and Coach Jenkins," said Head Coach Andy Jackson. "SEC tennis season starts now, and Mississippi State is a traditional power. We didn't rise to the challenge today so we will be eager to do better Friday in Starkville."
The Razorbacks will be back on the road for their SEC opener at Mississippi State on Friday, Feb. 19. First serve in Starkville is set for 1 p.m. CT.