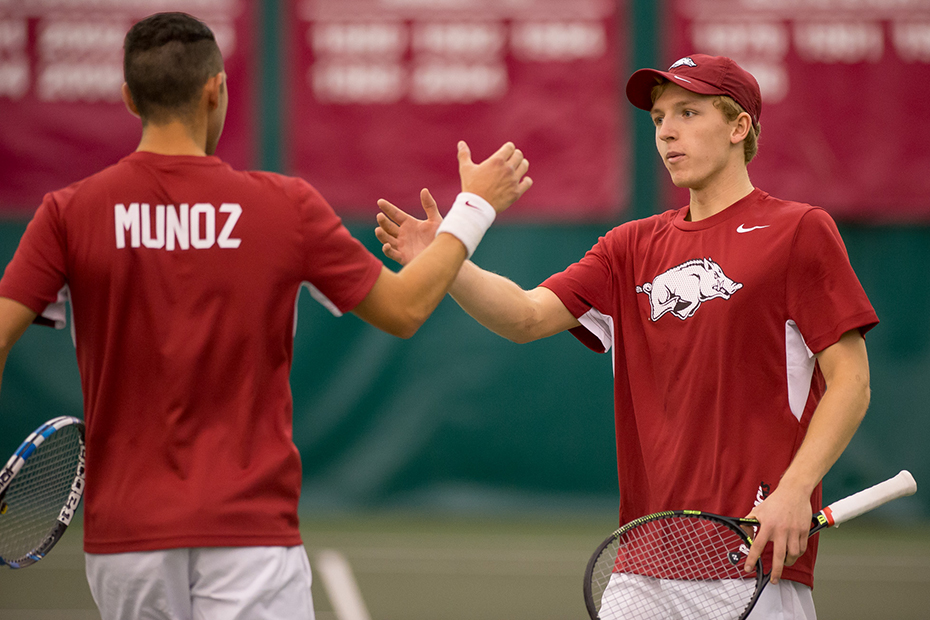 Men's Tennis Hosts Busy Weekend
FAYETTEVILLE, Ark. — After "getting over the hump" and pulling out a road win, the Arkansas men's tennis team returns to the Billingsley Tennis Center this weekend for a quad match against Jackson State on Saturday, Feb. 20, then a weekend capper with Santa Clara on Sunday, Feb. 21.
Quad meets are not of the norm, but the Razorbacks (4-2) have the opportunity to take four victories in one day with the Tigers coming into town. Play starts at 9 a.m. on Saturday morning, with one team match starting outdoors while one is indoors. When those end, the process repeats for a total of four matches in one morning.
"There's a couple of things we need to gain out of the quad meet," head coach Andy Jackson explained. "Experience playing outside will be good for us; hopefully we can get some wins and the comfort of playing outside. That's where SEC's are played and where the national championships are played, so we need to get comfortable."
The Broncos come to Fayetteville from Tulsa, where they face the Golden Hurricane on Friday, Feb. 19 at 1 p.m. Going into the Tulsa match, Santa Clara is also 4-2 on the season, with notable wins over Fresno State and UC Santa Cruz. As a team who finished ahead of the Razorbacks in the national standings last season, the Broncos are not a team the hosts will take lightly.
A number of Arkansas players are competing at a high level a half-dozen matches into the season. Coming off a victory over No. 31 Hunter Johnson of SMU, Mike Redlicki stands at 4-1 at the Razorbacks' top singles spot. With the team score tied 3-3, Jose Salazar clinched the fourth and final win at No. 2 singles against the Mustangs' Samm Butler by a score of 6-3, 3-6, 6-3.
There will be free Keurig products, popcorn and Pepsi soft drinks available for all Arkansas fans to come to support the team at the Billingsley Tennis Center. On Saturday the first 100 fans will receive free donuts, and on Sunday the first 50 fans will receive free Whataburger.
For more information on Razorback men's tennis, please follow @RazorbackMTEN on Twitter.