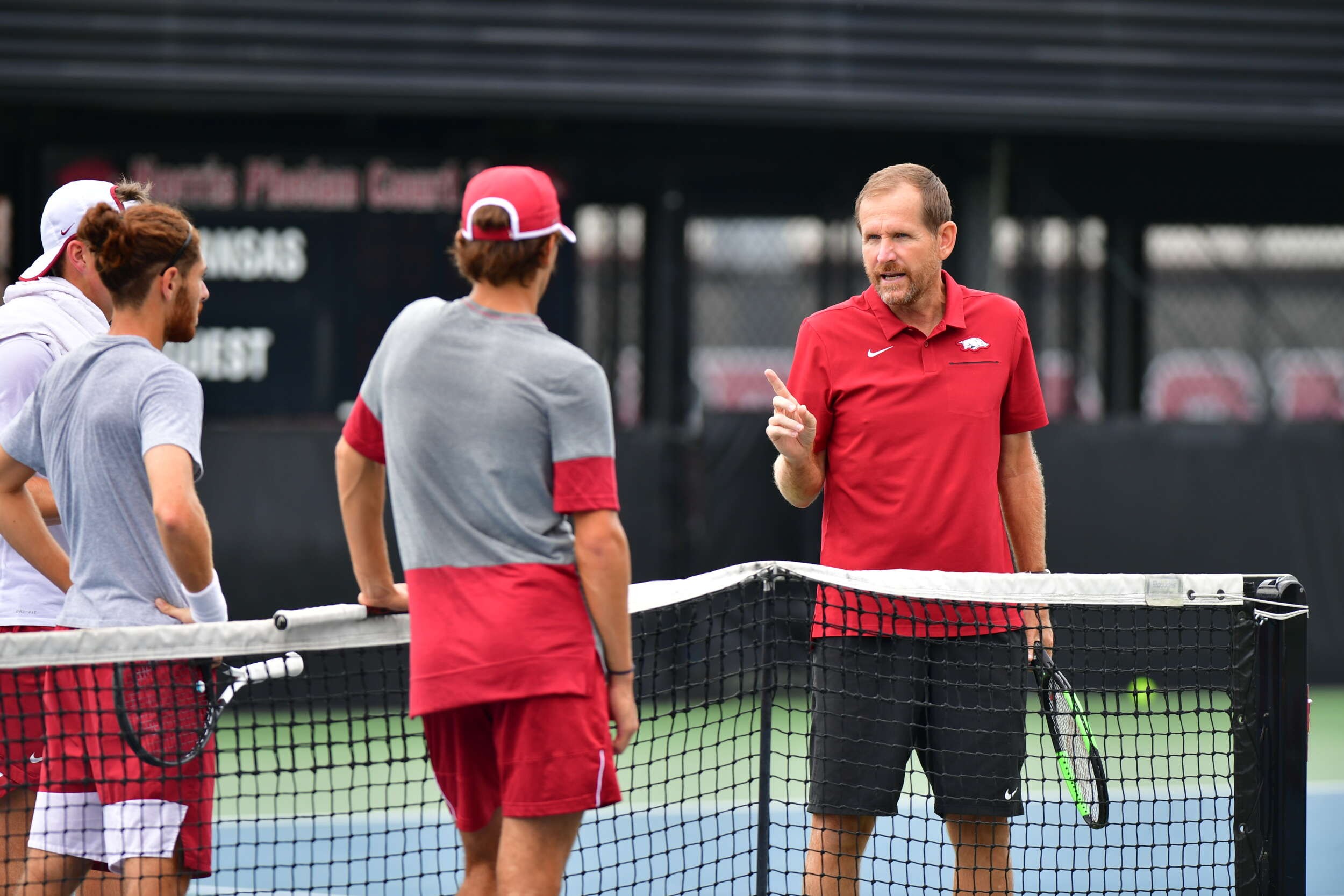 Men's Tennis hosts Omaha in Spring-Opening Doubleheader
FAYETTEVILLE, Ark. – The Razorback Men's Tennis team is set to open the 2021 season with a doubleheader against Omaha on Friday, January 15th at the Billingsley Tennis Center. First serve on Friday is set for 3:00 p.m. CT.
Match 1, 2 Info
Opponent: University of Nebraska at Omaha Mavericks
Date: Friday, January 15
Location: Billingsley Tennis Center
First Serves: 3:00 p.m. CT // TBA
Live Stats: bit.ly/2LE3NVf // bit.ly/3sit3RD
Last Time Out
The Razorbacks played in three competitions this fall, kicking off with the Oli Borsos Invitational hosted by LSU. Arkansas picked up 14 wins at the event hosted in Baton Rouge, highlighted by a run to the semifinals of the Tiger Draw by Nico Rousset. The Razorbacks then traveled to Nashville, Tenn. for the Commodore Invitational for matches against SEC foes Vanderbilt, Kentucky, and Auburn. On the second day in Nashville the Razorbacks split 12 matches with the Kentucky Wildcats, taking three of the four doubles matches. Arkansas wrapped up 2020 with play at the Billingsley Tennis Center for the Legacy Bank NWA Tennis Series in November.
Quick Hits
>> The Razorbacks have won their last nine season openers, including a 7-0 sweep against Omaha in 2013.
>> Arkansas is returning all seven Razorbacks that contributed to a 6-1 win against the Mavericks last season.
>> The Hogs were led last spring by Alex Reco and Enrique Paya during the dual season. Reco went 9-1 in singles play and is ranked No. 81 by the ITA, while Paya has racked up 21 wins the past two dual seasons.
>> In doubles play, Jose Dominguez Alonso and Melvin Manuel turned in a 7-3 record last dual season highlighted by a 6-4 victory over Cotter Wilson/Nikola Slavic in the last SEC match of 2020 against Ole Miss.
>> The Razorbacks added four to the roster for the new spring season, including the No. 1 players from the states of Texas (Avery Zavala) and Arkansas (Foster Rogers). The Hogs also brought in international talent in Riccardo Trione and Adrien Burdet at the start of the new semester.