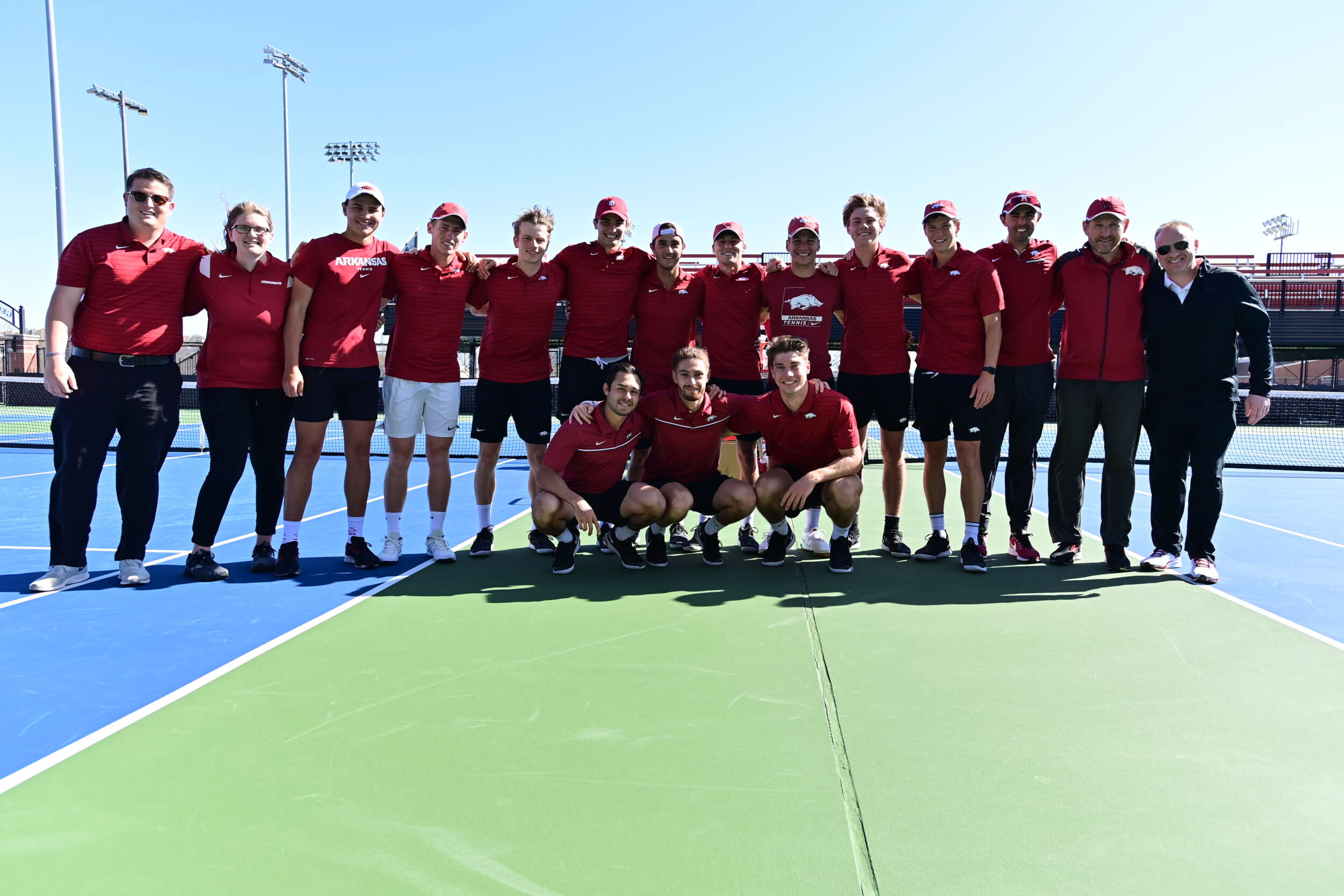 Men's Tennis Notches Two Wins over Saint Louis on Senior Day
FAYETTEVILLE, Ark. – The Arkansas Men's Tennis team (14-11, 3-7) took down the Saint Louis Billikens in a home finale Saturday night, winning both matches of the doubleheader and ending the season on a three-match home winning streak. The Hogs defeated the Billikens 7-0 in match one and 6-1 in match two on a day where Arkansas' three seniors were honored before the match.
"It was a great day for us," Arkansas Head Coach Andy Jackson said. "Our seniors Josh Bortnick, Alex Reco and Nico Rousset have been so great for us."
The Hogs improved to 14-11 on the season, and with two matches left on the Razorback schedule, guaranteed an overall record above .500. The NCAA Tournament requires teams to be at or above .500 to be selected for the tournament.
Arkansas came into Saturday on a two-match winning streak and used that momentum to suppress an upset-minded Saint Louis team early. The Billikens pushed the Hogs to a couple tight doubles sets to start, but the Razorbacks fought to win the doubles point.
It was all business for the Razorbacks in singles in the first match, as the Hogs dominated the Billikens, not dropping a set in six singles matches. Razorbacks Foster Rogers and Avery Zavala were especially sharp, winning their matches 6-1, 6-0 and 6-0, 6-0, respectively, each in under an hour.
The second leg of the doubleheader featured a neck-and-neck doubles point. Through 10 games, each set was tied at 5-5. But the Hogs were the ones who closed out the sets, winning on court one, 7-5, and on court two in a tiebreaker, 7-6(7). 
Night time singles action saw Arkansas handle Saint Louis again, clinching the match at 4-0 after Melvin Manuel's 6-2, 6-0 win at the team's second singles spot. Manuel improved to a team-best 15-2 in singles on the season.
Arkansas will finish the regular season with a couple road matches next weekend, taking on the Ole Miss Rebels on Friday, followed by the LSU Tigers on Sunday. The SEC Tournament will follow, beginning on April 20.
"We are so excited to play at Ole Miss and LSU next weekend," Jackson said. "There's nothing like playing great programs in high stakes matches. Our seniors will be leading the way. Our best tennis is ahead of us."
The Hogs and Rebels will face off at 3 p.m. Friday, and then the Razorbacks will meet the Tigers at 1 p.m. on Sunday.