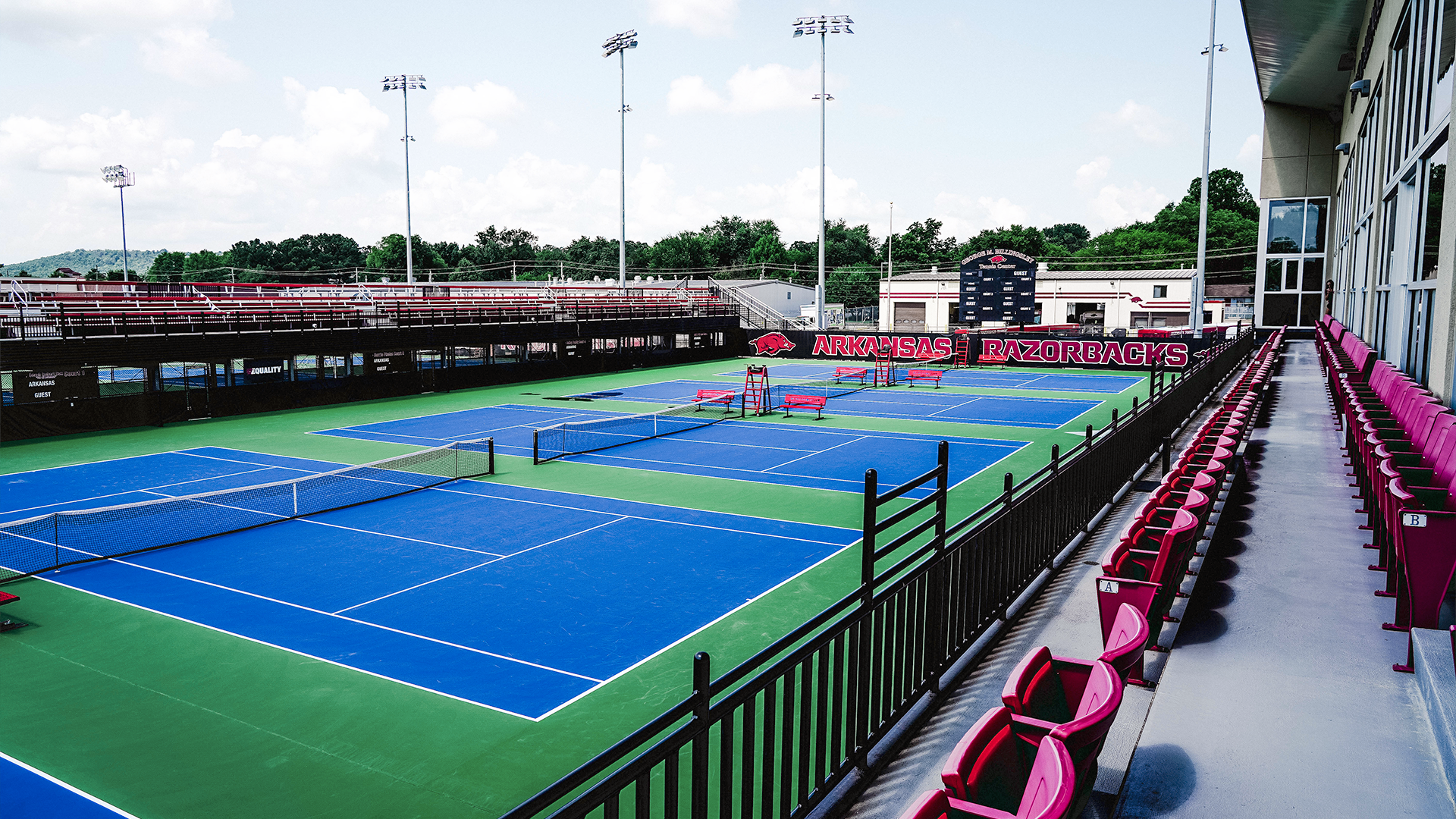 Men's Tennis Set to Host ITA Central Regional Championships
FAYETTEVILLE, Ark. – The Arkansas men's tennis team continues its fall season as they get ready to host the ITA Central Regional Championships on the University of Arkansas campus from Thursday, Oct. 13 through Monday, Oct. 17. The tournament will be played at two sites with matches at the Billingsley Tennis Center and the newly built University of Arkansas Recreation (UREC) Tennis Center.
The ITA Regional Championships features some of the top players across the country with regional doubles champions and regional singles champions and finalists qualifying for the season-ending ITA National Fall Championships. Arkansas will be competing against student-athletes from 12 schools including Creighton, Drake, Lindenwood, Nebraska, North Dakota, Oklahoma, Oklahoma State, Omaha, Oral Roberts, St. Louis University, Tulsa and Wichita State.
Arkansas will have four players representing the Razorbacks in the tournament. Juniors Adrien Burdet, Alan Sau Franco, Foster Rogers and sophomore Jake Sweeney will begin play on Thursday in both singles and doubles competition.
Order of Play – Thursday, October 13
8:30 a.m. – Rogers/Sweeney (Arkansas) v. Aynedjian/McDonnell (North Dakota)
Not Before 9:30 a.m. – O. Alvarez (Creighton) v. F. Rogers (Arkansas)
Not Before 1:30 p.m. – A. Sau Franco (Arkansas) v. R. Christainsen (Nebraska) OR A. Gandini (Creighton)
Not Before 2:30 p.m. – L. Bracks (Wichita State) v. A. Burdet (Arkansas)
Not Before 3:30 p.m. – J. Sweeney (Arkansas) v. J. Van Assendelft (Oklahoma)
Fans are welcome to attend throughout the week and admission is free at both locations. All matches played at the Billingsley Tennis Center will be streamed through PlaySight and live stats will be available beginning with the Round of 16 matches on Saturday, Oct. 15.
Draws, schedule of play and complete results can be found on the tournament website.
For the latest information on all things Arkansas Men's Tennis, follow the Hogs on social media by liking us on Facebook (Arkansas Razorback Men's Tennis) and following us on Twitter and Instagram (@RazorbackMTEN).