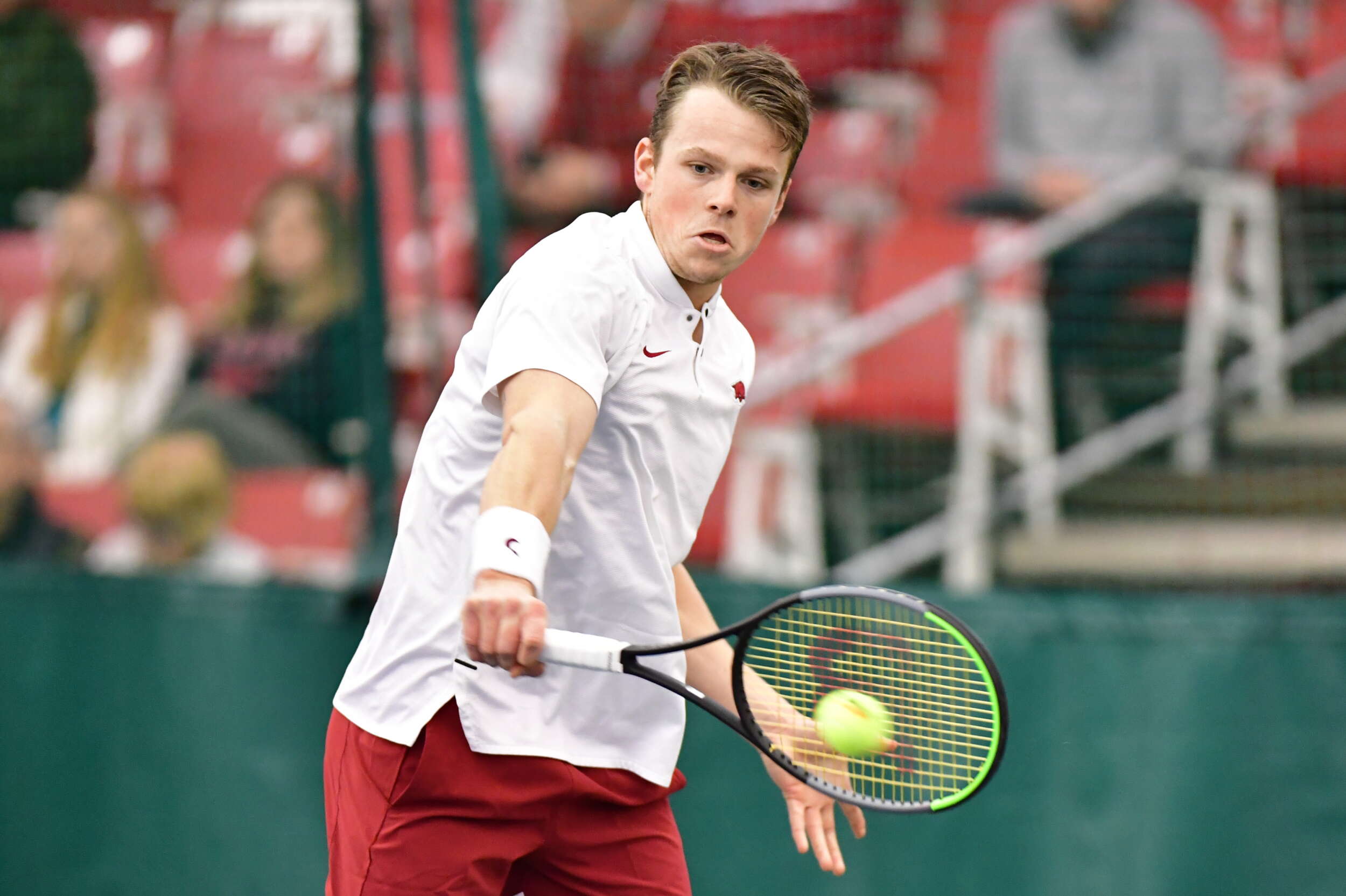 Men's Tennis splits two matches to open season
FAYETTEVILLE, Ark. – The Arkansas men's tennis team (1-1) split two matches to open the spring on Saturday night at the Dills Indoor Tennis Center. The Razorbacks downed the Drake Bulldogs in their home opener, 4-1, but fell in a nearly four hour battle to Wichita State, 4-3.
After dropping the doubles match to the Bulldogs, Arkansas put together four straight-set wins to capture the victory. Freshman Melvin Manuel got the Razorbacks on the board in his first match in an Arkansas uniform, downing Reid Jarvis 6-0, 6-3. Enrique Paya and Nico Rousset followed it up with two quick wins at the No. 6 and No. 4 spots, respectively. After winning a first set tiebreak, 7-4, Alex Reco cruised by Evan Fragistas in the second set, winning 6-1 to give Arkansas the victory.
Later in the day the Hogs looked to make a comeback attempt against the Shockers but ultimately fell in the final singles match by two games. Reco and Paya won their second matches of the day as the two squads were tied up at two points apiece after three singles matches. Reco won 6-2, 6-2 at the No. 2 spot while Paya downed Alex Richards, 6-3, 7-6 (7-5). After Arkansas dropped the No. 4 spot, Maxim Verboven battled to a comeback win in the top spot over Murkel Dellien. Verboven dropped the first set tie break (6-8) but was able to take the next sets 6-2 and 7-5 as the Razorbacks were tied at three with just one singles match to play. In the last match Jose Dominguez Alonso picked up an 8-6 tiebreak win in the second set but his Shocker opponent, Elio Lago, won a break point and took the third set 7-5.
The Razorbacks will be back at the Dills Indoor Tennis Center tomorrow afternoon for a meeting with Middle Tennessee. First serve is scheduled for 2:00 p.m. CT.