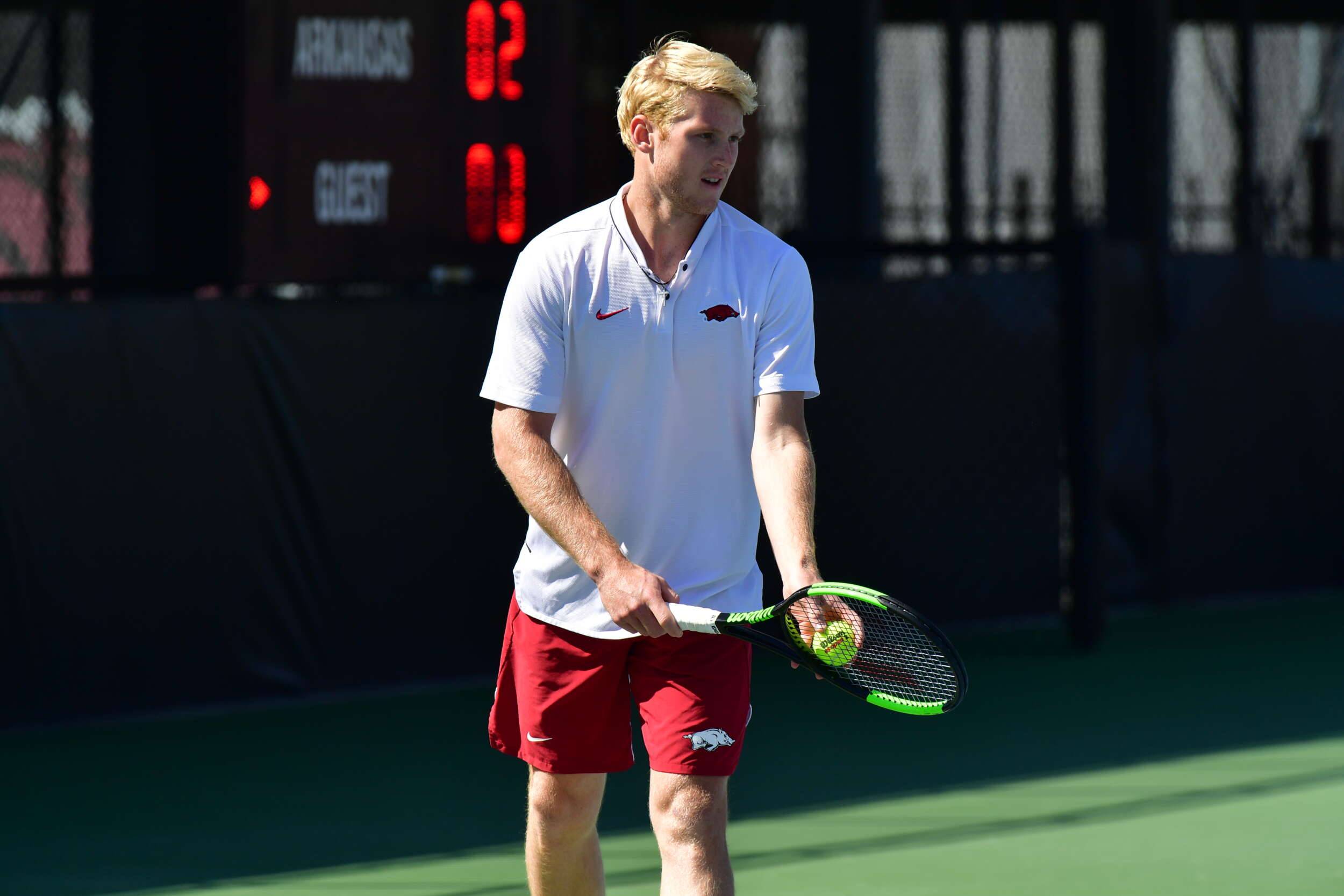 Men's Tennis sweeps UAPB in doubleheader
FAYETTEVILLE, Ark. – The Razorback men's tennis team picked up a pair of wins over Arkansas Pine Bluff on Saturday afternoon at the Billingsley Tennis Center, sweeping both matches 7-0.
The Razorbacks earned their fourth and fifth doubles point in the last six matches after winning at the No. 1 and 2 spots in both matchups. Arkansas then took all singles matches in straight sets, winning 96 games compared to just one by the Golden Lions.
The Hogs get back to SEC play when they travel to Lexington to face Kentucky on Friday, Mar. 13. First serve against the Wildcats is scheduled for 5 p.m. CT.
Match 1
Doubles
No. 1 | Paya/Bortnick (Ark) def. Ross/Jordan (UAPB), 6-1
No. 2 | Reco/Rousset (Ark) def. Webb/McIntyre (UAPB), 6-0
No. 3 | Harrison/Howard-Tripp (Ark) def. UAPB, by default
Singles
No. 1 | Maxim Verboven (Ark) def. Junius Ross (UAPB), 6-0, 6-0
No. 2 | Josh Howard-Tripp (Ark) def. Isiah Jordan (UAPB), 6-0, 6-0
No. 3 | Jose Dominguez Alonso (Ark) def. Zachary Webb (UAPB), 6-0, 6-0
No. 4 | Melvin Manuel (Ark) def. Michal McIntyre (UAPB), 6-0, 6-0
No. 5 | Aleksa Bucan (Ark) def. UAPB, by default
No. 6 | Josh Bortnick (Ark) def. UAPB, by default
Match 2
 Doubles
No. 1 | Howard-Tripp/Harrison (Ark) def. Jordan/Ross (UAPB), 6-0
No. 2 | Reco/Rousset (Ark) def. Webb/McIntyre (UAPB), 6-0
No. 3 | Dominguez Alonso/Bucan (Ark) def. UAPB, by default
Singles
No. 1 | Maxim Verboven (Ark) def. Isiah Jordan (UAPB), 6-0, 6-1
No. 2 | Josh Howard-Tripp (Ark) def. Junius Ross (UAPB), 6-0, 6-0
No. 3 | Jose Dominguez Alonso (Ark) def. Michal McIntyre (UAPB), 6-0, 6-0
No. 4 | Melvin Manuel (Ark) def. Zachary Webb (UAPB), 6-0, 6-0
No. 5 | Aleksa Bucan (Ark) def. UAPB, by default
No. 6 | Josh Bortnick (Ark) def. UAPB, by default