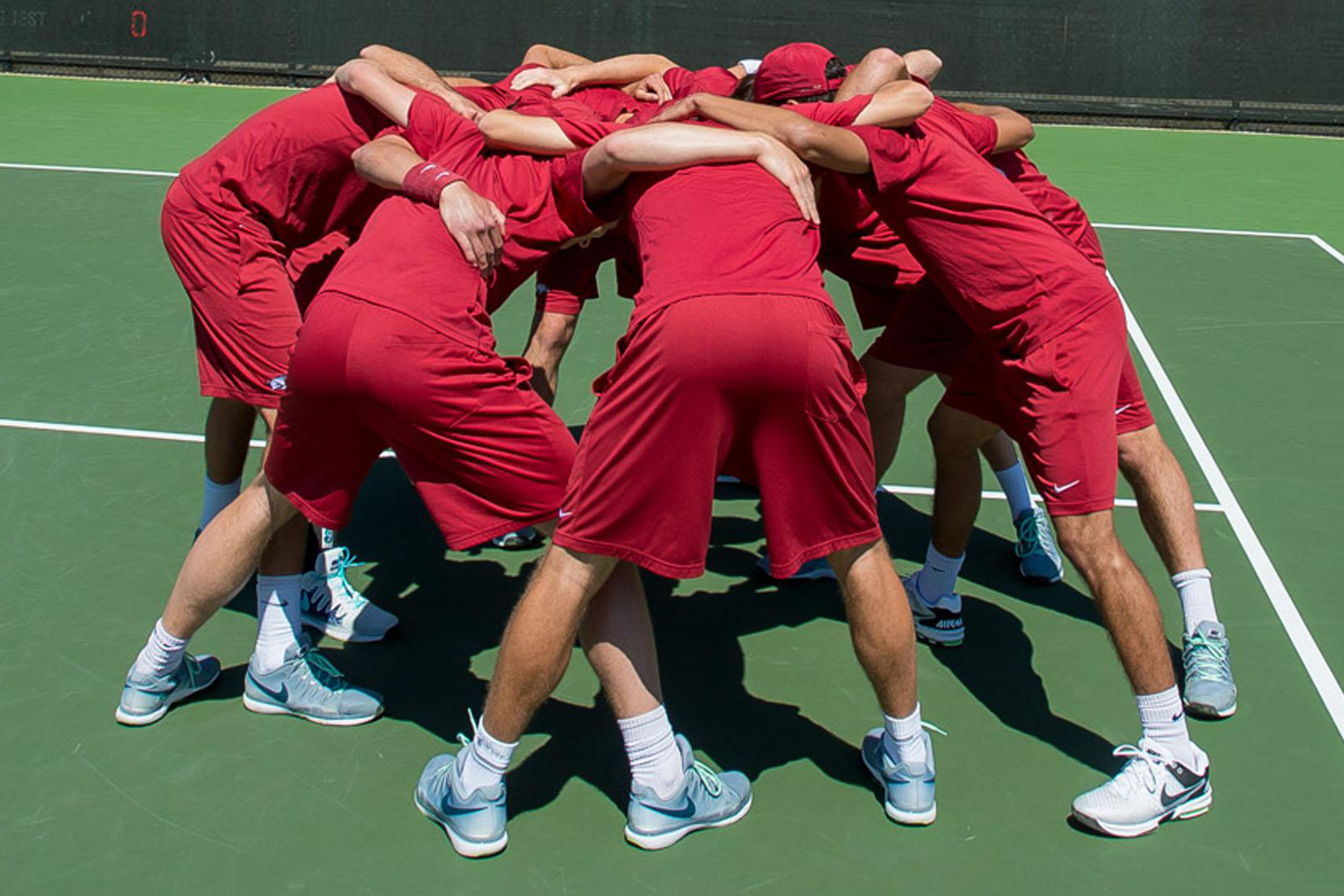 M. Tennis to face Auburn in SEC Tournament
FAYETTEVILLE, Ark. – No. 13-seeded Arkansas men's tennis (11-15, 1-11 SEC) will take on No. 12-seeded Auburn (14-12, 2-10 SEC) in the first round of the Southeastern Conference Men's Tennis Tournament at the George P. Mitchell Tennis Center in College Station, Texas at 12:00 p.m., CT on Wednesday.
LAST TIME OUT:
Arkansas men's tennis dropped a pair of road matches last week. The Razorbacks first fell to No. 8 Georgia, 4-0, on Thursday and then to South Carolina, 4-1, on Saturday.
Georgia took early control, winning the doubles point and straight-set singles victories on courts one and two. Despite being down 3-0, Arkansas continued to fight. Juan Marino came back from a 6-3 loss in his first set to post a convincing 6-1 second set win over Peter Bertran in the No. 6 spot. The sophomore was down 3-0 in his third set when play was called. Junior Santiago Munoz also played a close match. Competing against No. 25 Nathan Pasha in the No. 3 spot, Munoz lost 7-5 in his first set and was playing a heated tiebreaker in his second at the conclusion of play.
South Carolina also claimed the doubles point over Arkansas. The Gamecocks then took the first singles win of the day as Kyle Koch defeated Munoz, 6-3, 6-2, on court two. Shortly after, Marino netted a commanding 6-2, 6-2 victory over Thomas Mayronne in the No. 6 position to bring the score to 2-1. Johan den Toom fought back from a, 6-0, first set loss to Schafer on court four. The sophomore defeated Schafer 6-4 in the second, but could not hold on to momentum and fell 6-2 in the third set. In the final completed singles match of the day, Thiago Pinheiro bettered senior Jovan Parlic, 6-4, 6-3, in the No. 3 spot.
IN THE RANKINGS:
Giammarco Micolani (8-10, 2-7 SEC) came in at No. 93 in the ITA singles rankings released on April 7. The junior claimed the spot after beating two ranked opponents this spring. Micolani defeated No. 98 Jacob Sude of Oklahoma State, 6-4, 6-7 (4), 10-8, on Feb. 8 and reigning SEC Player of the Year, No. 23 Nik Scholtz (Ole Miss), 6-2, 2-6, 6-3, on March 12.
A LOOK AT AUBURN (14-12, 2-10 SEC):
Auburn men's tennis also faced defeat on the road last week. The Tigers first dropped a, 4-1, decision to Tennessee on Friday and then fell, 4-1, to Kentucky on Sunday.
Auburn has one player in the ITA Top 125 for singles: Lukas Ollert (No. 88). In doubles, the Tigers have one team: Ollert and Marko Krickovic (No. 25).
The last time Arkansas and Auburn faced off was on March 22. In a match that was heated from start to finish, the Tigers came away victorious, 4-2. First, Auburn took court one in doubles but then fell, 6-3, and 6-4, on courts two and four to give Arkansas the point.
Playing in the No. 4 spot, den Toom quickly bettered Joseph Van Dooren 6-3, 6-2. But the Tigers took control back, winning in straight sets on courts 3 and 4 to bring the overall score to 2-2. Micolani played a strong first set, bageling No. 59 Ollert in the No. 1 position. However, the Razorback could not hold on, falling 6-3, 6-1 in the second and third sets.
With Auburn ahead 3-2, the match came down to courts 2 and 6. Parlic rallied back from a 6-2 loss to No. 103 Maxime Hinnisdaels in the first set to win the second 7-6 (7-3). Freshman David Herrerias collected an easy 6-1 win in his first, but then fell 6-2, 6-4 to Oliver Plaskett in the No. 6 spot. Parlic was tied 3-3 with Hinnisdaels in his third set when Plaskett clinched the match for Auburn.
SEC TOURNAMENT INFO:
Date: April 15-19
Location: George P. Mitchell Tennis Center, College Station, Texas
For schedule, bracket and live stats, visit the SEC Men's Tennis Tournament Central
The winner of the Arkansas versus Auburn match will take on No. 5-seeded Vanderbilt at 3 p.m., CT on Thursday.
For more information on Arkansas men's tennis, follow @RazorbackMTEN on Twitter.