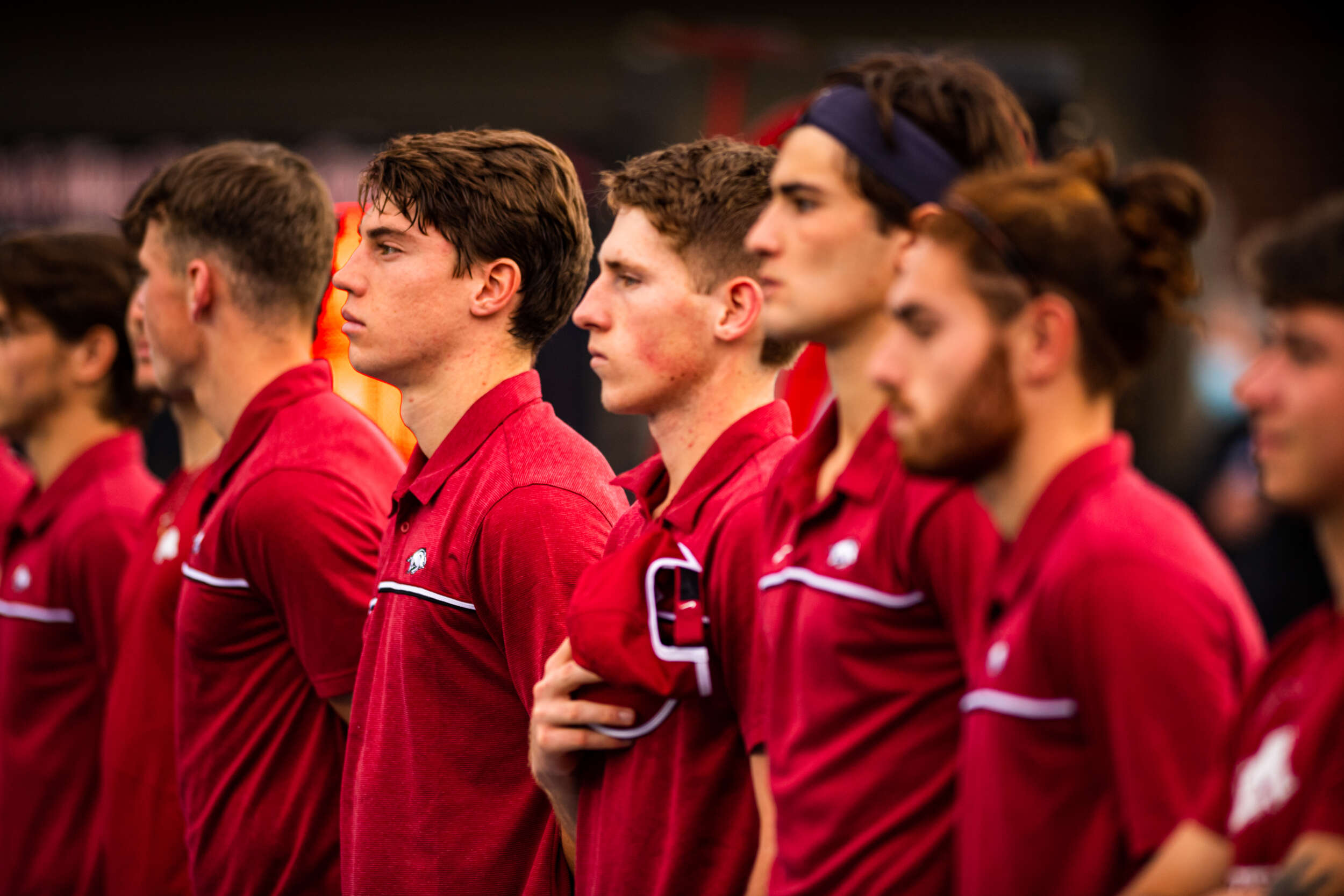 Men's Tennis to host No. 11 Georgia, No. 3 Tennessee
FAYETTEVILLE, Ark. – Razorback Men's Tennis team continues SEC play as they host No. 11 Georgia (11-5, 5-4 SEC) and No. 3 Tennessee (19-2, 8-1 SEC) this weekend at the Billingsley Tennis Center.
Matches 18, 19 Info
Opponent: Georgia // Tennessee
Date: Friday, April 2 // Sunday, April 4
Time: 4 p.m. CT// 1 p.m. CT
Location: Billingsley Tennis Center
Live Stats: bit.ly/3cF9JIv // bit.ly/31Dhb0D
PlaySight:  bit.ly/38RMCc9
Last Time Out
The Hogs fell to No. 10 South Carolina on the road last weekend in their fourth-straight matchup against a top 25 team.
The Gamecocks secured the doubles point with two 6-3 victories on courts one and two while Alex Reco and Nico Rousset's match on court three against No. 71 Phillip Jordan and Raphael Lambling went unfinished.
In singles, freshman Adrien Burdet pushed his opponent, Phillip Jordan, to a second set tiebreaker at the No. 5 spot, but Jordan went on to win 7-6 (7-4) on the final court of the day.
Scouting the Bulldogs
Georgia has won their last three matches and haven't dropped an SEC match since March 7 against No. 10 South Carolina, 4-2.
No. 21 Trent Bryde is 6-9 at the No. 1 position and has faced 10 straight nationally ranked opponents.
The Bulldogs duo of No. 6 Bryde and Tyler Zink have won their last five matches and are 7-2 in the dual season.
Scouting the Volunteers
Tennessee has won its last four matches and holds a 9-2 record against Top 25 opponents.
The Volunteers are led by No. 12 Johannus Monday who is 8-1 in SEC play. His one loss came against Kentucky's No. 7 Liam Draxl in straight sets last weekend.
In doubles, the third-ranked duo of Adam Walton and Pat Harper are 11-5 at the No. 1 spot and 6-2 in SEC play, with four of those losses have come against nationally ranked opponents.
Quick Hits
>> The Hogs are looking for their first win over Tennessee since 2017 when they won in Knoxville, 4-3.
>> Razorback doubles duo of Enrique Paya and Hunter Harrison debuted at No. 38 in the latest ITA rankings released on Mar. 30.  The pair upset 21st-ranked Gabriel Decamps and Trey Hilderbrand of UCF on March 24.
>>Arkansas is currently led by freshman Adrien Burdet and junior Nico Rousset with nine singles wins apiece.