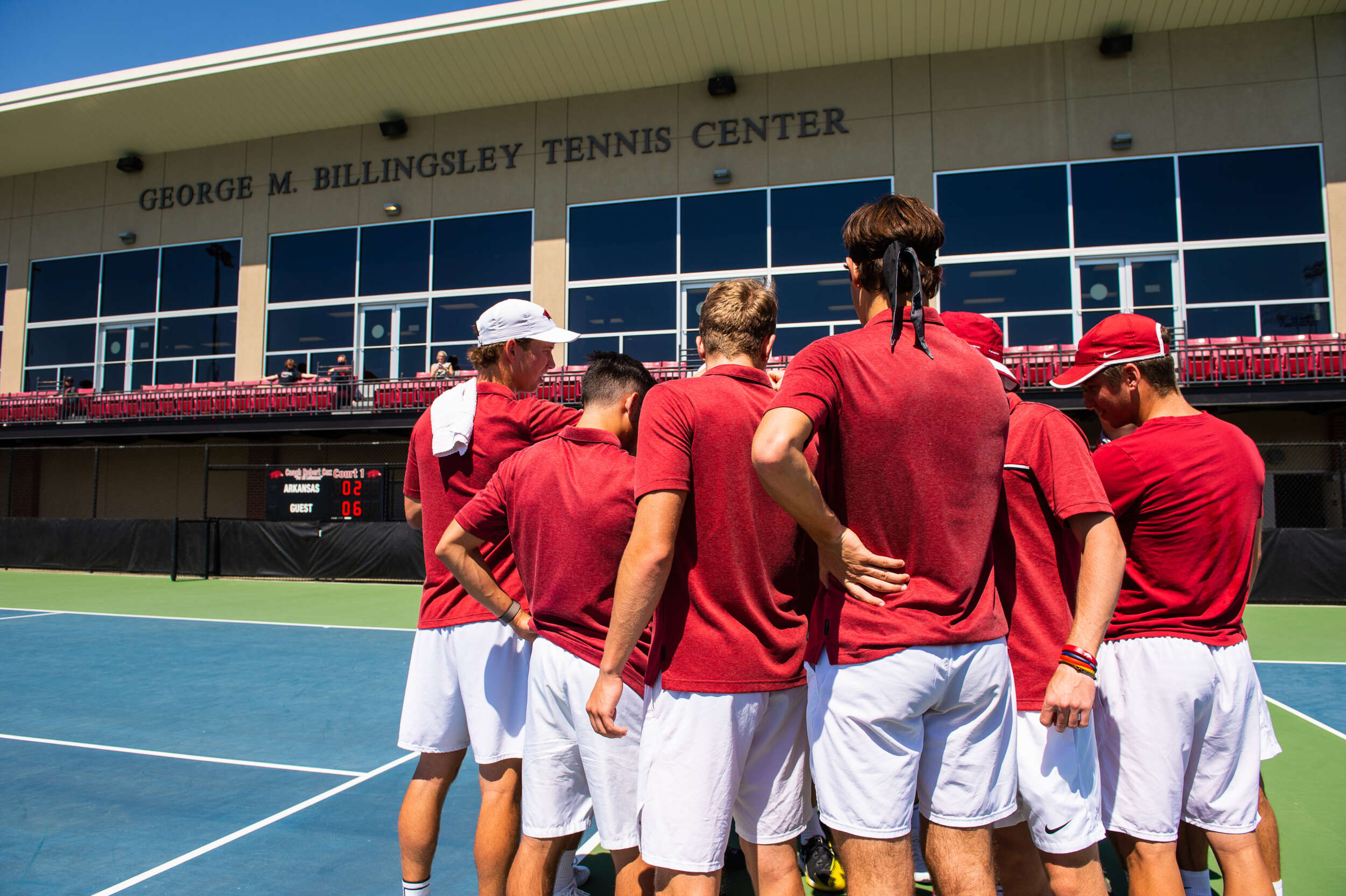 Men's Tennis to host Vanderbilt in SEC Tournament Opener
FAYETTVILLE, Ark. – Razorback Men's Tennis hosts the SEC Tournament this week at the Billingsley Tennis Center and will open the week-long event against 13-seeded Vanderbilt on Monday, April 19. First serve against the Commodores is scheduled for 11 a.m. CT.
This is the third year that the SEC Tournament will be held in Fayetteville, the other occurrences coming in 1996 and 2008. Last year's tournament was also scheduled to be held at the Billingsley Tennis Center but cancelled due to Covid-19.
Match 23 Info
Opponent: Vanderbilt Commodores
Date: Monday, April 19
Location: Billingsley Tennis Center
First Serve: 11 a.m. CT
Tournament Central: bit.ly/3akiypw
Last Time Out
The Razorbacks fell in their regular season finale against No. 22 Alabama by a score of 5-2, picking up wins from Avery Zavala and Nico Rousset in singles play. Zavala was making his first appearance since Feb. 12 while Rousset downed the reigning SEC Player of the Week and 74th-ranked Edson Ortiz in straight sets.
Scouting the Commodores
Vandy comes to Fayetteville with four straight losses, all against nationally ranked opponents from the SEC. The Commodores are led by No. 63 George Harwell who is 13-16 on the season and has been a feature at the No. 1 spot.
Quick Hits
>> The Razorbacks won a meeting between the two squads earlier in the year in Nashville, 5-2. Arkansas took the doubles point and added four wins at the No. 3 – 6 spots in singles action to clinch the win.
>> Nico Rousset entered the ITA rankings on April 14, making his debut at No. 95. He leads the squad with 11 singles victories and four wins against nationally ranked opponents. Hunter Harrison and Enrique Paya were slotted at No. 41 in the doubles rankings.
>> This will be the first meeting against Vanderbilt in the SEC Tournament since a 4-3 loss to the Commodores in 2008. Arkansas is 2-2 all-time against Vandy in the conference tournament.