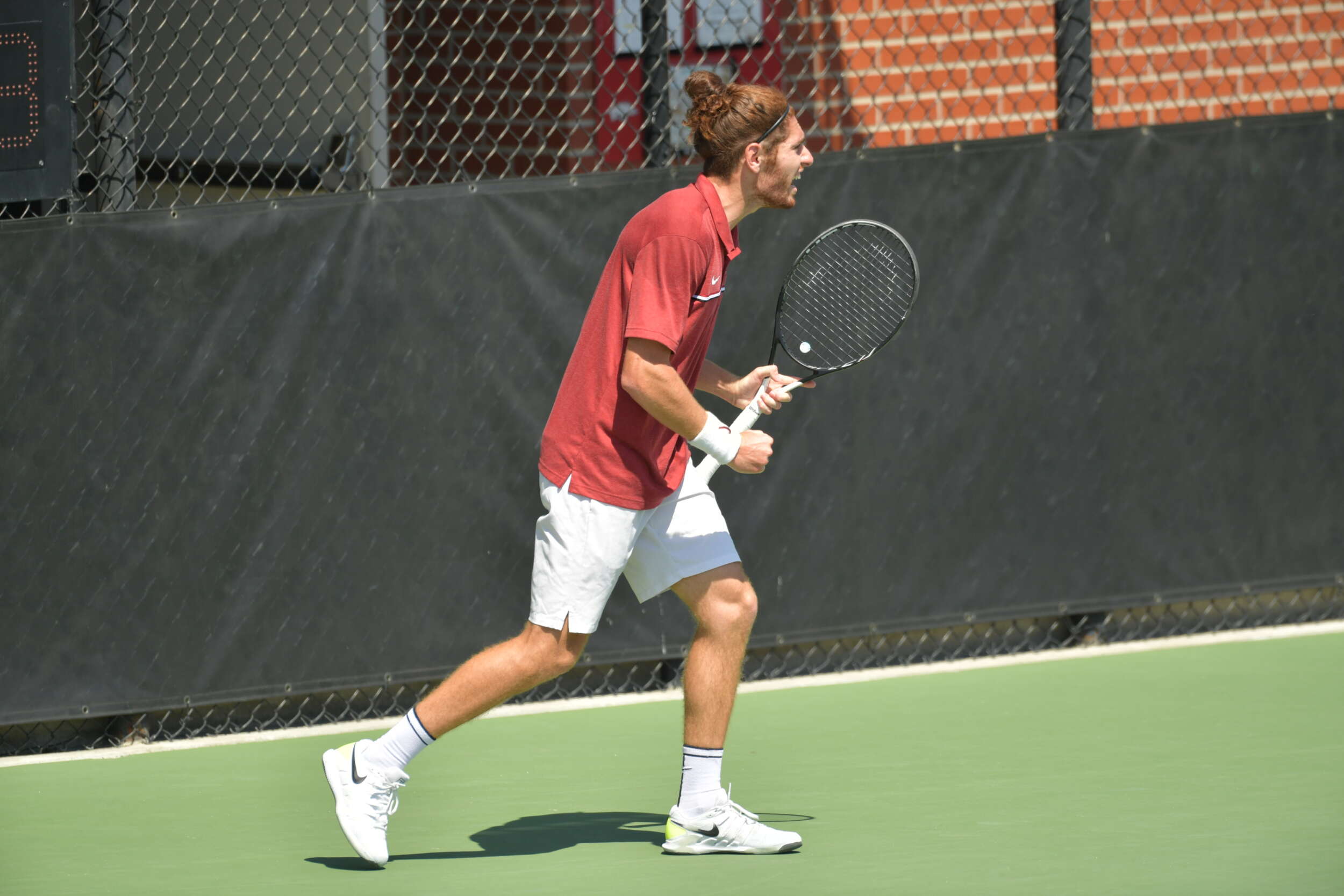 Men's Tennis travels to Starkville for midweek matchup with No. 15 Bulldogs
FAYETTEVILLE, Ark. – The Razorback Men's Tennis team continues SEC play with a midweek road match at No. 15 Mississippi State (13-7, 3-6 SEC). Arkansas is coming off an upset win over No. 3 Tennessee over the weekend.  
Match 20 Info
Opponent: Mississippi State
Date: Wednesday, April 7
Time: 12 p.m. CT
Location: Starkville, Miss.
Live Stats and Stream: bit.ly/3fJFWR3
Last Time Out 
The Hogs upset No. 3 Tennessee last weekend in a close 4-3 decision. It was their second win over a team in the top 15 this season and the highest ranked win in program history since 2003.
Arkansas dropped the doubles point but evened the score with singles wins from Melvin Manuel and Nico Rousset. Freshman Adrien Burdet made it 3-3 after downing No. 96 Pat Harper for his first win over a nationally ranked opponent.
The match came down to court four where Aleksa Bucan battled back in three sets to clinch the match for the Hogs and defeat Volunteer Luca Wiedenmann, who had only lost once in the dual season.
Scouting the Bulldogs
Mississippi State had lost their last three conference matches before defeating Auburn (6-1) on Sunday.
The Bulldogs are led by No. 51 Giovanni Oradini who is 6-5 at the No. 1 spot. Florian Broska is the highest ranked Bulldog, coming in at No. 45
In doubles, the Bulldogs have dropped the doubles point in their last four matches against SEC opponents. In the No. 1 position for the Bulldogs is the No. 52 duo of Florian Broska and Gregor Ramskogler who are coming off a loss to the 32nd-ranked duo of Tad Maclean/Finn Murgett of Auburn.
Quick Hits 
>>Wednesday's match will be Arkansas' seventh-straight match against a nationally ranked opponent.
>>Arkansas is led by freshman Adrien Burdet and Nico Roussett, both with ten singles wins apiece.
>> Razorback doubles duo of Hunter Harrison and Enrique Paya debuted at No. 38 in the ITA rankings last week.