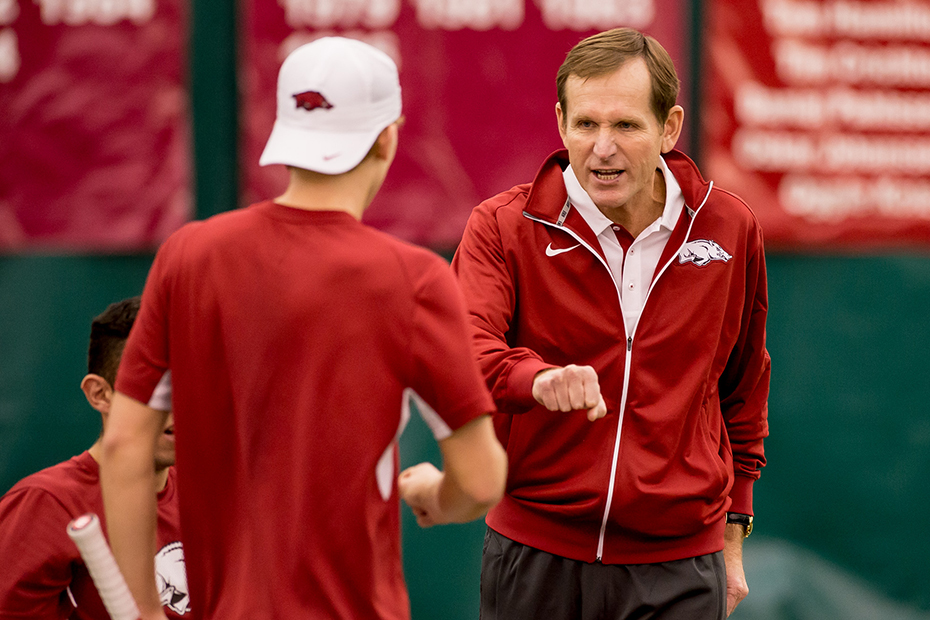 Men's Tennis Upended in Lexington
LEXINGTON, Ky. — Despite grabbing the doubles point and a win at No. 1 singles, the Arkansas men's tennis team lost to No. 22 Kentucky on Friday evening by a score of 5-2. It was the first loss for the Razorbacks since Feb. 12 at Tulsa and dropped the team to 10-3 on the season.
With each squad winning one doubles match, it came down to the No. 2 matchup to decide the first point. Arkansas' pair of Adam Sanjurjo and Jose Salazar came back from a 5-4 deficit against Ryotaro Matsumura and Enzo Wallart to win 7-5 and give the Razorbacks the early lead.
Mike Redlicki, fresh off being named SEC Player of the Week, continued his singles success, defeating No. 31 William Bushamuka in straight sets. The 6-2, 6-4 victory by Redlicki was the first match finished following doubles, and put Arkansas up 2-0 early on.
But back came the Wildcats, winning the final five singles decisions to take the match and move to a 9-3 overall record. Santiago Munoz at No. 3 and Giammarco Micolani at No. 4 each went to three sets in their singles matches, but each proceeded to fall 6-4 in the third.
NOTABLES
• Redlicki's singles win was his fourth-consecutive decision, and his third victory over a ranked opponent this season.
• The doubles duo of Santiago Munoz and Johan den Toom defeated Gus Benson and Kevin Lai to improve to 6-1 at the No. 3 spot.
• Arkansas is now 21-7 (.750) in doubles this season, but fell to 6-1 in dual matches when winning the opening point.
UP NEXT
The team has to have a short memory, as Andy Jackson's bunch continues its opening weekend of SEC play on the road. The Razorbacks visit Tennessee on Sunday, March 6 for a 12 noon first serve in Knoxville.
TODAY'S RESULTS
DOUBLES
1. William Bushamuka/Nils Ellefsen (UK) def. #49 Giammarco Micolani/Mike Redlicki (AR) 6-3
2. Jose Salazar/Adam Sanjurjo (AR) def. Ryotaro Matsumura/Enzo Wallart (UK) 7-5
3. Santiago Munoz/Johan den Toom (AR) def. Gus Benson/Kevin Lai (UK) 6-4
SINGLES
1. #82 Mike Redlicki (AR) def. #31 William Bushamuka (UK) 6-2, 6-4
2. #90 Ryotaro Matsumura (UK) def. Jose Salazar (AR) 6-2, 6-2
3. Nils Ellefsen (UK) def. Santiago Munoz (AR) 3-6, 6-3, 6-4
4. Enzo Wallart (UK) def. Giammarco Micolani (AR) 6-4, 2-6, 6-4
5. Trey Yates (UK) def. Adam Sanjurjo (AR) 6-4, 6-4
6. Chalres Minc (UK) def. Johan den Toom (AR) 6-4, 6-2
ORDER OF FINISH
Doubles (1,3,2); Singles (1,2,3,4,5,6)