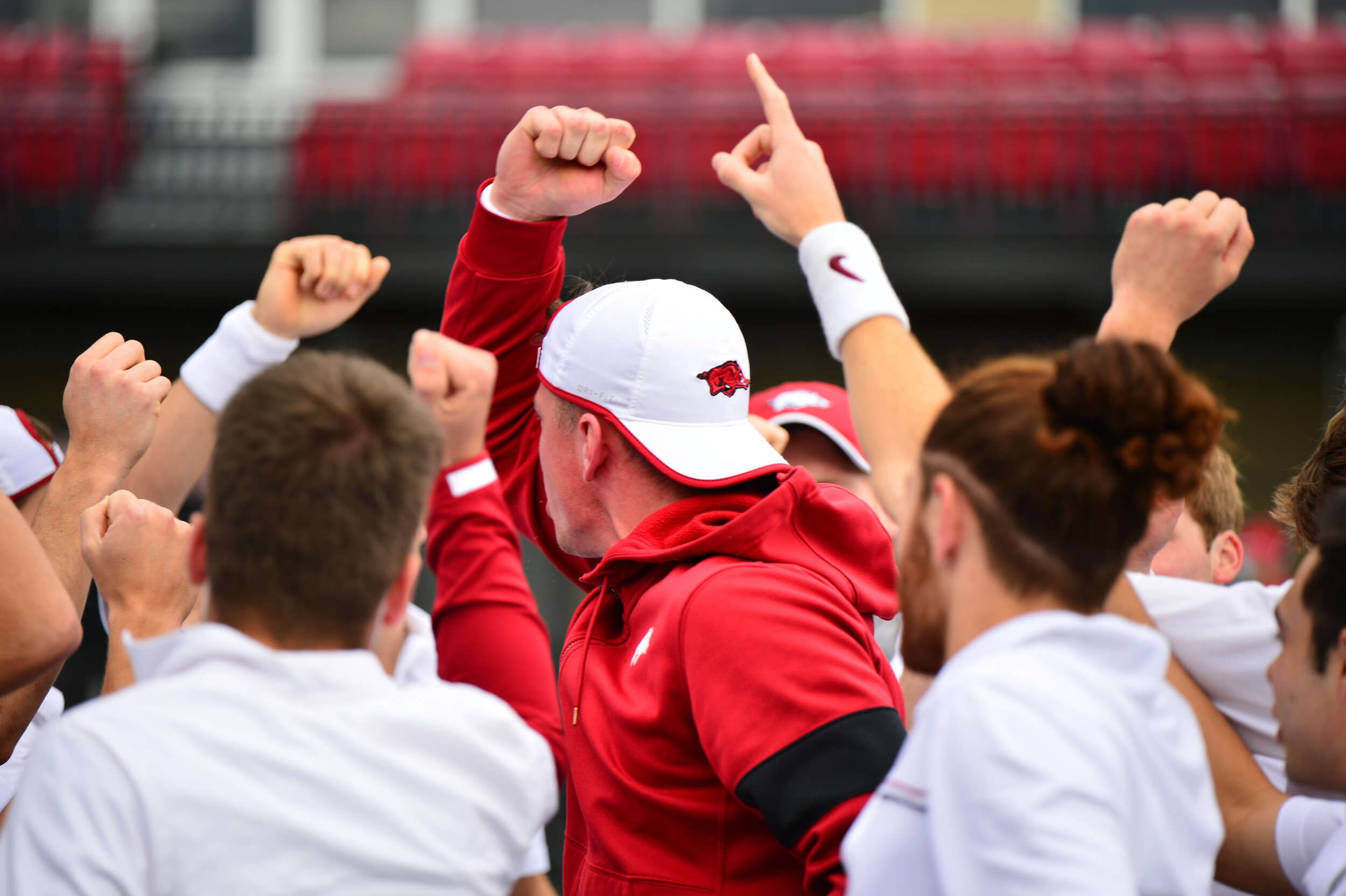 Men's Tennis upsets No. 12 Texas A&M, 4-3
 FAYETTEVILLE, Ark. – Razorback Men's Tennis upset No. 12 Texas A&M at home for their first win over the Aggies since 2016. Arkansas clinched the doubles point and followed with three singles wins for the 4-3 win at the Billingsley Tennis Center on Sunday afternoon. It's the second straight season the Hogs have upset a top-five team (No. 5 Baylor – 2/1/20) in Fayetteville.
The Razorback duo of Nico Rousset and Alex Reco picked up the first doubles win for the Hogs over Pranav Kumar and Noah Schachter, 6-4, on court three. Rousset and Reco are currently on a five-match winning stream as a pair. Melvin Manuel and Adrien Burdet clinched the doubles point for the Razorbacks by defeating the Aggies duo of Valentin Vacherot and Pierce Rollins at the No. 2 position, moving to 3-0.
In singles, Aleksa Bucan gave the Razorbacks its first singles point with a straight sets 6-3, 6-1 win over No. 116 Noah Schachter in the No. 3 position. Burdet followed with a 6-4, 6-4 victory on court five for his ninth win in his rookie campaign. Rousset clinched the upset at the No. 2 position for the Razorbacks with a 7-5, 6-3 win over No. 33 Carlos Aguilar. It was Rousset's second win over a nationally ranked opponent this spring. On court one, Reco battled back to force a third set tiebreaker against No. 4 Valentin Vacherot, but eventually fell 2-6, 6-2, 6-7.
"Obviously, a good win for us. They're ranked twelfth but beat No. 2 Baylor on Thursday so they will likely by ranked in the top-10. I'm proud of our team for keeping their heads down and believing," said head coach Andy Jackson. "We have a big challenge ahead with three top-15 teams on the road, but we are looking forward to it."
The Razorbacks return to action in a non-conference matchup when they travel to Orlando, Fla. to face No. 21 UCF on Wednesday, March 24.