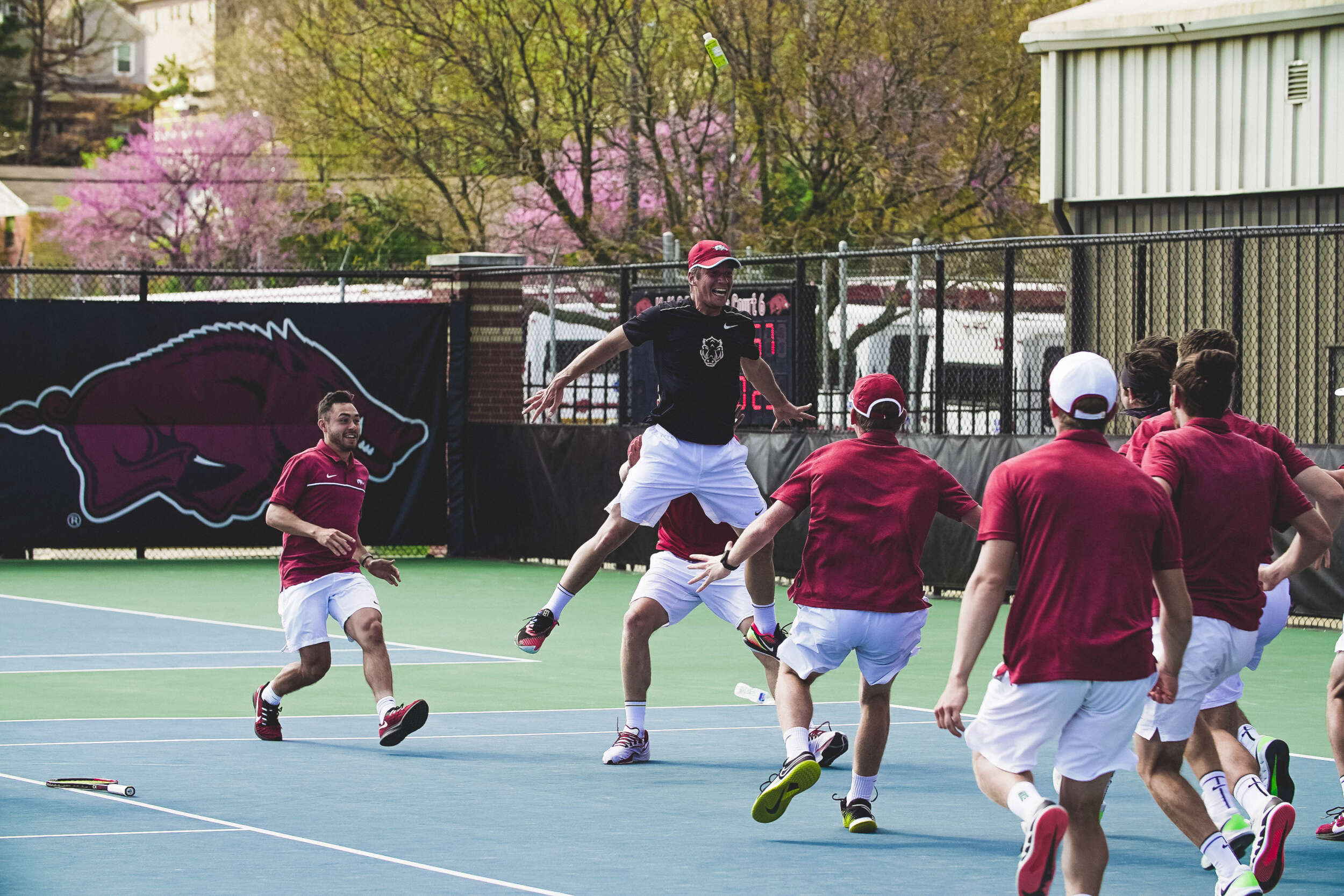 Men's Tennis upsets No. 3 Tennessee, 4-3
FAYETTEVILLE, Ark. – Razorback Men's Tennis upset No. 3 Tennessee on Sunday afternoon at the Billingsley Tennis Center, 4-3. It is the second win over a team in the top 15 this season and the highest ranked win in program history since 2003. The win over the Volunteers marks the second straight season the Hogs have upset a top five squad (No. 5 Baylor – 2/1/20) in Fayetteville.
Melvin Manuel got the Razorbacks on the board with a 6-2, 7-5 win on court six over Mark Wallner. After the Volunteers won at the No. 2 spot, Nico Rousset made it 2-2 with an upset win over No. 50 Martim Prata. It was Rousset's 10th win of the dual season and third victory over a nationally ranked opponent.
Adrien Burdet matched Rousset for the team lead after upsetting No. 96 Pat Harper, 6-4, 2-6, 6-4. It was the rookies first win over a ranked opponent this season. With the scoring tied at 3-3, the match came down to the deciding third set on court four between Aleksa Bucan and Volunteer Luca Wiedenmann. Bucan picked up a win in the first set tiebreaker, 7-6 (7-5), before dropping the second stanza. The freshman battled back in the third set to clinch the match for the Hogs, 6-4. Wiedenmann came into the day with a 17-1 singles record during the dual season.
"Obviously, a big win for us. Beating two current top 10 teams [No. 6 Texas A&M, No. 3 Tennessee] puts us in a good position to be in the NCAA Tournament. We are improving and gaining confidence," said Head Coach Andy Jackson. "I'm very proud of the team to keep believing while playing so many Top 25 teams these past couple of weeks. The four guys who won today showed a lot, but all the team, on and off the court, contributed today. Congratulations to Aleksa [Bucan] on clinching the match against a player who had only lost once this year. We're back at it on Wednesday against Mississippi State. It will be a big challenge but we are eager to play."
The Razorbacks will be back on the road for a match with Mississippi State on Wednesday, April 7. First serve in Starkville is scheduled for 12 p.m CT.