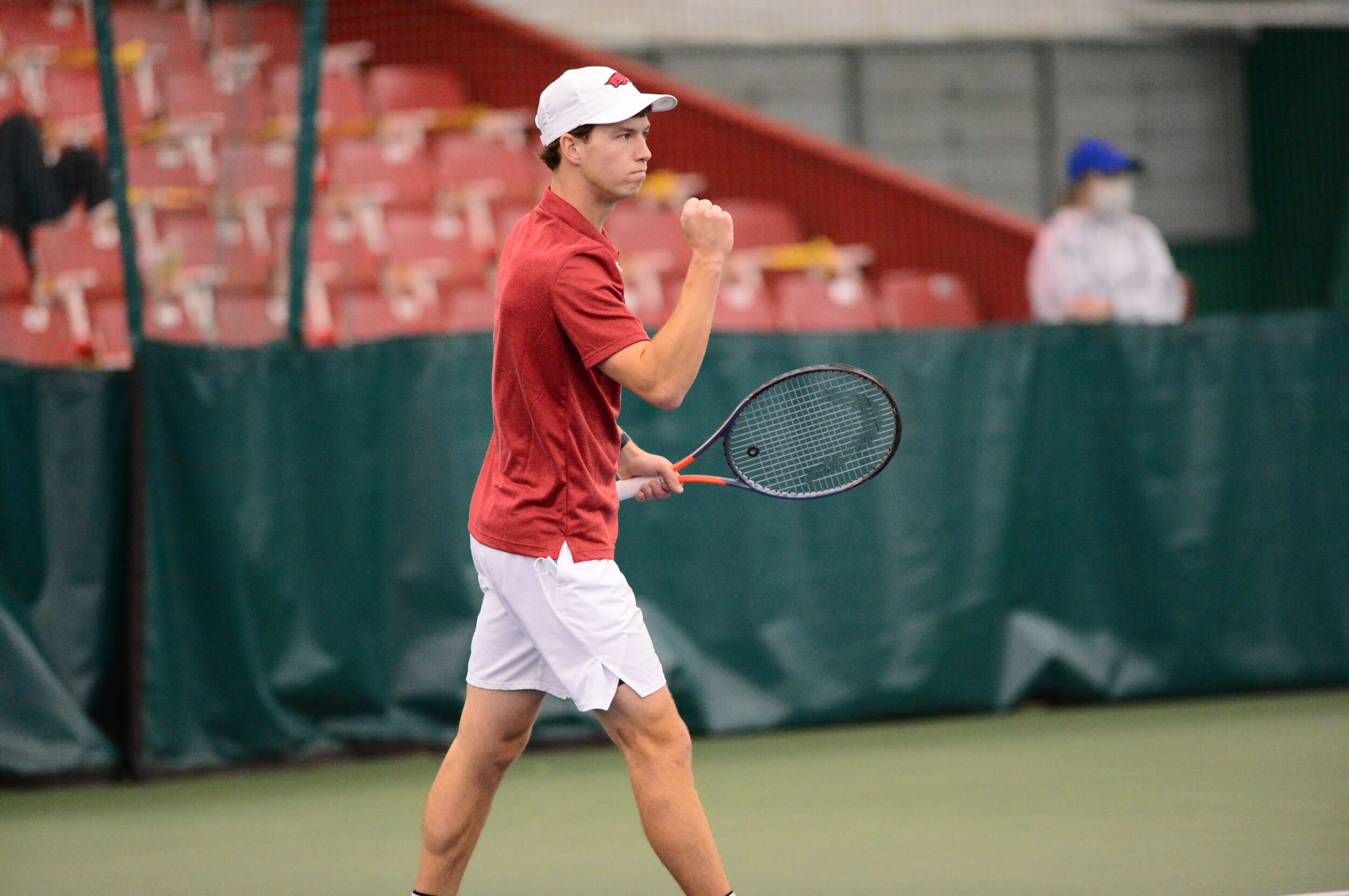 Men's Tennis wins fourth straight, downs Tulsa 5-2
FAYETTEVILLE, Ark. – Arkansas Men's Tennis (4-0) stayed undefeated in Fayetteville with a 5-2 win over the Tulsa Golden Hurricane (3-3) on Wednesday afternoon at the Dills Indoor Tennis Center. The Hogs picked up the doubles point, including a win over the 29th-ranked duo in the nation, and added four singles wins to seal their fourth win in five years against the Golden Hurricane.
Enrique Paya and Jose Dominguez Alonso won their fourth doubles match as duo this season, taking down Kamdem/Thelwall-Jones at the No. 2 spot, 6-1. Hunter Harrison and Maxim Verboven followed that up with their own 6-1 upset win over No. 29 Connor Di Marco/Kody Pearson. Alex Reco and Nico Rousset completed the doubles sweep at the third position, downing Siddall/Santalla (6-3) for their second win as a tandem this spring.
In singles, freshman Adrien Burdet stayed perfect as a Razorback with his fourth win of the season. Burdet won in straight sets over Juan-Pablo Cenoz, 6-3, 6-3. After dropping his first set of the year, Melvin Manuel stormed back in the last two sets against Stefan Hampe, winning the match 4-6, 6-1, 6-3 to make it 3-1 Razorbacks.
Paya clinched the match with a three-set win on court 6, bouncing back with a 4-6, 6-1, 6-4 win over Daniel Siddall. Paya has now won  three-straight in singles play against the Golden Hurricane in his career. No 72 Alex Reco capped off the 5-2 victory for the Razorbacks with a 10-7 win in a third set tiebreak against Ezequiel Santalla at the No. 2 spot.
"Tulsa puts a lot into their tennis program and Coach Westbrook takes pride in it. So, it took a good team effort for us to win today," said head coach Andy Jackson. "Tulsa was in the match with No. 3 TCU, like our match today. Now we get our first Power 5 test on Saturday with the Washington Huskies and we are looking forward to the challenge."
The Hogs will be back in Fayetteville for a match with the Washington Huskies on Saturday, Feb. 6. First serve at the Billingsley Tennis Center is set for 3 p.m. CT.
Results
Singles (5,3,4,6,1,2)
#67 Kody Pearson (TULSA) def. Maxim Verboven (ARK) 2-6, 6-4, 6-4
#72 Alex Reco (ARK) def. Ezequiel Santalla (TULSA) 7-6 (7-5), 2-6, 1-0 (10-7)
Connor Di Marco (TULSA) def. Nico Rousset (ARK) 6-3, 6-4
Melvin Manuel (ARK) def. Stefan Hampe (TULSA) 4-6, 6-1, 6-3
Adrien Burdet (ARK) def. Juan-Pablo Cenoz (TULSA) 6-3, 6-3
Enrique Paya (ARK) def. Daniel Siddall (TULSA) 4-6, 6-1, 6-4
Doubles (2,1,3)
Hunter Harrison/Maxim Verboven (ARK) def. #29 Connor Di Marco/Kody Pearson (TULSA) 6-1
Enrique Paya/Jose D. Alonso (ARK) def. Boriss Kamdem/Tom Thelwall-Jones (TULSA) 6-1
Nico Rousset/Alex Reco (ARK) def. Daniel Siddall/Ezequiel Santalla (TULSA) 6-3