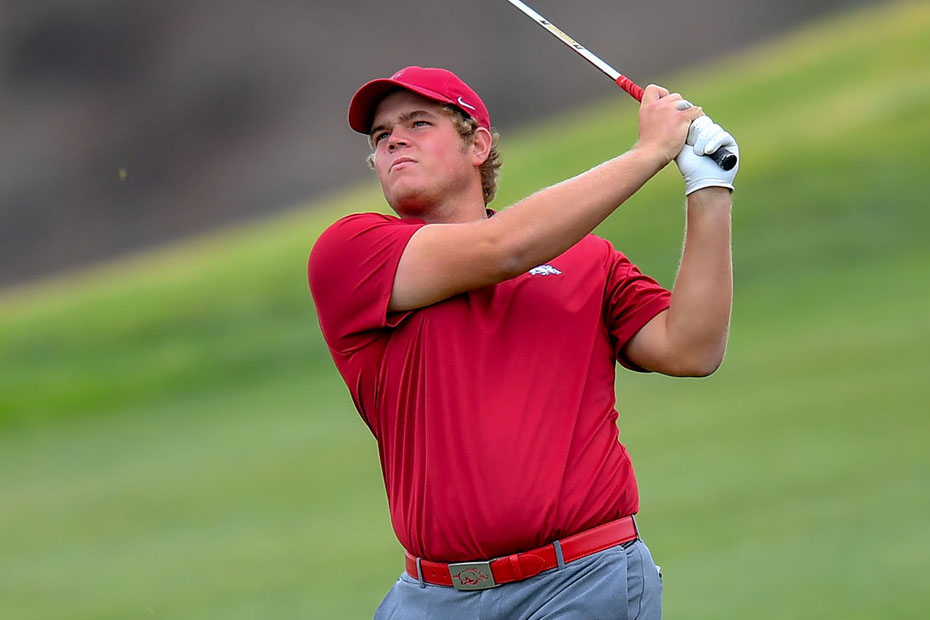 MGolf in 2nd After Opening Round at Carmel Cup
PEBBLE BEACH, Calif. – The Arkansas men's golf team opened the 2019-20 season with a 7-under-par round of 353 to stand in second place at the Carmel Cup, played at historic Pebble Beach Golf Links (par 72 – 6,928 yards). Mason Overstreet, who carded a bogey-free round of 68, is tied with teammate Julian Perico for third at 4-under par.
Oklahoma leads the eight-team field with a score of 349, followed by the Razorbacks, Texas Tech (358), Georgia (364), Oklahoma State (365), Mississippi State (370), Vanderbilt (371) and TCU (373). The annual event is different from most collegiate tournaments in that each team in the Carmel Cup has six players with the best five scores counting for each round. Most collegiate events have five players with the best four scores counting.
Perico finished with six birdies, tying for the second-best total of the day. He began the day with two birdies but fell back to even par with bogeys on holes 8 and 9. However, the sophomore bounced back with a birdie on hole 10 while adding birdies on holes 13, 14 and 18 for his 4-under-par 68.
Overstreet opened with a par before reeling off three straight birdies and ultimately posting four birdies over a five-hole span (holes 2, 3, 4 and 6). He would finish his round with 12 straight pars for his 4-under 68. Overall, Overstreet's 14 pars were the third-best total on the day.
Also recording 14 pars on Friday was William Buhl. The senior is tied for 11th after posting a 71 with to three birdies.
Luis Garza and Tyson Reeder are tied for 21st, each shooting a 1-over 73. Garza did post one of the two eagles on the day, recording a three on the 511-yard, par-5 second hole.
Freshman Mauricio Figueroa made his collegiate debut. While he shot a 79 to stand in a tie for 42nd, he recorded 13 pars to rank fifth-best among the field in round one.
Round two of three will be played Saturday (Aug. 31).
For more information on Arkansas Men's Golf, follow @RazorbackMGolf on Twitter.