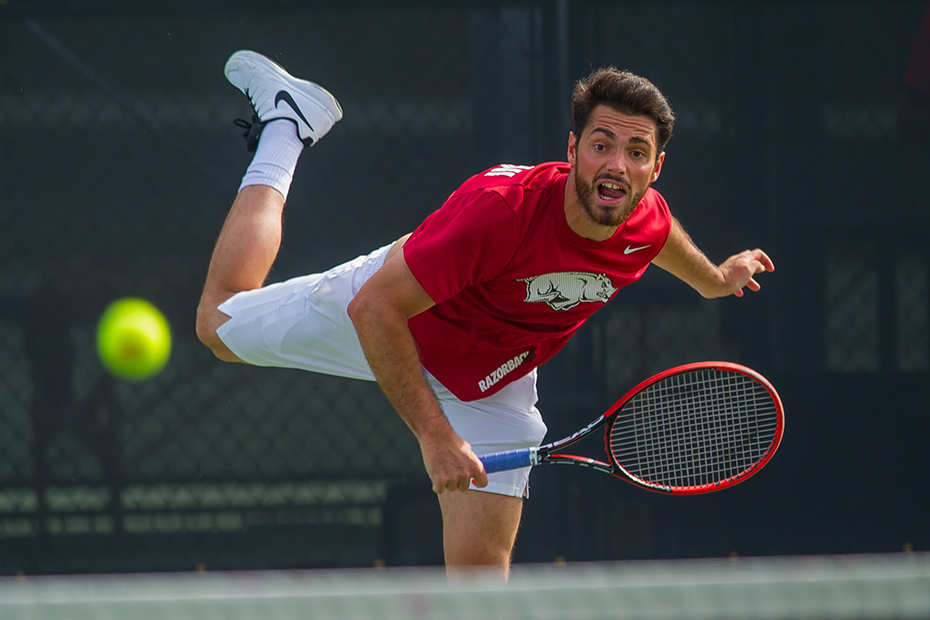 Micolani Extends Streak In Loss To No. 6 Georgia
FAYETTEVILLE, Ark. — Playing at the No. 4 spot, Giammarco Micolani won his 10th consecutive singles match, but it was not enough for the Arkansas men's tennis team to defeat No. 6 Georgia on Friday night, as the Razorbacks fell 5-2.
With the loss, No. 12 Arkansas dropped to 19-6 on the season with a 7-4 mark in Southeastern Conference play. The Bulldogs, meanwhile, won their 12th consecutive team match and improved to a perfect 11-0 in SEC competition. With the victory, Georgia claimed the outright regular-season SEC title and bumped its overall record to 17-3.
After the Razorbacks were shut out in doubles, Micolani lined up across from the Bulldogs' Walker Duncan in search of pushing his win streak to double digits. He did just that, erasing Duncan by a score of 6-3, 7-5. Micolani's streak dates back 40 days to his last loss March 6 at Tennessee, having dropped only three sets in the process.
Also on the winning end for Arkansas was Adam Sanjurjo, who won at the No. 5 singles spot. Sanjurjo defeated the Bulldogs' Jan Zielinski by the same 6-3, 7-5 score for his third-consecutive straight-set win in SEC play.
With the team match already decided in Georgia's favor, No. 76 Jose Salazar and No. 34 Wayne Montgomery went to a third-set tiebreaker to decide the match on Court 2. Salazar dropped a tight tiebreaker by a score of 11-9, ultimately falling in a hard-fought, three-set match to one of his most highly-ranked opponents of the year.
UP NEXT
The Razorbacks must have a short memory, as SEC foe South Carolina comes to town Sunday, April 17 for a 1 p.m. CDT match at George M. Billingsley Tennis Center. Micolani, Santiago Munoz and William Albanese will be recognized on Senior Day prior to the match.
TODAY'S RESULTS
DOUBLES
1. No. 23 Giammarco Micolani/Mike Redlicki (AR) vs. No. 7 Austin Smith/Ben Wagland (UGA) 4-5, unfinished
2. Paul Oosterbaan/Jan Zielinski (UGA) def. Jose Salazar/Adam Sanjurjo (AR) 6-2
3. Wayne Montgomery/Emil Reinberg (UGA) def. Santiago Munoz/Johan den Toom (AR) 6-4
SINGLES
1. No. 24 Austin Smith (UGA) def. No. 26 Mike Redlicki (AR) 7-6 (1), 6-3
2. No. 34 Wayne Montgomery (UGA) def. No. 76 Jose Salazar (AR) 3-6, 7-5, 1-0 (11-9)
3. No. 91 Paul Oosterbaan (UGA) def. Santiago Munoz (AR) 7-6 (2), 6-1
4. Giammarco Micolani (AR) def. Walker Duncan (UGA) 6-3, 7-5
5. Adam Sanjurjo (AR) def. Jan Zielinski (UGA) 6-3, 7-5
6. Nick Wood (UGA) def. Juan Marino (AR) 7-5, 6-1
ORDER OF FINISH
Doubles (2,3); Singles (1,6,5,3,4,2)