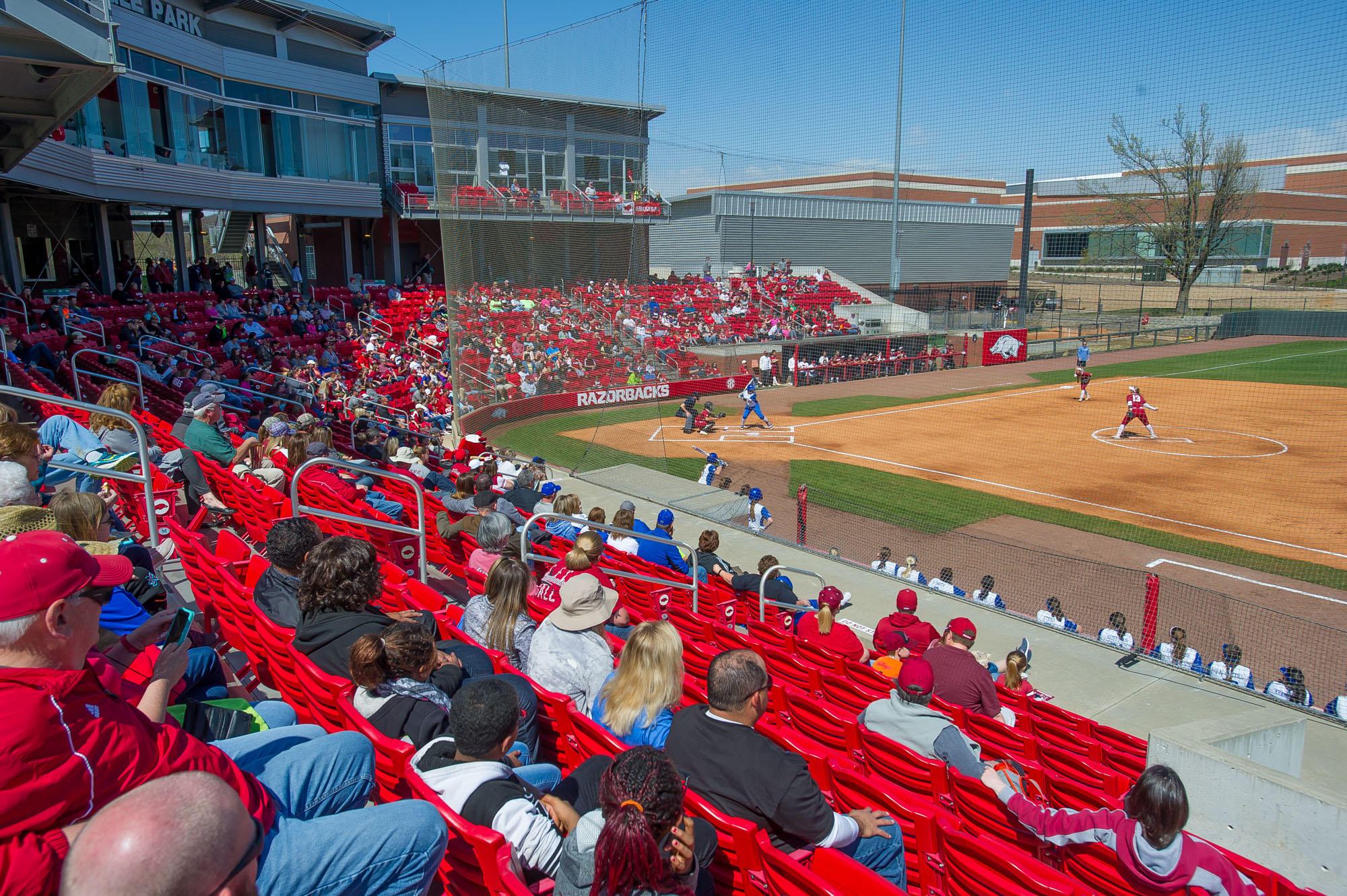 Multi-Hit for Hiers in Loss to No. 15/12 Kentucky
FAYETTEVILLE, Ark. – Shelby Hiers tallied her sixth multi-hit game of the season and Parker Pocklington drove in a run Saturday afternoon but the University of Arkansas softball team lost No. 15/12 Kentucky, 7-1. The game was played in front of 935 fans, the second-largest home crowd of the year at Bogle Park. With the setback, Arkansas falls to 13-18 overall this season with a 0-5 mark in SEC play.
Game three of the weekend set against Kentucky (29-4, 7-1 SEC) is scheduled for Sunday at 1 p.m. (CT). The first 50 children in attendance will receive a voucher for a free hotdog and drink. Following the game, the Razorbacks will host an Easter egg hunt in the outfield. The series finale will be streamed live on SEC Network+ and through the WatchESPN app.
The ballgame was scoreless through one before the visitors struck for three runs in the second but Arkansas responded with a run of its own in the bottom of the inning. Haydi Bugarin collected the first extra-base hit of her career with a one-out double to right center. After a two-out walk to Madison Yannetti, Pocklington chopped an infield single up the middle which let Bugarin come all the way around from second to score.
The Razorbacks got their lead-off hitter on in the fourth and sixth innings including a base hit through the left side for Hiers for her second single of the day. The Quitman, Ga., native has now reached base safely in 19 of the last 20 games including eight straight, and has pushed her batting average to the .359 mark. Tori Cooper had the team's other hit on the day.
While the offense kept off the scoreboard for the remainder of the game, the Arkansas defense kept the game close. The Razorbacks turned double plays in the third and sixth innings, and sophomore Autumn Russell made a spectacular diving catch on a bunt attempt in the fourth. With its two double plays Saturday, Arkansas pushed its season total to 15 which is currently second in the SEC.
Moll finished the game with six strikeouts, her career high in an SEC game. Kentucky added one run each in the fourth and fifth with an RBI and solo home run, respectively, and tacked on two unearned runs in the seventh on a double to left center. The next strikeout for Moll will be the 200th of her career.
For information about purchasing tickets for home games this season, call 800-982-HOGS (4647) or 479-575-5151, email raztk@uark.edu or visit the Razorback Ticket Center located next to Baum Stadium. The ticket window at Bogle Park opens one hour before first pitch of each game. Follow @RazorbackSB on Twitter for more information about Arkansas Softball.