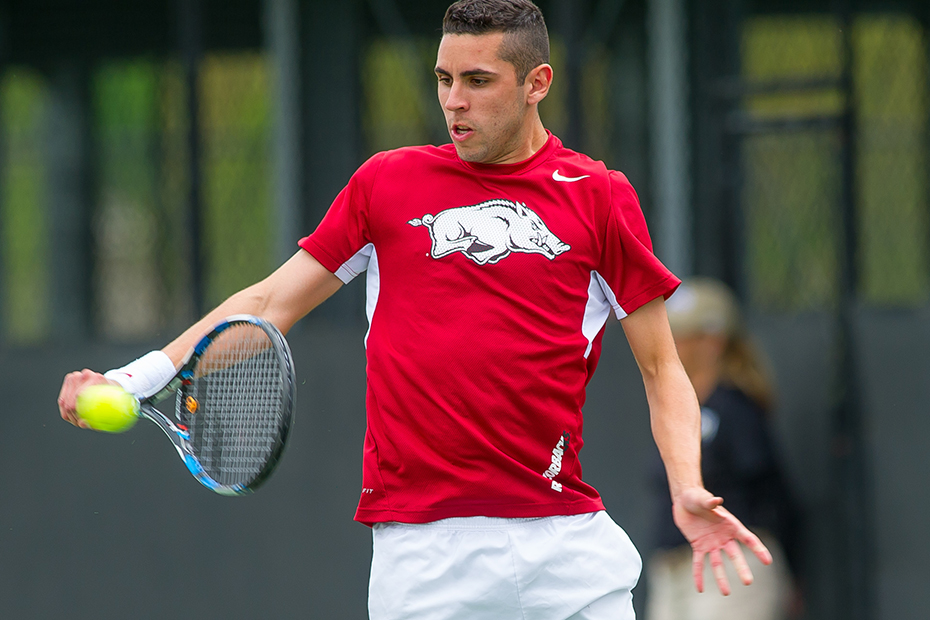 Munoz, Arkansas Coaches Earn ITA Regional Awards
TEMPE, Ariz. — The Intercollegiate Tennis Association (ITA) announced the 2015-16 Division I regional award winners Monday, and three members of the No. 19 Arkansas men's tennis team earned recognition among nominees from the Central region.
In their third season directing the Razorback program, Andy Jackson was named Wilson/ITA Central Region Coach of the Year and Nestor Briceno earned ITA Central Region Assistant Coach of the Year. In addition, senior Santiago Munoz earned ITA Central Region Most Improved Player honors.
Jackson and Briceno, along with student assistant coach Jovan Parlic, have led the Razorbacks to their 18th NCAA Tournament appearance in program history, and the first for Arkansas since 2006.
The Razorbacks boast a 19-8 overall record, including a 7-5 mark in SEC play to finish tied for fourth in the conference. The 7-5 SEC record is Arkansas' best since joining the conference in 1992.
For Munoz, he has seven wins at the No. 3 singles spot, including five in SEC play. The Mexico City native had two match clinchers this season: At Tennessee on March 6 and vs. Ole Miss on March 27 in the Razorbacks' first victory over the Rebels since 1988.
Munoz played primarily at the No. 5 singles position during the 2015 season, so his improvement that allowed him to compete at No. 3 was critical in Arkansas' success this year. Also, he and doubles partner Johan den Toom notched nine victories at the No. 3 doubles spot, leading the team with a 10-8 overall record.
An SEC Scholar-Athlete of the Year and CoSIDA Academic All-America nominee, Munoz will graduate this spring with a degree in finance and a minor in accounting.
Select coaches in each region comprised the awards committee. By separating themselves within the Central region, Jackson, Briceno and Munoz are all eligible for the national ITA awards in their respective categories, which will be announced Tuesday, May 24.
QUOTABLES
"Awards coming from your fellow coaches mean a lot and I'd sincerely like to thank them. Many and heartfelt thanks go to the players, Jovan Parlic, Erica Gonzales and Nestor Briceno. It has been a joyful year and I'm very grateful to have been a part of it." — Head coach Andy Jackson
"I'm extremely humbled by the recognition, especially in such a competitive region. I'd like to thank the University of Arkansas, Coach Jackson and the team for giving me the opportunity to be in this position." — Assistant coach Nestor Briceno
"Nestor is very deserving of the award and he may well win the national award. He has been monumental in our program's improvement and success. He's a brilliant recruiter, a fierce competitor and a very loyal and great friend. Overall, he's just a flat-out great coach." — Head coach Andy Jackson
"I'm extremely honored to receive this award, and I couldn't have achieved it without my teammates. It's inspiring to see a group of guys giving it all out, pushing each other and driving this team forward all together. I want to thank my coaches for putting their faith in me and finding ways to get through to me so I could develop into the player I am today." — Senior Santiago Munoz
"Santiago's improvement this year was huge in the Razorbacks getting back among the top 20 nationally. Nothing makes us happier than to see someone who has worked hard get rewarded. Santiago is an excellent student and teammate, and he's a true model for how we would like to see any player mature and progress." — Head coach Andy Jackson
For more information on Razorback men's tennis, please follow @RazorbackMTEN on Twitter.