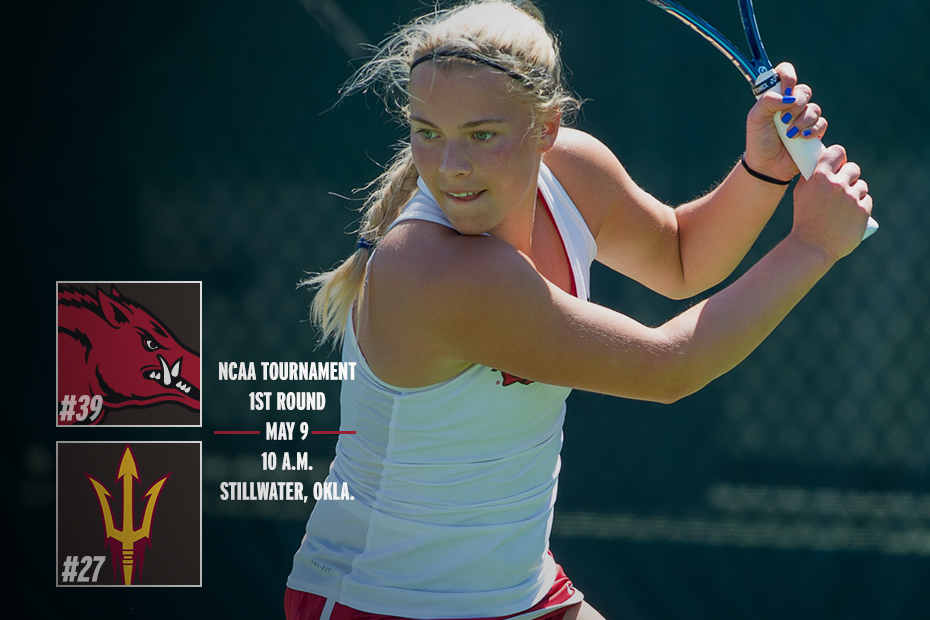 NCAA Tournament | @RazorbackWTEN Set To Battle Arizona State
FAYETTEVILLE, Ark. – The No. 39 Arkansas women's tennis team (16-14, 4-9 SEC) will face No. 27 Arizona State (15-7, 6-4 Pac-12) in the first round of the NCAA Tournament (Oklahoma State Regional) on Saturday, May 9 at the Greenwood Tennis Center in Stillwater, Okla. First serve is set for 10:00 a.m. CT.
MATCH INFORMATION
Match: No. 39 Arkansas (16-14, 4-9 SEC) vs. No. 27 Arizona St. (15-7, 6-4 Pac-12)
Date/Time: May 9, 2015 | 10 a.m. CT
Venue: Greenwood Tennis Center | Stillwater, Okla.
Oklahoma State Regional Central: OKState.com/wten-regional
Tournament Bracket: Interactive Bracket
Live Stats: OKState.com
QUICK HITS:
– @RazorbackWTEN secured the program's 13th NCAA Team Championship bid
– The Razorbacks enter NCAA Tournament play with a 16-14 overall record.
– The Razorbacks and Sun Devils will face each other for the first time.
– No. 49 Yuliya Lysa leads the Razorbacks with 19 wins on the season.
ARKANSAS IN THE NCAA TOURNAMENT
Arkansas has 13 NCAA appearances and is headed back to the NCAA Tournament for the first time since 2012. In 2012, Arkansas fell 4-0 to Long Beach State in Los Angeles, Calif. on USC's campus.
NCAA TOURNAMENT INFO
The NCAA Division I Women's Tennis Subcommittee selected the 64 teams and 16 first- and second-round sites for the 2015 NCAA Division I Women's Tennis Championship. Per NCAA policy, the top 16 seeds are guaranteed to host if a bid was submitted and criteria are met, and matchups between conference opponents were avoided in the first two rounds of the championship.
First- and second-round competition takes place May 8-9 or 9-10 and features four teams playing in a single-elimination format. The winner of each site advances to the Hurd Tennis Center in Waco, Texas, where the 16 teams will compete for the national championship May 15-19. The event will be hosted by Baylor University.
Tournament matches will be regulation dual matches with three (3) eight-game, pro-set doubles played for one team point, followed by six (6) singles matches, each valued at one team point, played in best-of-three sets. Regular scoring will be used and a 12-point tiebreaker will be played at seven-games-all in doubles and at six-games-all in singles.
NCAA TOURNAMENT TICKET INFO
Tickets for the event can be purchased at the OSU ticket office or at the gate. They are $5 for adults and $3 for students. Additional information can be found on the Stillwater Regional Page.
NCAA TOURNAMENT | SINGLES AND DOUBLES
Junior Yuliya Lysa, a 2015 All-SEC second team selection, earned an at-large singles bid to the 2015 NCAA Division I Women's Tennis championships, which will be held May 20-25 at the Hurd Tennis Center in Waco, Texas, for the first time in her career.
The singles and doubles competition will be conducted following the conclusion of the team championship, which runs from May 15-19. Baylor University will serve as host. All matches shall be the best-of-three sets. Regular scoring and a 12-point tiebreaker at six-games-all will be used for all matches.
Lysa's selection to the singles competition is the 12th time in program history a singles player has competed in the postseason. The No. 35 doubles tandem of Lysa and sophomore Shannon Hudson was also selected as an alternate team (second alternates) for the 2015 NCAA doubles competition.
LAST TIME OUT: ARKANSAS FALLS 4-3 TO MIZZOU IN SEC TOURNAMENT (April 15)
In a hard-fought match that started outside, finished indoors and lasted more than five hours, the No. 11 seed and nationally-ranked (No. 36) Arkansas women's tennis team fell 4-3 to the 14th-seeded Tigers of Missouri on Wednesday afternoon in the first round of the SEC Tournament.
The Tigers got off to a good start and got on the board first in doubles, as they took two consecutive doubles matches and claimed the first team point. Arkansas quickly responded in singles play however, taking the first three contests to grab a commanding 3-1 lead.
Missouri needed wins in the remaining three singles matchups to take the match and were able to do just that. The Tigers got victories from Beatriz Machado Santos, Clare Raley and Madison Rhyner to advance to the next round of the tournament.
After dropping the doubles point, Yuliya Lysa and Shannon Hudson made quick work of their opponents to give the Razorbacks a 2-1 lead. Lysa defeated Kelli Hine 6-1, 6-4 on court one and Hudson handled Cassidy Spearman 6-0, 6-1 at No. 2. The wins were Lysa's 19th and Hudson's 12th on the year.
Sasha Shkorupeieva kept things rolling by defeating Brianna Lashway on court four 4-6, 6-0, 6-3, giving the Razorbacks a 3-1 lead and setting up match-point for the team.
Facing elimination, the Tigers battled and picked up wins at No. 6 and No. 5 to tie the match a 3-3. Madison Rhyner got by Flavia Araujo 6-4, 6-0 and Clare Raley outlasted Mia Jurasic 2-6, 6-2, 6-4.
The deciding match was at court three, where Makenzie Craft and Beatriz Santos put on a show for the spectators. The match was three sets and went back-and-forth, but Santos won the tiebreak 7-5 to defeat Craft and give the Tigers the 4-3 victory.
(14) Missouri 4 vs (11) Arkansas 3
4/15/2015 at Columbia, S.C.
Carolina Tennis Center)
Singles competition
1. #51 Yuliya Lysa (ARK) def. #122 Kelli Hine (MU) 6-1, 6-4
2. Shannon Hudson (ARK) def. Cassidy Spearman (MU) 6-0, 6-1
3. Beatriz Santos (MU) def. Makenzie Craft (ARK) 7-5, 4-6, 7-6 (7-5)
4. O. Shkorupeieva (ARK) def. Brianna Lashway (MU) 4-6, 6-0, 6-3
5. Clare Raley (MU) def. Mia Jurasic (ARK) 2-6, 6-2, 6-4
6. Madison Rhyner (MU) def. Flavia Araujo (ARK) 6-4, 6-0
Doubles competition
1. Brianna Lashway/Brittany Lashway (MU) vs. #36 Yuliya Lysa/Shannon Hudson (ARK) no result
2. Madison Rhyner/Cassidy Spearman (MU) def. Mia Jurasic/Makenzie Craft (ARK) 8-5
3. Kelli Hine/Clare Raley (MU) def. Flavia Araujo/O. Shkorupeieva (ARK) 8-5
Match Notes:
(14) Missouri 9-17, 0-13 SEC
(11) Arkansas 16-14, 4-9 SEC; National ranking #36
Order of finish: Doubles (2,3); Singles (1,2,4,6,5,3)
SEC Tournament 1st Round
IN THE POLLS
In the May 1 ITA poll, the Razorbacks checked in at No. 39. Arkansas has been ranked in 129 consecutive weekly ITA polls dating back to 2008.
The duo of Shannon Hudson and Yuliya Lysa were ranked No. 32 as a doubles team, while Lysa was ranked No. 49 individually.
COACH'S CORNER
Arkansas women's tennis all-time winningest coach with a record of 163-143, Michael Hegarty (Auburn, '94) is in his 12th season as head coach of the Razorbacks. He has led the Hogs to eight NCAA Tournament appearances during his tenure at the U of A.
@SEC COMMUNITY SERVICE TEAM
The SEC sponsors Community Service Teams for all 21 league sponsored sports. The Community Service Team looks to highlight an athlete from each school who gives back to their community in superior service efforts. The women's tennis Community Service Team was announced on Tuesday, April 14 and Flavia Araujo earned a spot.
Flavia Araujo, Arkansas
Participated in Lift Up America by loading people's cars with boxes of frozen protein provided by Tyson Foods Inc. Spoke to 1300 kids at Bud Walton Arena, as part of the Red Ribbon Rally, about staying away from drugs and alcohol. Participated in Sweat Hogs and Book Hogs, where she taught grades 1-4 from multiple elementary schools in Fayetteville about physical education and nutritional habits as well as the importance of reading and developing skills. Recruited customers of Harps to donate cans and goods to the Cooperative Emergency Outreach (CEO). Participated in the Buddy Walk, a fundraising awareness event for those who have Down syndrome to be included in our community – with Down Syndrome Connection of NWA. At the MLK Youth Event, she played sports with kids and teenagers to encourage physical activity and inspire them to fulfill their potential. Also interacted with veterans from the Veterans' Hospital and learned about their war stories as well as life achievements. After the tornado's destruction in Mayflower, helped with relief efforts by unpacking, sorting, and separating donations. Performed a guitar number at a variety show to raise money for YRCC community center as well as volunteered for many services including playing with kids and helping with office activities.
2015 SEC Women's Tennis Community Service Team
Natalia Maynetto – Alabama
Flavia Araujo – Arkansas
Jen Pfeifler – Auburn
Brianna Morgan – Florida
Kirsten Lewis – Kentucky
Skylar Kuykendall – LSU
Kelli Hine – Missouri
Brigit Folland – South Carolina
Joanna Henderson – Tennessee
Stefania Hristov – Texas A&M
Courtney Colton – Vanderbilt
ARAUJO HEADED TO NIKE
Junior Flavia Araujo was selected as a member of the Nike Internship Program. Araujo, a business management major (retail marketing minor) with a 3.87 cumulative grade point average, has been selected to intern in the summer program in Beaverton, Ore., home to the world headquarters of Nike, Inc.
In December, juniors and seniors who are interested in the internship are required to attend a virtual presentation with Nike representatives. After that candidates go through three other interviews before having the internship offer extended to them.
To qualify for the internship, the student-athletes, team managers and athletic department interns had to be juniors or seniors with at least a 3.0 GPA. Candidates were selected based on their applications, résumé, project and interviews.
The Nike Internship Program by many accounts is considered a Top-15 internship in the United States by any company. Araujo, the 2015 Red Tie Honoree for the Female Spirit of the Razorback Award, will serve as a NIKE Global Brand Marketing Intern, with some of her duties being to assist the Brand Director with seasonal marketing needs and to collaborate on Grand Slam operations for the US Open.
ARAUJO NAMED RED TIE HONOREE
Junior Flavia Araujo was named the 2015 Red Tie Honoree for the Female Spirit of the Razorback Award, as announced by the University of Arkansas Athletic Department and the Razorback Foundation on Dec. 31. Each year, the Razorbacks recognize student-athletes whose performance throughout his or her career serves to lift up their sport to new heights and whose character exemplifies the goals of the athletic department. The 18th annual Red Tie Dinner was held Feb. 21, 2015, in Rogers, Ark. A steady contributor on the court, Araujo was also named the 2013-14 Lee Spencer Individual champion for her community service endeavors and overall commitment to the university.
ROLL CALL
Fresh faces are abound in the George M. Billingsley Tennis Center this season. A total of eight newcomers come aboard for the Razorbacks this season. Here's a breakdown of the newcomers. Junior Makenzie Craft (Frisco, Texas) transferred in after spending her freshman season with Georgia and her sophomore season with Baylor. Craft certainly brings with her a championship pedigree as she was a part of Georgia's 2013 SEC Championship team and Baylor's 2014 Big 12 Championship team. She compiled a 27-22 overall singles record during her first two collegiate years. Junior Nicole Breaux (Lafayette, La.) comes to Fayetteville after transferring from Louisiana-Lafayette. Breaux competed at the top of the singles and doubles lineup for the Ragin' Cajuns, amassing a 28-34 singles record over two seasons. Junior Yuliya Lysa is in her first season and comes to Arkansas by way of Khmelnytsky, Ukraine. Sophomore Nastassia Rubel (Minsk, Belarus) is in her first season with the Razorbacks, bringing with her a world ranking of No. 188 on the ITF junior tour. Sophomore Elly Fryberger (Littleton, Colo.) is in her first season after transferring from Kansas. Freshmen Mia Jurasic (Ogulin, Croatia) and Peyton Jennings (Tulsa, Okla.) will both be competing in their first collegiate matches. Jurasic is the Croatian 16 and under national champion while Jennings claimed back-to-back Oklahoma state titles at No. 1 singles her junior and senior year.
The eighth newcomer is assistant coach Luc Godin. Godin joins Hegarty's staff and the Razorbacks after previously serving as the men's and women's assistant at Louisiana-Lafayette in 2013-14. He is familiar with the SEC, however, as he was an assistant for the Auburn women's team from 2011-13.
2013-14 OVERVIEW
The Razorbacks finished the 2013-14 season with a 13-16 overall mark, including 2-11 in SEC play. Arkansas finished the season ranked No. 59 in the final ITA poll.
Arkansas brings back three players from last year's squad. Returning are junior Flavia Araujo and sophomores Shannon Hudson and Oleksandra Shkorupeieva.
AT A GLANCE: 2014 FALL
The Razorbacks competed in six team tournaments throughout the fall schedule. Sophomore Oleksandra Shkorupeieva led the team in wins, posting a 12-2 record. Additionally, she won her flight championship at the Oklahoma Sooner Invitational and also won three straight matches at the ITA Central Regional Championships, advancing out of the qualifying bracket and into the main draw's Round of 32. Sophomore Shannon Hudson was selected to compete in the singles qualifying draw at the Riviera/ITA Women's All-American Championships and finished the fall with an 8-6 singles record. Junior Makenzie Craft posted an 8-7 fall singles record and advanced all the way to the Round of 16 at the ITA Central Regional.
For more information on Arkansas women's tennis, follow @RazorbackWTEN on Twitter.