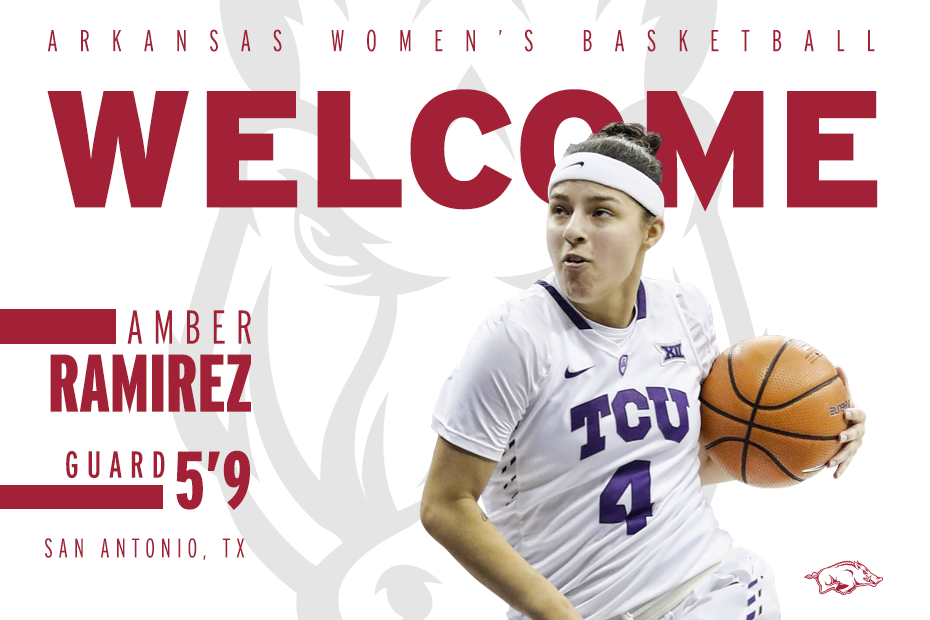 Neighbors Adds Talented Transfer In Ramirez
Amber Ramirez Highlights
FAYETTEVILLE, Ark. – The University of Arkansas women's basketball team and Mike Neighbors announced the addition of McDonald's All-American transfer Amber Ramirez on Tuesday.
Ramirez is a former five-star recruit out of high school and is transferring to Arkansas after two seasons at TCU. She will redshirt the 2018-19 season due to NCAA transfer rules. The 5-9 guard kept her announcement simple, saying "New beginnings, Wooo Pig Sooie" on her Twitter feed.
Ramirez played in the McDonald's All-American Game and the Jordan Brand Classic game following her senior season at Wagner High School in San Antonio, Texas. She won the 3-Point Shootout and was part of the winning team at the Legends and Stars shootout, hitting a half-court shot to clinch the victory.
Ramirez paced the Thunderbirds to four consecutive University Interscholastic League (UIL) State Tournament appearances reaching the semifinals three times and the regional final as a senior. Ramirez earned four Texas Association of Basketball Coaches (TABC) and Texas Girls Coaches Association (TGCA) All-State First-Team selections, was a UIL Class 6A All-State Tournament First-Team selection as a junior and was a four-time TABC Region IV All-Region First-Team honoree. She finished her high school career with 2,769 points, the second-most in San Antonio city history.
Ramirez's career also boasts international experience as part of several USA Basketball teams. She won two medals with USA Basketball in the summer of 2016, earning gold at the FIBA Americas U18 Championships in Chile and silver at the FIBA 3×3 U18 World Championship in Kazakhstan. Ramirez also took part in the 2014 U17 World Championship team trials and the 2013 U16 National Team Trials in Colorado Springs, Colorado.
Her TCU career spanned two seasons where she played in 59 games and averaged 9.6 points per game, including 10.4 ppg in 2017-18, helping the Horned Frogs reach the semifinals of the WNIT. Ramirez's offense was balanced as she shot 39.1% overall and 38.2% from beyond the arc. She increased her assist production from 32 as a freshman to 103 as a sophomore.
Career Highlights
• USA Basketball
o Two gold medals at the 2016 FIBA Americas U18 Championship in Chile
o Averaged 10.8 ppg in five games with USA Basketball
o Silver medal at 2016 FIBA 3×3 U18 World Championships in Kazakhstan and was the team captain
• Top-10 Consensus recruit
o Five-star recruit by ESPN and Prospect Nation
o Ranked No. 2 in the nation at her position as a senior
• McDonalds' All-American
• Jordan Brand All-American
From Coach Neighbors
When a player with the national reputation of Amber Ramirez chooses your University and your locker room to continue her education and basketball career, it's evidence you're making great strides to compete in the SEC. She brings international experience with USA Basketball, and has two years of playing in the BIG XII under her belt. Her pre-college career includes four years at Wagner High School with coach Tina Camacho and with the San Antonio Finest working with coach Ray Caldwell where she competed against elite competition.
Anyone who has seen her compete and us play, can immediately see how her game is a perfect fit. She plays functionally fast, makes her teammates better, and is positionless. But it's what she does in practice and when no one is watching that created her separation from good to great. Her day-to-day focus on skill development and personal growth fits our culture knowing that no matter how good we are today, it's not good enough tomorrow.
More Information
For more information about Arkansas women's basketball, follow us on Twitter and Instagram at @RazorbackWBB and on Facebook at Facebook.com/RazorbackWBB. Be sure to subscribe to our YouTube Channel, "Kickin' It In The Neighborhood" for an inside look at the Razorback women's basketball program and check out The Neighborhood podcasts at CoachNeighbors.com.