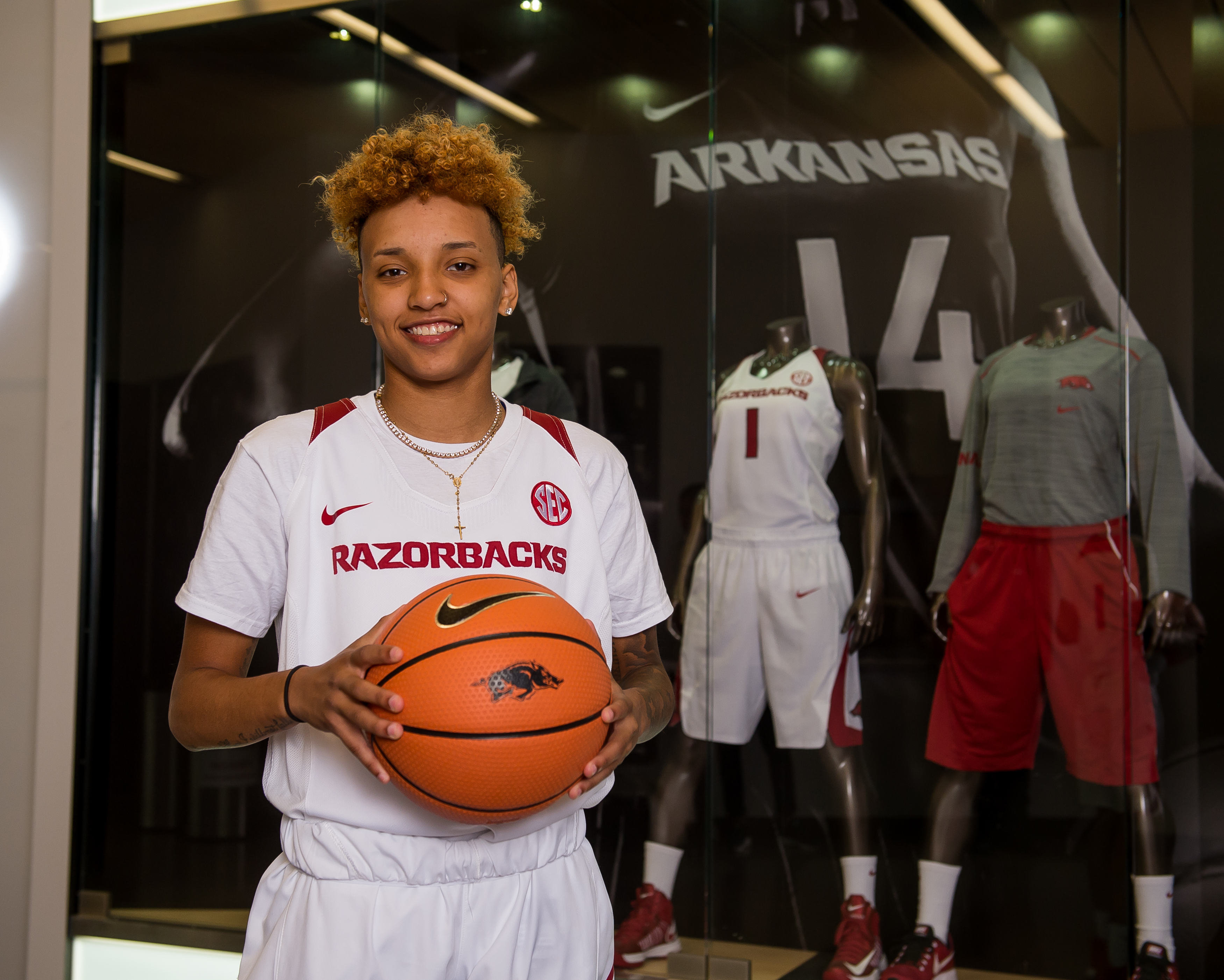 Neighbors Welcomes Tolefree
FAYETTEVILLE, Ark. – The roster continues to grow for the University of Arkansas women's basketball team as coach Mike Neighbors and the Razorbacks welcome Conway, Arkansas, native Alexis Tolefree for the 2018-19 season.
Tolefree signed with the Razorbacks on Thursday after two seasons at Jones County Junior College in Ellisville, Mississippi. She joins transfers Chelsea Dungee and A'Tyanna Gaulden who redshirted last season and Rokia Doumbia and Erynn Barnum who signed this year.
Tolefree is a 5-8 guard who played two seasons at Jones County JC. She is a two-time NJCAA All-American, and All-Region 23 and All-Region 23 All-Tournament team selection.
As a sophomore, Tolefree averaged 21.3 points per game and 3.2 rebounds per game. She shot 43.1 percent from the floor. Tolefree ranked second in the MACJC and seventh nationally in scoring and was third in the nation in 3-point field goals per game.
Tolefree led her team to the Region 23 title scoring 50 points in the win over Copiah-Lincoln in the final game.
From Coach Neighbors
"Our motto of playing functionally fast just got much faster! Anyone familiar with our style of basketball and the skill set Alexis Tolefree brings to the court will realize this is a perfect fit for everyone. Her development under Ashley Nance at Conway and Missy Bilderback at Jones CC, will have her ready to compete. Alexis plays at a pace we love and makes 3s from range on a consistent basis.
Being a two-time JUCO All-American and dropping 50 points in a game last season, many other schools were working just as hard to get her on their campus. Our staff tried to attract her from the day we arrived on campus, but we didn't have enough of evidence yet at Arkansas to convince the Conway native to stay home. The second circumstances changed at Ole Miss, our staff was once again in constant communication.
When her release was granted, we again made sure she knew we wanted her to be a Razorback and finish her career in the state. She bonded instantly with our current team in her time on campus. It didn't have the feel of an official visit at any point – it was more like a welcome to the family. Wins don't usually come in the off season, but we won one today, in holding off several other SEC schools in bringing her home."
More Information
For more information about Arkansas women's basketball, follow us on Twitter and Instagram at @RazorbackWBB and on Facebook at Facebook.com/RazorbackWBB. Be sure to subscribe to our YouTube Channel, "Kickin' It In The Neighborhood" for an inside look at the Razorback women's basketball program and check out The Neighborhood podcasts at CoachNeighbors.com.