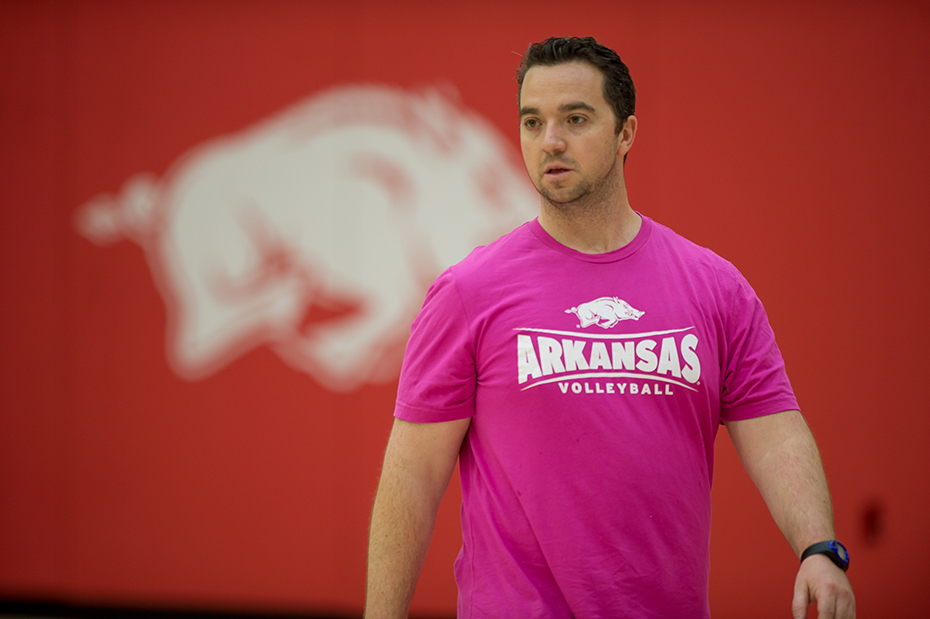 Newman-Gonchar to Represent Team USA
FAYETTEVILLE, Ark. – University of Arkansas volleyball associate head coach Jon Newman-Gonchar is set to represent Team USA for a second time as a member of the coaching staff for the Pan American Cup as announced Tuesday afternoon by USA Volleyball. Newman-Gonchar will serve as an assistant coach and team leader for the squad that will compete June 30 through July 11 in the Dominican Republic.
"It's an honor to be selected to join the USA Volleyball coaching staff," Newman-Gonchar said. "I am humbled to represent not only the Razorback Nation and the University of Arkansas but most importantly the United States in this international competition. The Pan American Cup is a world-class tournament with a young and accomplished group of athletes from around the country. This should be a very exciting summer."
Previously, Newman-Gonchar was an assistant coach with the U.S. Women's National Team that won gold in 2015 at the XIV Pan American Cup in Lima, Peru. This is the latest on a list of national and international experiences for the Claremont, California, native who worked with the USA Junior National Team in 2008 and 2009 at the Olympic Training Center, and was a coach at the 2007 HP A1 Select Camp.
Newman-Gonchar joined the Arkansas coaching staff in January after three seasons at Iowa State where he helped guide the Cyclones to three NCAA Tournament appearances and coach his student-athletes to four AVCA All-America certificates, six AVCA All-Region honors and 18 All-Big 12 selections, including a trio of Big 12 Libero of the Year honors and the 2015 Big 12 Freshman of the Year.
The training roster competing for spots on the Pan American Cup team was also announced Tuesday, a 19-member lineup comprised of athletes still in college or those who have recently completed their eligibility. The Pan American Cup roster is set to be finalized in late June. Newman-Gonchar will be joined on the coaching staff by Dan Fisher (Pittsburgh), Heather Olmstead (BYU) and Tristan Johnson (Arkansas State).
For more information about Arkansas volleyball, follow @RazorbackVB on Facebook, Instagram, Snapchat and Twitter.