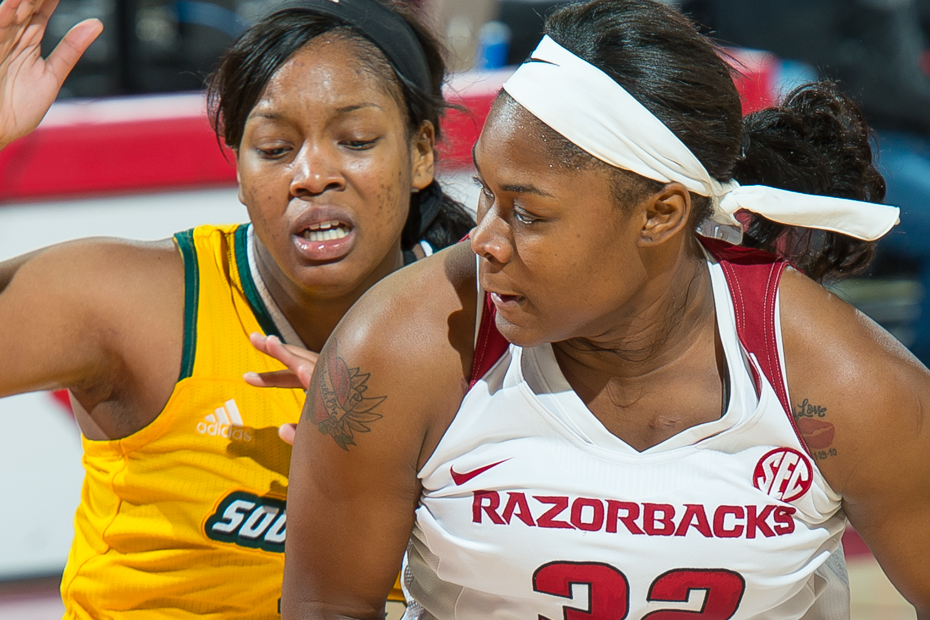 Next Challenge Awaits W. Basketball
THE GAME
Big 12/SEC Challenge
Arkansas vs. No. 5/6 Texas
Date | Time: Sunday, Dec. 20 | 1:30 p.m.
TV: FS1 | http://www.foxsports.com/tv-listings
Audio: https://arkansasrazorbacks.com/wbb-live-audio/
Location: Oklahoma City, Oklahoma | Chesapeake Energy Arena
Social: Twitter/Facebook/Instagram @RazorbackWBB
Arkansas Notes
FAYETTEVILLE, Ark. – The schedule just gets tougher every day and the University of Arkansas women's basketball team hopes to finish the non-conference schedule on a high note with three games remaining before the New Year.
Arkansas travels to Oklahoma City, Oklahoma, facing No. 5/6 Texas Sunday before the holiday break. They return to campus Dec. 26 to begin preparations for Mississippi Valley State Dec. 28 and New Orleans Dec. 30 before starting SEC play after the first of the year.
In facing Texas, the Razorbacks take on their second nationally-ranked opponent of the season and their highest-ranked opponent. In Arkansas' last meeting with a ranked team, the Razorbacks found themselves tied with No. 7 Oregon State heading into the final frame in Puerto Rico.
Jessica Jackson and Jordan Danberry scored in double figures, Arkansas had fewer turnovers and more steals in that game, elements that will be important against Texas as well.
Arkansas will also have to find a way to avoid the scoring droughts that have plagued them in the first 10 games and rely on the balance scoring effort they had early in the Butler contest.
Jackson enters the game as the only Razorback averaging double figures with 17.2 points per game and a team-best 8.0 rebounds per contest. Senior Melissa Wolff has increased her minutes and her numbers and averages 7.0 rpg and 5.1 ppg while guards Danberry and Devin Cosper and post Alecia Cooley are all playing key roles for the Razorbacks.
FROM JIMMY DYKES
It's been a good week for us coming out of final exams. You always worry if your young ladies will be thinking about going home for the holiday or about Texas – I expect we will be thinking about Texas. We healed up a little bit and concentrated on us this week. Now we look at Texas and put our thoughts and efforts into them. We have a great opportunity and a great challenge ahead of us. I expect us to play really, really hard.
STORYLINES
• Arkansas has been even with or out-rebounded eight of 10 opponents this year
• Arkansas has held eight to f10 opponents at or below their current scoring average
• Three difference players have had five double-doubles this year
• Arkansas has won the turnover battle in six games and had more steals in five games this year
• Arkansas has had more assists in six games and more blocks in four games
• Arkansas has had at least two three-pointers in every game this year
SERIES HISTORY
Arkansas is just 3-21 all-time against Texas. The most recent game was a 67-50 loss in 2003 in the NCAA Tournament in Cincinnati, Ohio. Arkansas last win over the Longhorns came in 1991 when the No. 11 Razorbacks defeated No. 15 Texas, 73-68, in Austin, Texas.
UP NEXT
Dec. 28 Mississippi Valley State SECN+ 7 p.m.
Dec. 30 New Orleans SECN+ 7 p.m.
Jan. 3 at South Carolina* ESPNU 2 p.m.
Jan. 7 Texas A&M* ESPN/SECN+ 7 p.m.
Jan. 10 at Mississippi State* SECN+ 2 p.m.
Jan. 14 Tennessee* SECN 8 p.m.
For more information on Arkansas women's basketball, follow @RazorbackWBB on Twitter.