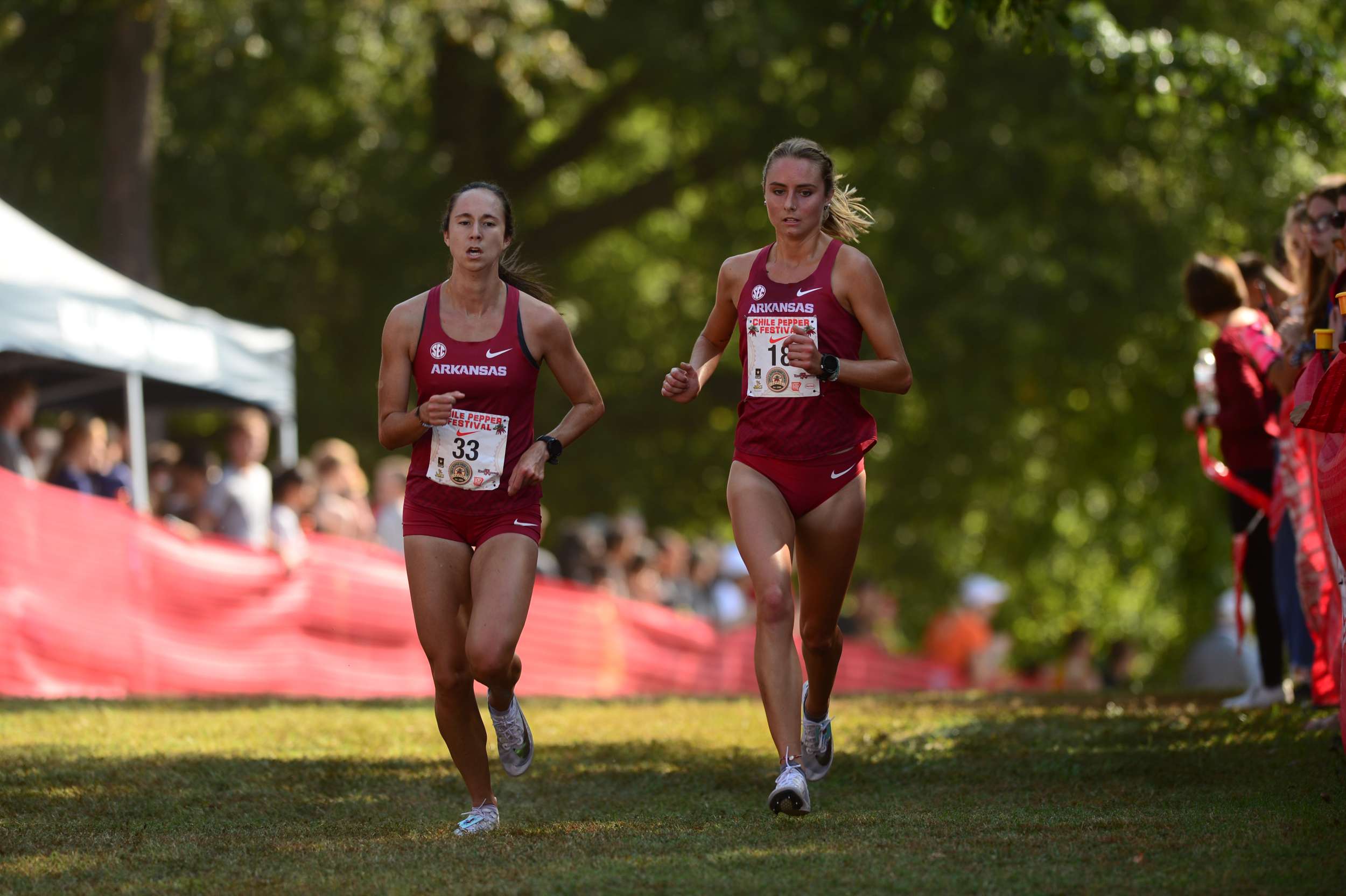 No. 1 Arkansas Dominates Nuttycombe Invitational
| | | |
| --- | --- | --- |
|  Pos. | Arkansas | Time |
| 3 | Taylor Werner | 19:52.20 |
| 5 | Katie Izzo | 19:59.40 |
| 7 | Devin Clark | 20:05.80 |
| 9 | Carina Viljoen | 20:09.80 |
| 38 | Lauren Gregory | 20:37.50 |
|  Pos. | Team Results | Score |
| 1 | Arkansas | 62 |
| 2 | Stanford | 98 |
| 3 | North Carolina St. | 203 |
| 4 | Wisconsin | 217 |
| 5 | Michigan State | 219 |
MADISON, Wis.. – Placing four runners in the top-10, the No. 1 Razorback women's cross country team made a statement heard across the country as they dominated the Nuttycombe Invitational team title by a 36-point margin Friday afternoon at the Thomas Zimmer Championship Course.
"We ran an absolutely fantastic race today as a team from beginning to end," said head coach Lance Harter. "Taylor Werner continues to be one of the elite distance runners in the country bar none. Katie Izzo has been such a competitor in her short time here in Arkansas. [Katie] ran right upfront the entire time, rubbing shoulders with some of the best in the country. Devin Clark ran the best cross country race I think I've ever seen her put together in her entire career to finish as our No. 3. Then you look to Carina Viljoen, who we've been working with to relax during her races and its paying dividends; she ran relaxed and had plenty left towards the end of the race. Lauren Gregory opened up today in uniform, and she's such a fighter. She's been battling all year to get to this point, and she continues to battle and fight, and shes just so courageous out there," said Harter.
Taylor Werner, who won the individual title at Arkansas' two previous meets (John McNichols Invite, Chile Pepper) once again finished as the top Razorback, finishing third overall in a highly competitive field that included 20 of the top-30 programs in the nation. The senior from Ste. Genevieve, Mo. was never further back than 11th-place, working her way up to third-place at the 4k mark and holding steady to the finish stopping the clock at 19:52.20. Werner was followed by the Cal-Poly transfer Katie Izzo who finished fifth overall at 19:59.40. Devin Clark (20:05.80) and Carina Viljoen (20:09.80) finished seventh and ninth, respectively, to give Arkansas four runners in the top-10. Lauren Gregory, who officially made her season debut in uniform, finished 38th-overall running 20:37.50 to round out the scoring for the Razorbacks.
Finishing in the sixth and seventh positions for Arkansas were Maddy Reed in 142nd-place running 21:34.40 and Abby Gray in 166th-place at 21:48.40.
The Razorbacks took the team title with a team score of 62-points that was 36-points better than second-place Stanford while North Carolina St. Wisconsin and Michigan State rounded out the top-five in the team standings.
Arkansas also had a trio run in the "B" section of the women's 6,000-kilometer race with Adoette Vaughn (21:50.60), Isabel Van Camp (21:52.00), and Quinn Owen (22:09.50) finishing 23rd, 25th, and 42nd, respectively
"I think the three women that ran in the "B" section of the race got some great work in as well," said Harter. "Adoette [Vaughn] and Isabel [Van Camp] and Quinn Owen ran strong and really got in some invaluable experience running on a course like this. We're developing some depth, and they're learning from watching the older athletes and how they carry themselves every day at practice, and during these big meets," Harter finished.
Next up for the Razorbacks will be the SEC Championships in Lexington, Ky. set for Fri. Nov. 1 at Kentucky Horse Park.
For more information on Arkansas Cross Country, including in-meet updates, follow @RazorbackTF on Twitter.