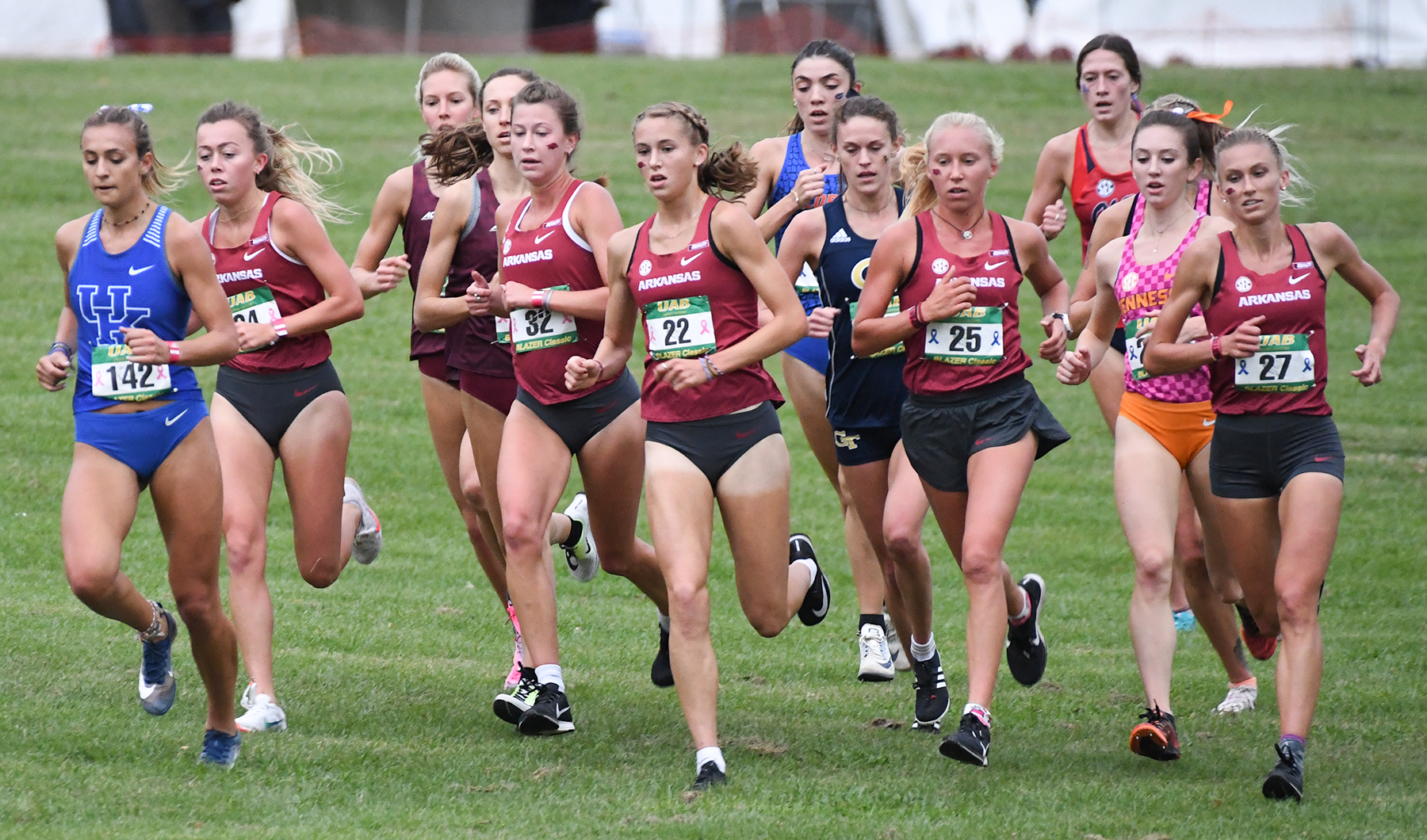 No. 1 Razorbacks Favored For Eighth Consecutive SEC Title
The No. 1 ranked Razorback women's team will contend for an eighth consecutive cross country league team title when they compete in the SEC Championships this week.
The 6,000m race for the women will start at 9:05 a.m. on Friday, Oct. 30, at the University Club in Baton Rouge, La.
Live coverage of the meet will be available on the SEC Network while live results will be available at PrimeTime Timing (https://live.pttiming.com/XC-PTT.html?mid=2064).
Arkansas won all three of its meets this fall convincingly, even producing a perfect score of 15 points to open its campaign, extending its unbeaten streak to nine consecutive meets after a perfect run through six meets during the 2019 season.
"Considering the improvised schedule we all inherited due to the Covid-19 scenario, at least we have an opportunity to compete," said Arkansas women's head coach Lance Harter, who has collected 20 SEC cross country titles. "We definitely made the best of it thus far. The competitions we've been able to use as our springboard into the actual championship meet have gone absolutely flawless.
"We are in good health, our kids are putting out great workouts, and now we're enjoying that subtle taper as we get ready for the actual championship race this week."
Leading the Razorback crew are two members of last year's championship squad – Lauren Gregory and Abby Gray – who were part of multiple SEC titles as well as the program's first national championship.
"What has been a blessing for the coaching staff is that Lauren and Abby were a distinct part of SEC titles in years past, and also the NCAA Championship last year," noted Harter. "They bring that history and experience which has rubbed off on our newcomers very, very much."
Gregory and Gray have both been among Arkansas' top five in each of the three meets contested this fall. Gregory, a SEC bronze medalist in 2018, has placed among the top 10 in the conference meet three consecutive years. This season she led the Razorbacks in the two most recent victories, finishing second in Missouri and fourth at Birmingham.
"It hasn't made much of a difference to me," Gregory said of being the leading runner this fall. "With our first through fifth everyone is about in the same range. Plus, I still have the seniors from the team last year, who still have an indoor or outdoor season, to guide and help me. Having our second and third runners within a few seconds of me doesn't make it feel like a front runner situation for me."
A healthy, injury-free season has also benefitted Gregory, who noted: "It really does make a huge difference in this sport, just to be consistent."
The blend of returning Razorbacks with transfers and incoming freshmen has led to a potent team that aims to continue the legacy Arkansas has established in winning numerous conference titles.
"We've been very, very fortunate that our culture we've established over the many years I've been here continues to affect our newcomers in a very positive way," stated Harter. "So, their adjustment to the training program, their teammates and to the competitive spirit at competitions has been absolutely to perfection.
"In summary that has given us a very positive outlook for this week in going for our eighth consecutive SEC Championship title."
Having five seniors who were part of the Razorbacks' top six in the NCAA Championships from last year's team wrap up their cross country eligibility, Arkansas added a crew of transfers and some precocious freshmen to shore up the squad along with the Razorbacks who were returning.
"So, I think a lot of people left us for dead," quipped Harter. "But, I think, thus far this season, that combination of the people who returned from last year's team along with newcomers, led by Taylor Ewert and Cori Smith, and then our transfers have just done a fantastic job. We have a lot of positive momentum and we really look forward to a great competition in Baton Rouge.
"We have other runners, such as Megan Underwood and Isabel Van Camp, who were on the periphery of the team last year, have now stepped up to fill those voids of the five seniors from last year's team."
The transfers now calling Arkansas home – which include Krissy Gear, Logan Morris, Kennedy Thomson, and Gracie Hyde – each bring previous conference racing experience with them and they have been tested versus numerous SEC schools this season.
Meanwhile, the tandem of Ewert and Smith have consistently been in the Razorback top five and produced the top pair of times over the 6,000m distance among freshmen this season.
"Experience is definitely a beneficial factor, especially at the collegiate level, and to have two freshmen walk in and contribute into our top five immediately is pretty special," noted Harter. "That doesn't happen very often. Especially when you have the likes of Abby and Lauren returning, but also some transfers like Krissy Gear, Kennedy Thomson and Logan Morris who stepped up to this level of competition."
While the Razorbacks are favored for an eighth consecutive title, Harter's experience in the league over the past 30 years keeps him on the lookout for unexpected challengers.
"The SEC meet is unique, people have a tendency to rise out of the woodwork that you least expect," said Harter. "We are always wary of the caliber of talent that's out there at other SEC schools."
Comments from Coach Chris Bucknam, Coach Lance Harter, Lauren Gregory and Jacob McLeod