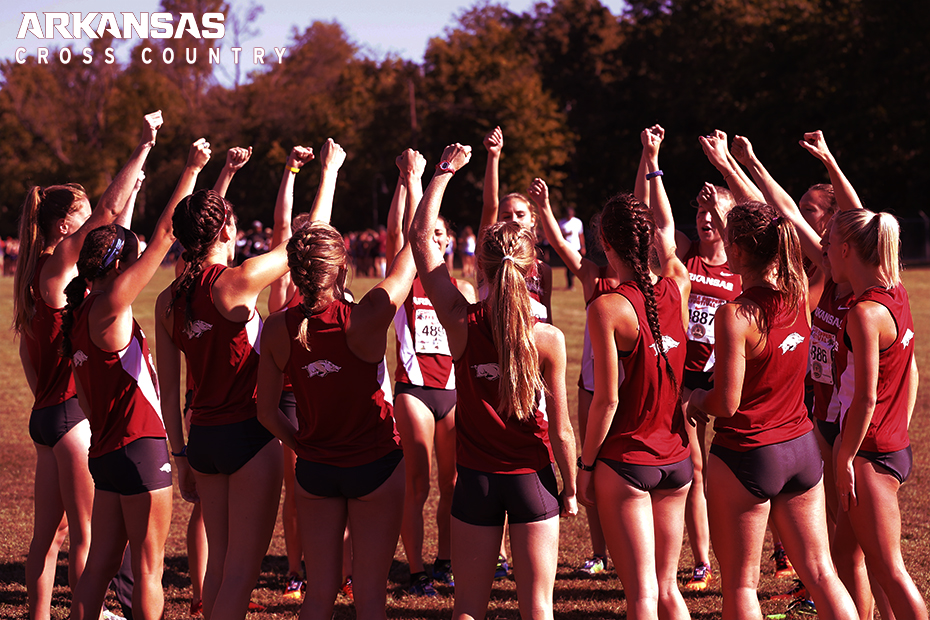 No. 11 Razorbacks Race to Second Place
Wisconsin adidas Invite Results
MADISON, Wis. – The No. 11 Razorbacks went to head to head against the nation's best runners at the Wisconsin adidas Invitational on Friday morning. Arkansas finished in second place as a team led by senior Dominique Scott who crossed the line third overall.
The Razorbacks performed better than four other teams ahead of them in the polls finishing behind only first ranked New Mexico.
In her first 6K race of the year, Scott gave the running world a show as her natural talent, molded by head Coach Lance Harter carried her expediently though the Thomas Zimmer Championship course. Improving on her time of 19:54.00 from the 2014 race Scott clocked a blazing 19:32.50 pushed by fellow top runners Allie Ostrander of Boise State and Molly Seidel of Notre Dame.
Arkansas also had another solid performance from Devin Clark who amazed fans and coaches alike with a top-20 finish in the stacked race. Clark dropped 32 seconds from her previous personal best to come through in 20:07.30 as one of the top finishing freshman in the field.
The Razorback scoring five was completed by Kaitlin Flattmann (43), Kelsey Schrader (46) and Regan Ward (78). Flattman and Schrader both ran new PRs running 20:28.00 and 20:28.70 respectively. Ward rounded out the group improving on her finish last year of 118 to drop into the top 80.
With the regular season completed Arkansas turns its attention towards the SEC Championships scheduled for Friday, Oct. 30. The Razorbacks head to College Station in two weeks as the defending champions pursue their third-consecutive conference title.
From Lance Harter
From the start of the race they really went out there and established themselves. We came through the 2K unofficially in second but dropped behind UVA around the 3K mark. They battled back after the 4K in really impressive form startling the nation. Dominique Scott made it an extremely competitive race and did what she needed to do to get ready for November and the national championships. Great effort by Devin Clark finishing in the top-20. We knew what she was capable of but Devin's performance really surprised everyone. Kaitlin Flattmann and Kelsey Schrader did a solid job with Kaitlin running over a minute faster than she did last year. The race was a bit off for Valerie Reina and Regan Ward but they know their potential and we can count on them to improve and show up during championship season. Sydney Brown and Nikki Hiltz led our girls in the open race to a win as well. We got more than we needed to out of our girls and our depth really showed. I'm really excited about where we are and we plan on taking this momentum into the SEC meet.
Wisconsin adidas Invite 6K Results
1. Dominique Scott (3) – 19:32.50
2. Devin Clark (18) – 20:07.30
3. Kaitlin Flattmann (43) – 20:28.00
4. Kelsey Schrader (46) – 20:28.70
5. Regan Ward (78) – 20:46.70
6. Valerie Reina (133) – 21:18.90
7. Safee Belbina (216) – 22:11.30
2015 Arkansas Cross Country Schedule
Tuesday, Sept. 1, Oklahoma State Duals | Stillwater, Okla. | 2nd of 4
Saturday, Sept. 12, UC Riverside Invitational | Riverside, Calif. | 1st of 15 – 6K, 1st of 17 – 5K
Saturday, Sept. 19, Missouri Southern Stampede | Joplin, Mo. | 1st of 25
Saturday, Oct. 3, Chile Pepper Festival | Fayetteville, Ark. | 1st of 17
Friday, Oct. 16, Wisconsin adidas Invitational | Madison, Wis. | 2nd of 36
Friday, Oct. 30, SEC Championships | College Station, Texas
Friday, Nov. 13, NCAA South Central Regional | College Station, Texas
Saturday, Nov. 21, NCAA Championships | Louisville, Ky.
For more information on Arkansas track and field including in-meet updates, follow @RazorbackTF on Twitter.