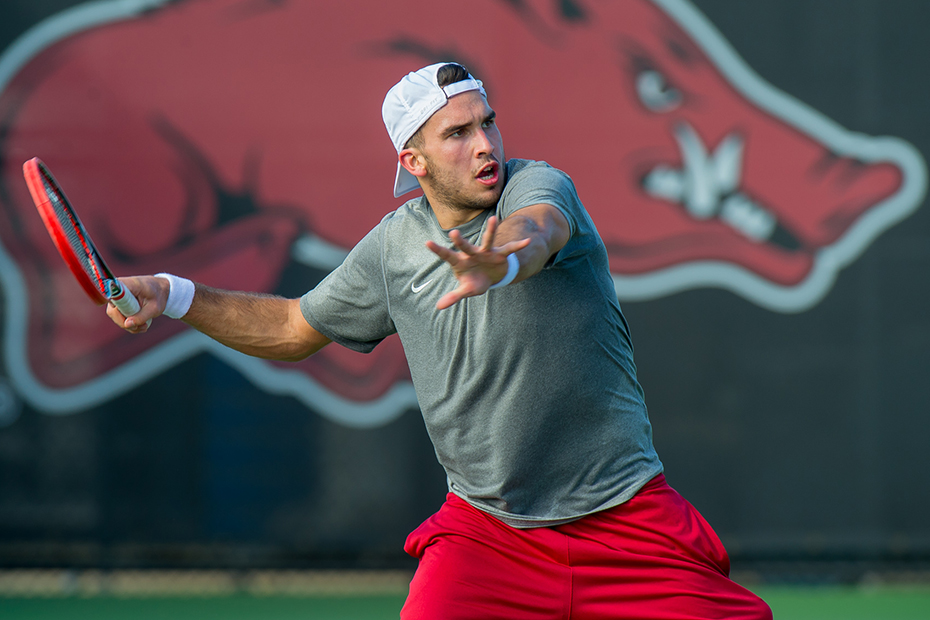 No. 13 Arkansas Bounces Back with Sweep
AUBURN, Ala. — The Arkansas men's tennis team secured its second 7-0 shutout of the season, as the Razorbacks downed Auburn on Sunday afternoon without losing a set. Coming off a loss for only the fourth time this year, No. 13 Arkansas has now responded with a victory all four times.
While the Razorbacks were coming off the low of a 6-1 loss at No. 24 Florida on Friday, the Tigers were trying to piggyback on the high of defeating No. 22 Ole Miss by a score of 4-3. But Arkansas was able to flip the script, improving to 14-4 overall and 4-2 in SEC play with the win.
"It was an excellent match for us today," head coach Andy Jackson said. "Auburn beat a top-25 team on Friday, so for us to win 7-0 on the road in the SEC says a lot about our toughness and motivation."
QUICK HITS
• With wins at No. 1 and No. 2 doubles, the Razorbacks won the first point for the fourth time in SEC play and the 10th time this season. Arkansas is 9-1 when claiming the doubles point.
• The No. 31 pair of Giammarco Micolani and Mike Redlicki at the top spot and the duo of Jose Salazar and Adam Sanjurjo at the second spot each improved to 3-3 in SEC competition.
• In singles, No. 43 Redlicki bounced back from his first SEC loss of the year to defeat Maxime Hinnisdaels at the No. 1 position. Redlicki improved to 11-2 on the season and 5-1 in SEC play, and has won six total matches in straight sets.
• Playing his fourth-consecutive ranked opponent, Salazar beat No. 82 Marko Krickovic in straight sets to improve to 8-2 at the No. 2 singles spot. Salazar improved to 3-3 against ranked players and has won four of his last five matches.
• Santiago Munoz improved to 3-3 in SEC play with a victory over Dante Saleh at the No. 3 position. All five of his singles victories this year have been of the straight-set variety.
• After starting SEC competition with an 0-2 singles record, Micolani has won four consecutive matches, including Sunday afternoon against Conner Huertas. Micolani dropped only four games in the victory, accomplishing that feat for the third time this season.
• Inserted in the singles lineup for the first time in SEC competition, David Herrerias rewarded his coach's decision with a victory over Brandon Laubser. Herrias now boasts a 6-1 record, the best among all Razorbacks with four or more decisions.
• At the No. 6 position, Sanjurjo provided the all-important clinching point with a win against Olle Thestrup. Sanjurjo is now 2-0 this season at the final spot in the lineup.
• Micolani and Salazar are tied for second on the team with a 4-2 SEC singles record.
• Herrerias and Micolani each boast a four-match singles win streak, tied for best on the team.
UP NEXT
Arkansas has a break with SEC play as the team travels to Austin to face No. 18 Texas on Wednesday, March 23. The Razorbacks and Longhorns will begin doubles play with first serve at 6 p.m.
TODAY'S RESULTS
DOUBLES
1. #31 Giammarco Micolani/Mike Redlicki (AR) def. Maxime Hinnisdaels/Marko Krickovic (AU) 6-2
2. Jose Salazar/Adam Sanjurjo (AR) def. Brandon Laubser/Olle Thestrup (AU) 6-1
3. Conner Huertas/Dante Saleh (AU) vs. Santiago Munoz/Johan den Toom (AR) 5-3, unfinished
SINGLES
1. #43 Mike Redlicki (AR) def. Maxime Hinnisdaels (AU) 6-1, 6-2
2. Jose Salazar (AR) def. #82 Marko Krickovic (AU) 7-6 (4), 6-4
3. Santiago Munoz (AR) def. Dante Saleh (AU) 6-3, 7-5
4. Giammarco Micolani (AR) def. Conner Huertas (AU) 6-1, 6-3
5. David Herrerias (AR) def. Brandon Laubser (AU) 6-4, 7-6 (3)
6. Adam Sanjurjo (AR) def. Olle Thestrup (AU) 7-6 (5), 6-1
ORDER OF FINISH
Doubles (2,1); Singles (1,4,6,3,5,2)