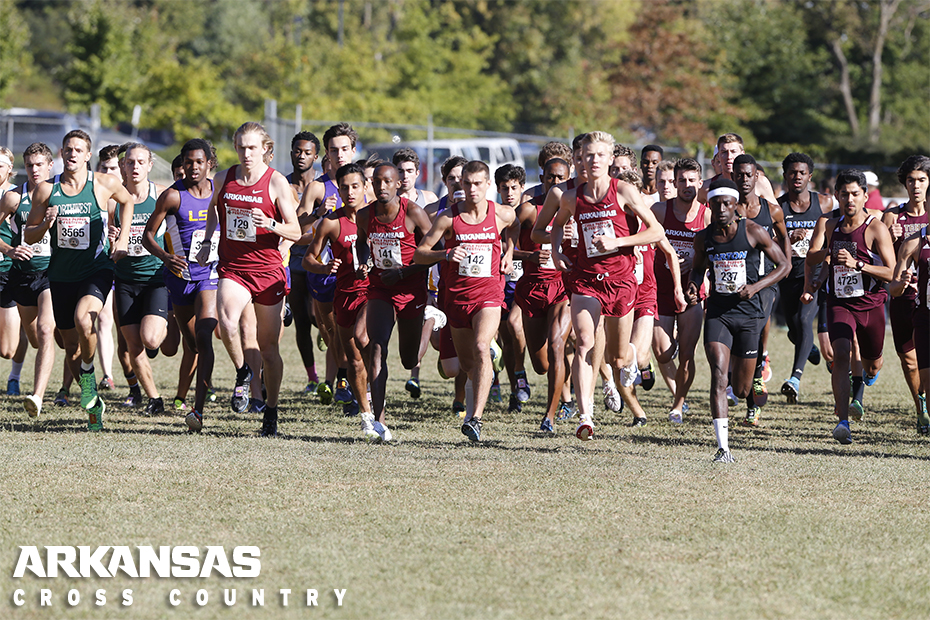 No. 13 Razorbacks Battle to Top-Three Finish
LOUISVILLE, Ky. – The University of Arkansas men's cross country team turned in an impressive performance, finishing third out of 42 programs at the Pre-National meet in Louisville.
Unaffected by the chilly temperatures the Razorbacks trekked through the 8K course averaging 23:44.50 as a team.
As one of the best teams entered in the meet, Arkansas finished behind only first ranked Colorado and third ranked Oregon in the final standings. Currently sitting at No. 13 in the USTFCCCA Coaches' Poll the Razorbacks allowed only a 13 point differential between their runners and the No. 3 Ducks.
Indoor All-American Austen Dalquist took the lead for Arkansas and set the pace which led to their top-three finish. Dalquist improved upon his previous PR from the Chile Pepper coming through as the 21st runner in 23:38.70, the first sub-24 performance of his career.
Frankline Tonui and Christian Heymsfield joined Dalquist in the top-30 with Tonui racing to 26th in 23:43.10 and Heymsfield crossing the line right behind as the 28th finisher in 23:43.80.
The top five was completed by Gabe Gonzalez (39) and Alex George (50) both of whom also turned in sub-24 times finishing in 23:50.90 and 23:57.30 respectively.
Jack Bruce and Cale Wallace rounded out Arkansas' top seven finishing 67th and 113th out of 272 runners.
In the Pre-Nationals open section the Razorbacks dominated the field finishing first with 39 points in front of runner-up Purdue. Freshman Cameron Griffith was Arkansas" top finisher coming through the line 11th overall (fifth in scoring) in 24:54.20. Stephen Mugeche (sixth), Ethan Moehn (seventh), Kyle Hosting (eighth) and Aidan Swain (13th) made up the top five all crossing through among the first 30 runners.
Up next, Arkansas heads to College Station, Texas on Friday, Oct. 30 for the SEC Championships. The Razorbacks return to the event as the defending team champions with four of last year's scoring five in tow.
From Chris Bucknam
We got a great effort from our guys across the board whether it was the varsity race or the open race. We had some outstanding performances and coming off of the hard training that we've been doing it was fairly impressive. We've got a lot of room for improvement but now we're looking at the next race coming up which is the SEC meet. I'm pleased with Austen Dalquist, he had a nice breakthrough run and looked comfortable doing it. Gabe Gonzalez looks back in form and also had an outstanding run. Frankline [Tonui] and Christian [Heymsfield] continue to be nice and steady.We said at the very beginning of the year that it was going to take us until late October to get everyone on the same page; everyone responds a little differently to the training that were doing but we feel like we've closed a gap compared to where we were in August and September. In another few weeks everyone will be on the same page. All in all it was a good solid performance today and we will just continue to approach this week like we've done every other week and that's with focus training and being better each day.
Pre-Nationals 8K Results – 3rd of 42
1. Austen Dalquist (21) – 23:38.70
2. Frankline Tonui (26) – 23:43.10
3. Christian Heymsfield (28) – 23:43.80
4. Gabe Gonzalez (39) – 23:50.90
5. Alex George (50) – 23:57.30
6. Jack Bruce (67) – 24:07.10
7. Cale Wallace (113) – 24:22.50
2015 Arkansas Cross Country Schedule
Tuesday, Sept. 1, Cowboy Preview | Stillwater, Okla. | 4th of 4
Saturday, Sept. 19, Iona Meet of Champions | New York, N.Y. | 2nd of 10
Saturday, Oct. 3, Chile Pepper Festival | Fayetteville, Ark. | 1st of 15
Friday, Oct. 16, Pre-Nationals | Louisville Ky. | 3rd of 42
Friday, Oct. 30, SEC Championships | College Station, Texas
Friday, Nov. 13, NCAA South Central Regional | College Station, Texas
Saturday, Nov. 21, NCAA Championships | Louisville, Ky.
For more information on Arkansas track and field including in-meet updates, follow @RazorbackTF on Twitter.