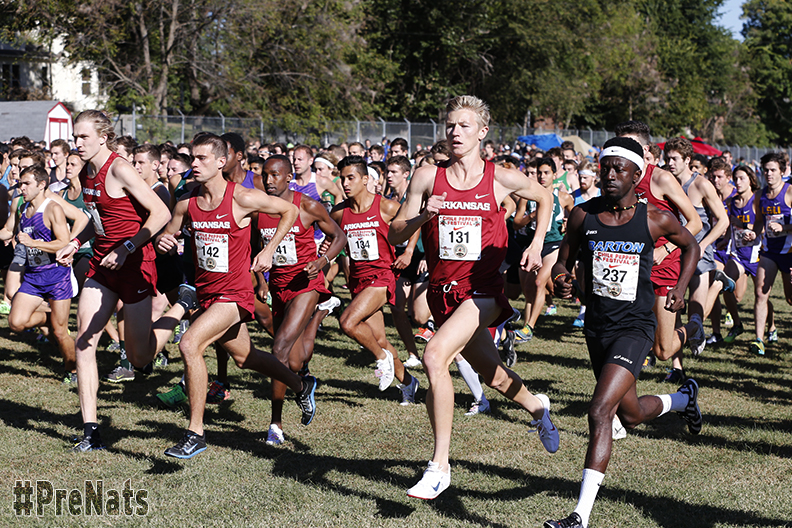 No. 13 Razorbacks Set to Cap Regular Season at Pre-Nationals
FAYETTEVILLE, Ark. – With the championship season just around the corner the 13th ranked Razorbacks head to Louisville, Ky. for Pre-Nationals set to compete against the best teams from around the country.
Arkansas returns to action on Saturday, Oct. 17 following a decisive team victory at the Chile Pepper Festival. The race which took place at Agri Park saw their top three runners, Alex George, Frankline Tonui and Christian Heymsfield cross the line in second, third, and fourth respectively in the division I competition.
Rounding out the top seven for the Razorbacks at home were Austen Dalquist, Jack Bruce, Gabe Gonzalez and Cale Wallace. All seven runners have some of the top times in the 8K in the SEC with George, Tonui and Heymsfield leading the way with the best marks of the conference.
Heading into the Pre-Nationals meet Arkansas will face off against 11 nationally ranked opponents including No. 1 Colorado and No. 3 Oregon. Kicking the year off in the No. 17 spot the Razorbacks have steadily climbed the ranks though three meets of competition currently tied with UTEP at 13.
Head coach Chis Bucknam has built a solid team with a base of experienced returners and a fresh addition of new runners all of whom have stepped up their performances to match the program's expectation.
The Pre-Nationals meet features three 8K races categorized as red (seeded), black (unseeded) and open on Saturday. Arkansas will have runners entered in the first two sections with the red race opening the day at 8:30 a.m. and the black race following at 9:45 a.m.
The USTFCCCA will be providing a live stream of updates featuring video, results and splits on their National Results Wall. Fans can engage in the event using the hashtag #PreNats on social media.
2015 Arkansas Men's Cross Country Schedule
Tuesday, Sept. 1, Cowboy Preview | Stillwater, Okla. 4th of 4
Saturday, Sept. 19, Iona Meet of Champions | New York, N.Y. 2nd of 10
Saturday, Oct. 3, Chile Pepper Festival | Fayetteville, Ark. 1st of 15
Friday, Oct. 16, Pre-Nationals | Louisville Ky.
Friday, Oct. 30, SEC Championships | College Station, Texas
Friday, Nov. 13, NCAA South Central Regional | College Station, Texas
Saturday, Nov. 21, NCAA Championships | Louisville, Ky.
For more information on Arkansas track and field including in-meet updates, follow @RazorbackTF on Twitter.