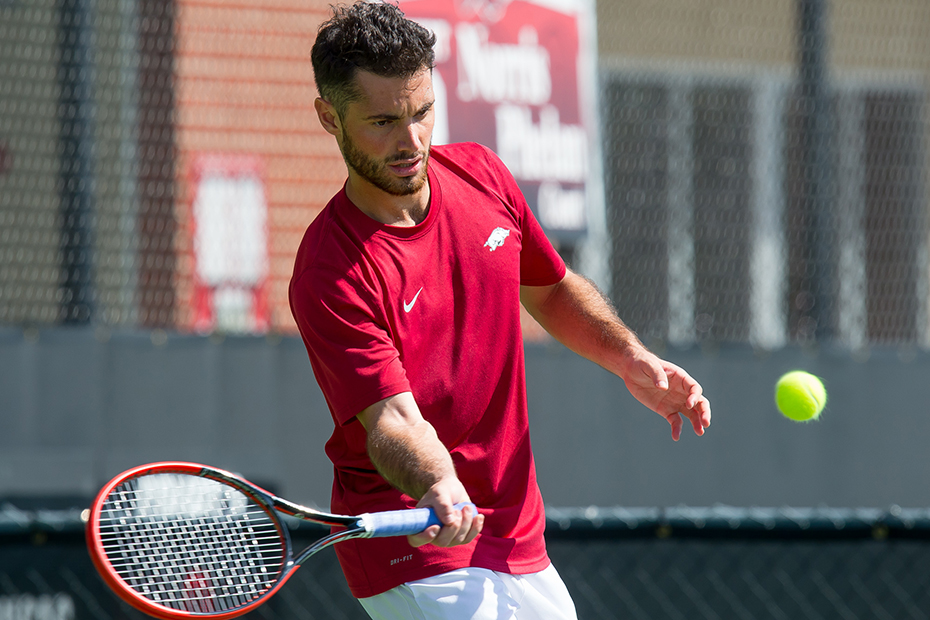 No. 16 Arkansas to Visit SEC Foe Vandy
FAYETTEVILLE, Ark. — For the 12th time this season, the Arkansas men's tennis team will face an opponent within the Oracle/ITA Rankings top 50. On Friday, April 8, the No. 16 Razorbacks will travel to Nashville, Tennessee, and will play No. 43 Vanderbilt at Currey Tennis Center at 5 p.m. CDT.
Arkansas carries an 18-5 (6-3 SEC) record into the contest against the Commodores, who boast a 13-10 (4-4 SEC) mark of their own. Although there is a 27-place ranking difference between the two squads, both have defeated Texas A&M, Tennessee and Auburn in league play.
"It's another big Southeastern Conference road match for us," head coach Andy Jackson said. "Vandy has beaten some good teams this year so we know we will have to play well."
A big part of the Razorbacks' success has been the surging play of Giammarco Micolani at the No. 4 spot. Micolani has won eight consecutive singles matches and is tied with No. 28 Mike Redlicki, boasting a team-best 7-2 record in SEC competition.
Redlicki, meanwhile, is coming off back-to-back wins over opponents ranked in the top 50. During last week's Friday and Sunday matches, the Arkansas junior defeated Alabama's No. 43 Mazen Osama by a score of 4-6, 6-0, 6-2, then followed with a 7-6 (1), 6-1 straight-set victory over Mississippi State's No. 22 Mate Cutura.
At No. 1 singles against Vanderbilt, Redlicki is set to face another top 50 opponent in No. 37 Daniel Valent. With 14 wins at the top spot, the Swiss native is the only player in the SEC with more victories than Redlicki's 13. Valent has won five consecutive matches, including victories over Florida's No. 24 Diego Hidalgo and Texas A&M's No. 18 Arthur Rinderknech.
Also ranked for the Commodores are No. 116 Cameron Klinger, who will line up on Court 2 or 3, and the No. 16 doubles tandem of Klinger and Rhys Johnson. The Razorbacks counter with No. 103 Jose Salazar at the No. 2 spot in the singles lineup, as well as the No. 25 doubles duo of Micolani and Redlicki.
For more information on Razorback men's tennis, please follow @RazorbackMTEN on Twitter.